Ultimate Guacamole Burgers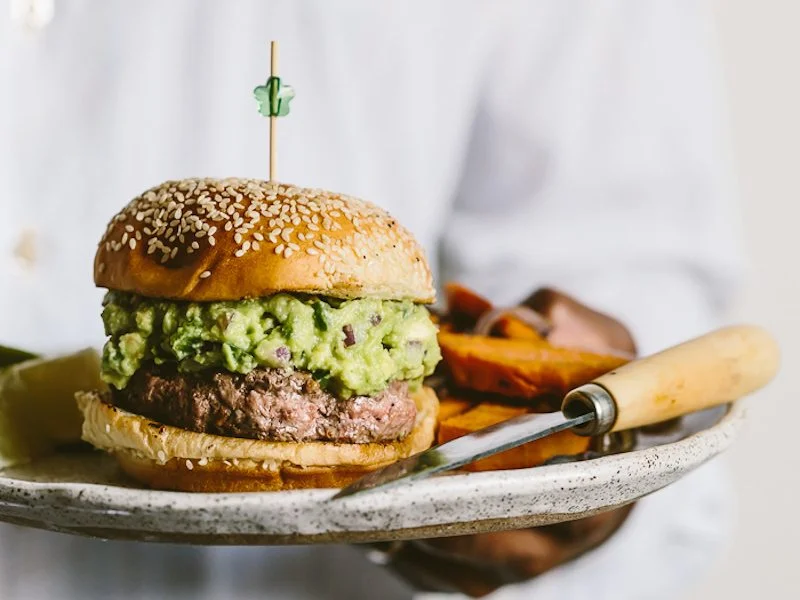 PARTNER POST: Let Blue Apron help you keep things simple when it comes to dinner. Have your next nutritious meal delivered straight to your door.
These ultimate guacamole burgers with roasted red onion and sweet potatoes are ready in just 30 minutes. Thanks to Blue Apron meal delivery service, they are easy to make, filling, and delicious all at the same time.
Give yourself more time to plan, prepare or just relax. Head over to Blue Apron for $30 off your first order or three meals free. You'll be eating delicious meals like this!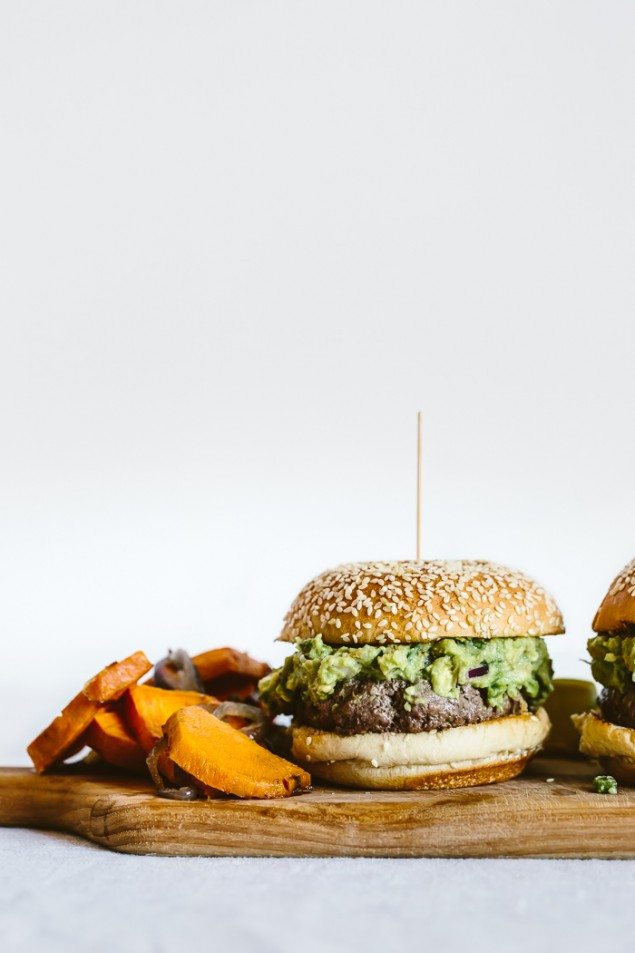 They say the only thing that doesn't change is the change itself. Though sometimes I find it hard to keep up, the latest change in our life has been a welcome one. On the last day of 2016, my husband accepted a position in a beautiful resort in Manchester Village, Vermont.
If you have ever moved you would know, the next few weeks will be spent with a lot of organizing and packing. This will also mean that we will have a very little time for cooking. But I am not too worried, because we are big fans of Blue Apron home meal delivery service. The process is pretty simple: you go to their website, put your order in, and get everything mailed to your doorstep. All the food is perfectly proportioned and ready to be cooked with a recipe card to walk you through the process. However, my favorite thing about them is the fact that they support the growth and development of family-run farms by working them directly to grow specialty produce for Blue Apron. This way we get to cook with responsibly produced, seasonal and the freshest ingredients in our kitchens.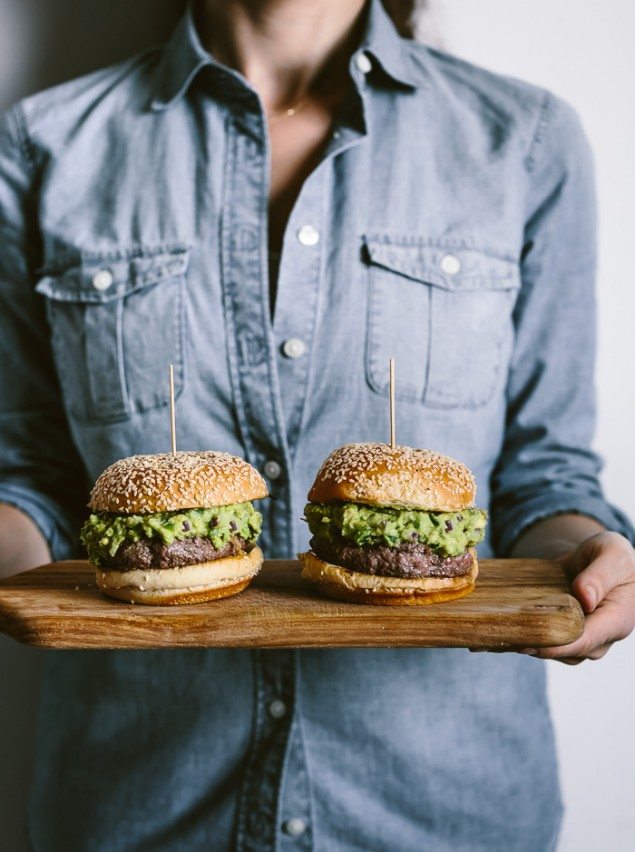 It takes about 30 minutes to make this recipe. Since everything is perfectly portioned, all you need to do is to prep the ingredients to be cooked. I would recommend starting with roasting the potatoes and the onion as it is what takes the longest. While that is happening, you can make the guacamole and then cook the patties. It is that simple and easy to make.
I have never paired roasted sweet potatoes with a burger before, but now after eating these I think it is a favorite combination in our house now.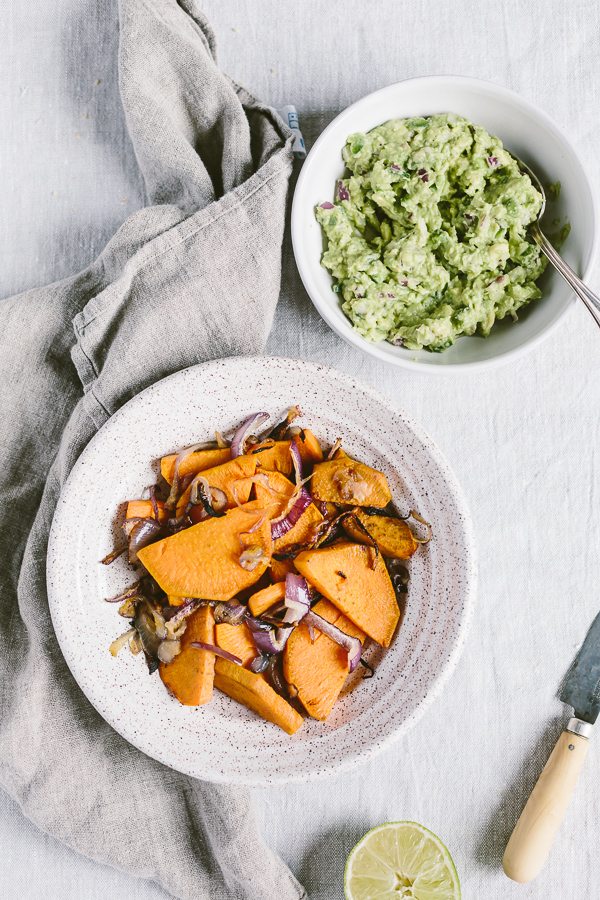 In addition to this Guacamole Burger ingredients, we received ingredients for 2 other dishes: Potato and Artichoke quiches and Chicken with Lemony Cous Cous. I have already made both of them and they were super easy to make and tasty. So if you are interested in giving them a try, they are currently running a campaign. If you go to Blueapron.com and sign up, you can either get $30 off of your first delivery or get 3 meals free with a subscription.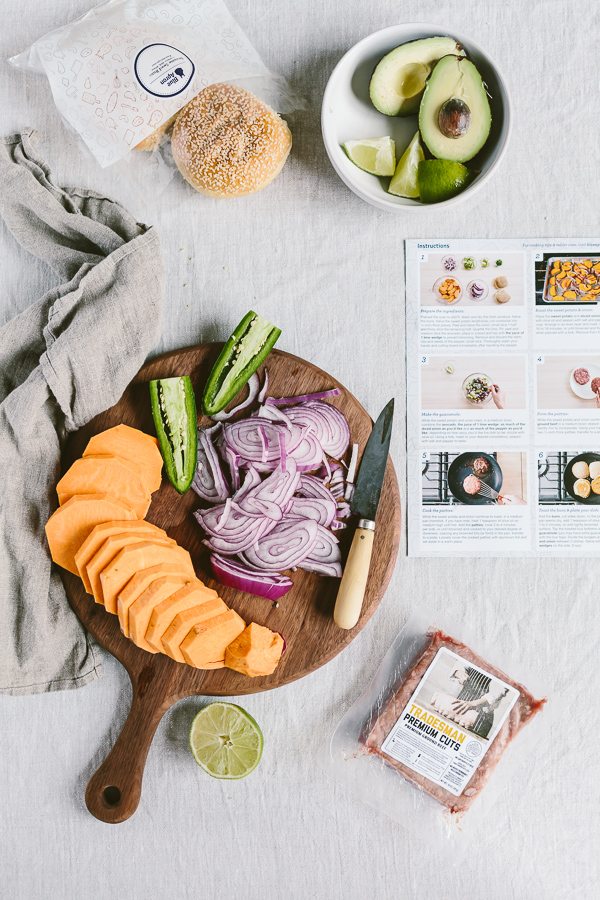 Check out another Blue Apron recipe for a cod sandwich.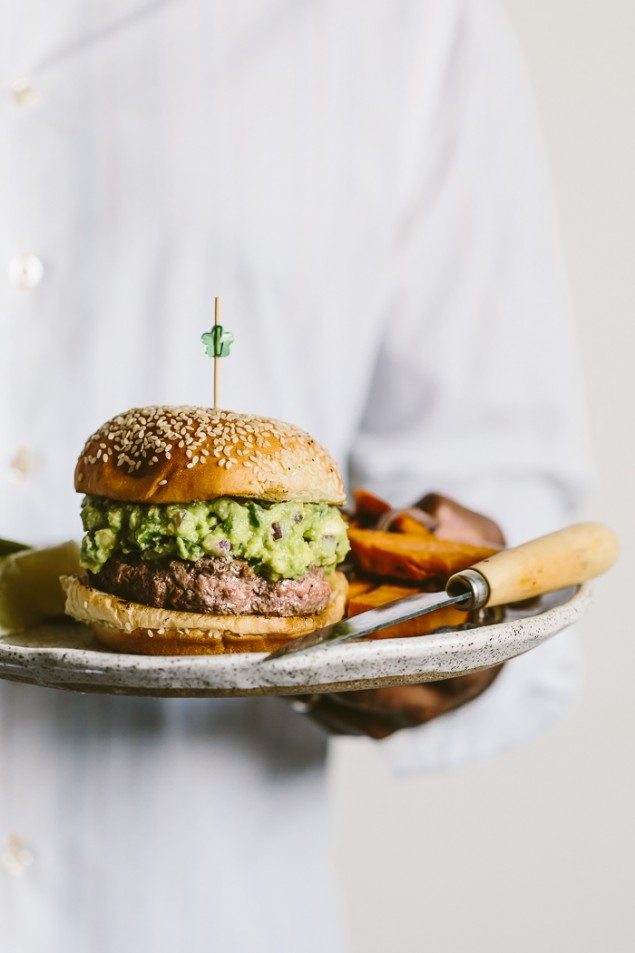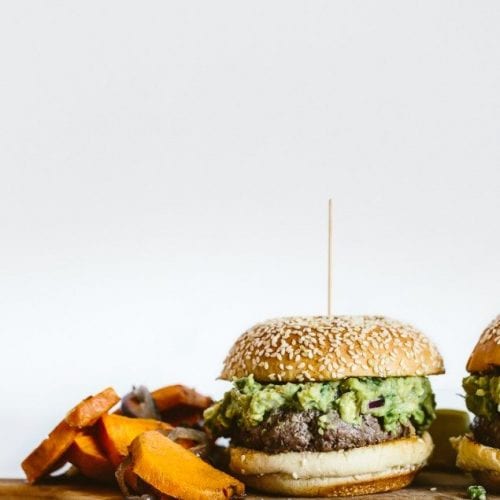 Blue Apron
Ingredients
For the side:
1

sweet potato

peeled and sliced into 1/2 –inch thick slices (as shown in the photos)

1/2

red onion

sliced thinly

2

tablespoons

olive oil

salt and pepper
For the Guacamole:
½

red onion

chopped

1

ripe avocado

mashed

1

jalapeno pepper

deseeded and chopped

1

lime

sliced

salt and pepper
For the Burger:
10

ounces

ground beef

salt and pepper

1

tablespoon

of olive

or vegetable oil

2

sesame seed buns

sliced in half
Instructions
To make the Roasted Sweet Potatoes: Preheat the oven to 450 F degrees. Place the slices of potatoes and red onion on a sheet pan. Drizzle it with olive oil, ½ teaspoon salt and ¼ teaspoon black pepper. Toss thoroughly to coat and bake 16-18 minutes or until the sweet potato slices are tender when pierced with a fork. Remove from the oven and set it aside.

To make the guacamole: Mix together the red onion, avocado, jalapeno pepper, a tablespoon of lime-juice in a bowl. Stir in ¼ teaspoon salt and a pinch of black pepper. Taste for seasoning, and if necessary, add more lime juice and seasoning.

To make the burgers:

Place the ground beef in a bowl. Season with ¼ teaspoon salt and ¼ teaspoon black pepper. Mix and then divide it into two equal pieces. Using your hands, form the mixture into two ½-inch thick patties. Transfer to a plate.

Heat 1 tablespoon oil in a non-stick skillet over medium heat. Add the patties; cook 2 to 4 minutes per side, or until browned and cooked to your desired degree of doneness. Place it on a plate and cover it loosely with aluminum foil to keep warm.

Add the buns, cut sides down, to the skillet. If the buns look dry, feel free to add a tablespoon of oil. Toast for 1-2 minutes, or until lightly browned.

To assemble: Place the bottom buns on a plate and top them with the cooked patties and guacamole. Complete the burgers with the top buns.

To serve: Transfer the burgers to a plate and serve them along with the roasted sweet potatoes and onions and lime wedges on the side.
Aysegul Sanford
Aysegul is the cook, writer, and photographer behind foolproofliving.com. She spends her days creating recipes from seasonal ingredients on a small island in the Caribbean. Other than cooking and baking, her biggest passion in life is photography. She also is a firm believer that if you know how to read, you know how to cook.