Protein-rich beans are tossed with creamy yogurt-cucumber dressing spiked with garlic and lime juice. It comes together quickly and is finished with a red chili pepper finishes for color and heat. Try as a side dish or inside a pita.
By Jill Nammar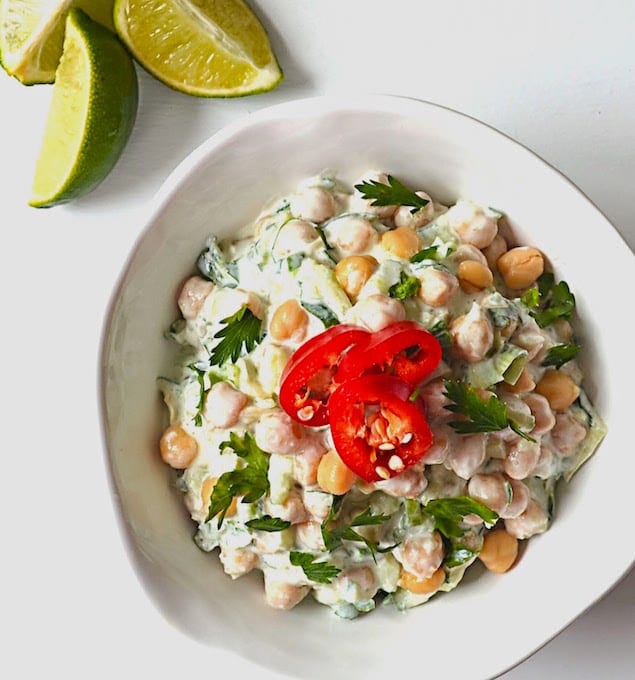 It's the perfect time of year for fresh salads and side dishes. I'm half Lebanese, so I'm genetically programed to love chickpeas. I like using them as the base for satisfying recipes.
Here, these protein-rich beans are tossed with a creamy yogurt-cucumber dressing. The dressing is spiked with a little garlic and fresh lime juice. The recipe comes together quickly. Everything is combined in one bowl and a red chili pepper finishes things off with colorful flavor and heat. Stuff this refreshing salad into soft pita with crisp lettuce and tomato. It's great over a fluffy baked potato for a light vegetarian dinner too.
See Also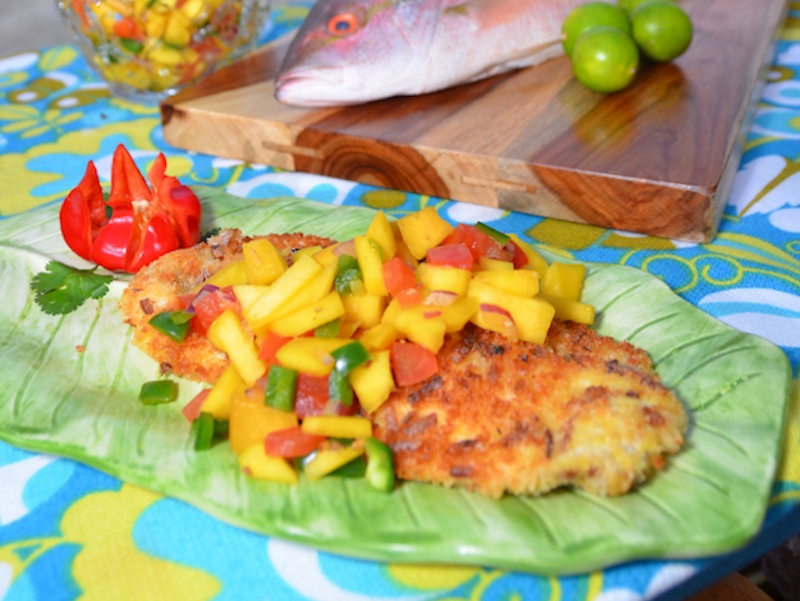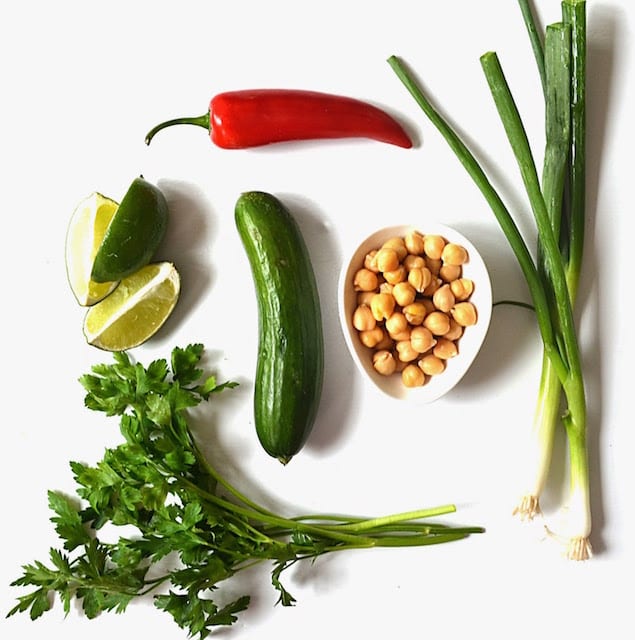 Tzatziki Chickpea Salad with Chilies
Protein-rich beans tossed with creamy cucumber dressing spiked with garlic, lime, and chili pepper. It comes together quickly and is great inside a pita.
Ingredients
2, 16-ounce cans of chickpeas, rinsed and drained
1 red chili pepper, diced or sliced thinly. I use a red fresno.
2 small cucumbers, shredded. Persian or Diva are recommended.
2-4 garlic cloves, minced
2 scallions, diced
A handful of parsley or dill, chopped
2 limes
1 cup of full fat or 2 percent Greek yogurt. I use full fat.
Salt to taste
Instructions
On the large holes of a box grater, grate the cucumber into a large bowl. On the smallest holes of a box grater, grate the garlic into the bowl. Add the yogurt and salt to taste. Stir in a few good squeezes of lime juice. Mix in the chickpeas, scallions and parsley. Taste. Adjust the salt and lime juice. Let sit for 5 minutes so that the cucumbers will release some of their juice and make a light dressing. Serve immediately with some finely sliced chili pepper on top. It's great with warm pita bread too.
Notes
Small cucumbers with soft skin and minimal seeds are best here. If all you can find is the usual kind, then seed and peel the skin.
I use 3 small garlic cloves in this recipe. If you love garlic, then add more.
Lemons can be swapped for limes if that's what you prefer.
Remove the seeds and veins of the pepper to control the heat.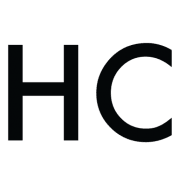 Jill Nammar
Jill has been cooking and serving meals for most of her life. As she was growing up, he parents owned a restaurant and an ice cream parlor where she became immersed in food. The kitchen is truly her comfort zone. Jill's recipes are influenced by France, the Mediterranean and Morocco, and often the bright flavors of Southeast Asian cuisine, too. She cooks to inspire others to whip up flavorful food in their own kitchens. Each recipe has a notes section with helpful tips, techniques and secret ingredients to follow. Taste and see how easy it is to create delicious meals.