A sky-high cake with of six layers of moist chocolate cake, six layers of luxuriously chocolate mousse, and a finale of chocolate ganache.
By Jillian Hatsumi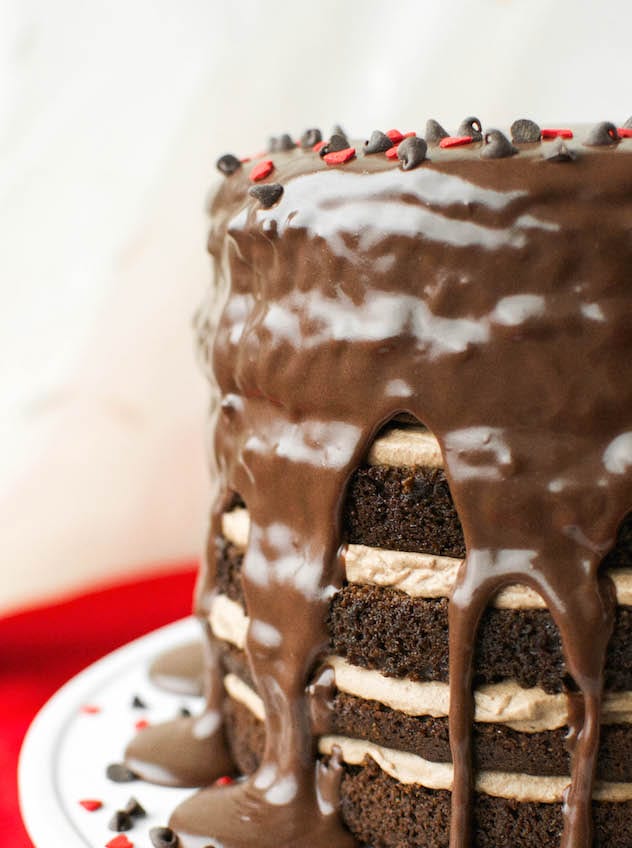 There is little as delicious as layers upon layers of moist, rich chocolate cake stacked between layers of fluffy chocolate mousse, finished off with a deep, dark, and devilishly sweet blanket of silky dark chocolate ganache.
Don't let this chocolate beauty intimidate you though. There may be three different components involved–cake, mousse filling, and ganache–but I promise you, it's totally worth it.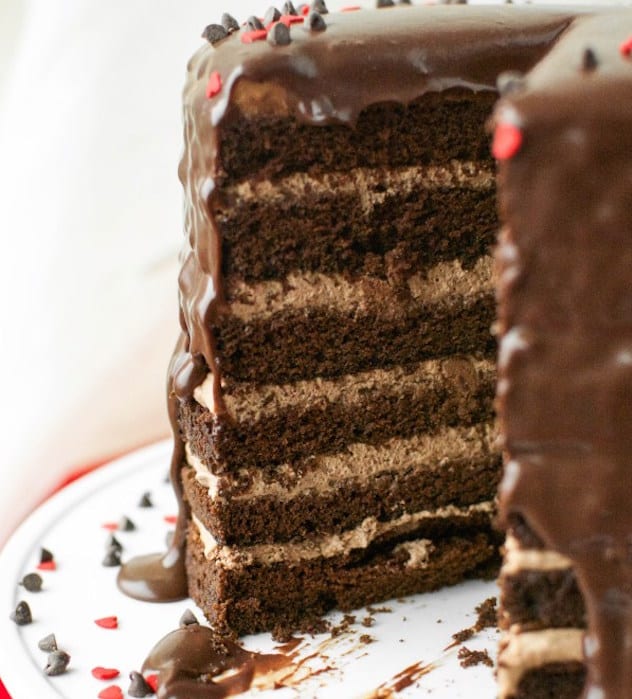 The chocolate mousse filling is unbelievably easy to make for how creamy and wonderfully light it was. Just whip up some heavy cream, add a little sugar and some melted chocolate, and that's it!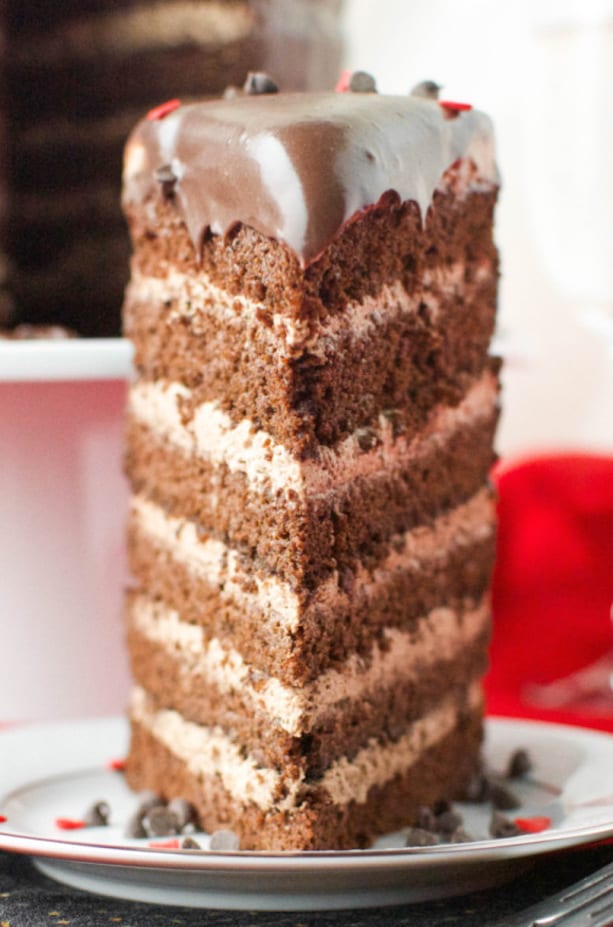 See Also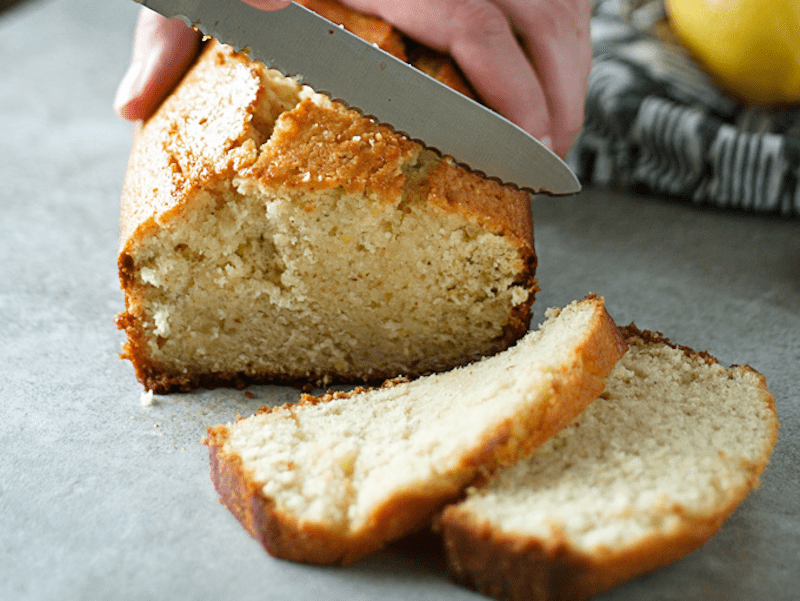 The final piece of the chocolate puzzle is the smooth-as-silk chocolate ganache, which is even EASIER to make. Not only does it contain just two ingredients–heavy cream and semi-sweet chocolate–but I have a super secret process (not really) that requires very little work and very few dishes–one bowl to be exact!
When you combine all three of these heavenly elements of chocoholic bliss into one bite, you have the MOST perfect chocolate cake you will ever eat in your entire life.
Print
Twelve Layer Chocolate Cake Plus Ganache
---
Author:

Jillian Hatsumi

Yield:

14

servings

1

x
Description
A sky-high cake with of six layers of moist chocolate cake, six layers of luxuriously chocolate mousse, and a finale of chocolate ganache.
---
For the Cake
4 ounces

unsweetened chocolate, chopped

1/4 cup

cocoa powder

1/2 cup

hot water

1 3/4 cup

sugar

1 3/4 cup

all-purpose flour

1 1/2 teaspoons

baking soda

1 teaspoon

salt

1 cup

buttermilk*

2 teaspoons

vanilla

4

large whole eggs, plus 2 large egg yolks

12 Tablespoons

unsalted butter, softened
For the Mousse Filling
8 ounces

semi-sweet chocolate, chopped

2 1/2 cups

heavy cream

2 Tablespoons

sugar
For the Chocolate Ganache
1 cup

heavy cream

2 Tablespoons

unsalted butter

9 ounces

semi-sweet chocolate, finely chopped
---
Instructions
To make the Cake
Preheat oven to 350F degrees. Line three 8-inch round cake pans with parchment paper and spray with cooking spray.
In a double boiler,* combine the chocolate, cocoa powder, and hot water, stirring until smooth. Add 1/2 cup of the sugar to the chocolate mixture and stir until thick and glossy. Remove from heat and set aside to cool.
In a medium bowl, whisk together the flour, baking soda, and salt. Combine the buttermilk and vanilla in a glass measuring cup.
In the bowl of a stand mixer fitted with a whisk attachment, whisk the whole eggs and egg yolks on medium speed until combined. Add the remaining 1 1/4 cups sugar, increase speed to high, and continue whisking until lightened in color and fluffy, about 2 to 3 minutes. Add the cooled chocolate mixture to the egg mixture and stir on medium until fully incorporated, pausing to scrape down the sides of the bowl.
Add the softened butter, 1 Tablespoon at a time, mixing for about 10 seconds after each addition. Add 1/3 of the flour mixture followed by 1/2 of the buttermilk mixture, mixing until incorporated. Repeat process with remaining flour mixture and buttermilk mixture until batter is thoroughly combined. Scrape down the sides of the bowl and give one last stir before dividing batter equally among the three prepared pans. Lightly tap pans against the countertop to settle any batter and to eliminate any air bubbles.
Bake cakes for 30-34 minutes, or until a toothpick inserted into the center comes out with a few crumbs attached. Remove cakes from the oven and allow to cool in the pan for 15 minutes on a wire rack. Run a knife around the edge of the cakes, carefully flip them out onto a wire rack, peel off the parchment paper, then flip the cakes right side up. Cool completely.
To make the Mousse Filling
Microwave the chocolate in a medium microwave-safe bowl until smooth. Set aside and allow to cool while you whip the cream.
Place heavy cream and sugar in a well-chilled bowl of a stand mixer fitted with a well-chilled whisk attachment. Whisk on high until stiff peaks form, about 1 1/2 minutes.
Stir 1/4 of the whipped cream into the melted chocolate until smooth and completely incorporated. Add the combined whipped cream and chocolate mixture to the remaining whipped cream and use a rubber spatula to gently fold together.
To make the Ganache
In a microwave-safe bowl, combine the heavy cream and butter and heat in the microwave until bubbling, about 2 minutes.
Remove hot cream mixture from the microwave and immediately dump chocolate in, assuring that all of the chocolate is covered in the cream. Cover with plastic wrap and let stand for 5 minutes.
Remove plastic wrap and stir until smooth and silky. Allow ganache to sit at room temperature for 1 hour, until thickened and spreadable.
To Assemble
Slice each cake layer in half horizontally, so that you end up with 6 cake layers total. Place one cake layer on a plate or cake pedestal and spread with 1/6 of the mousse filling. Repeat, alternating layers of cake and filling, ending with a layer of mousse. Slowly pour ganache in the center of the cake, allowing it to drip down the sides. Store in the refrigerator until ready to serve.
Notes
*If you don't have buttermilk on hand, you can make your own! Just pour 1 Tablespoon of white vinegar or lemon juice in a measuring cup and add enough milk to equal 1 cup total liquid. Stir to combine and let sit for 10 to 15 minutes before using.
*A double boiler consists of a pan or bowl placed on top of another pan filled with 1 inch of simmering water. The pan/bowl does not touch the water, but is heated by the steam that's trapped between the two pans. This method allows for a more gentle heat, therefore preventing your chocolate from burning.
*Cake recipe adapted from America's Test Kitchen.
Category:

Baking, Dessert, Chocolate
Jillian Hatsumi
I'm Jillian, the writer, baker, chef, recipe creator, and amateur (very amateur) photographer of A baJillian Recipes. Though I'm not a classically trained chef, I like to think I know my way around a kitchen pretty well. Aside from baking, cooking, and EATING, I also enjoy acting, couponing (I LOVE saving money!!), running, working out, photography, and playing with my little fluffernutter, Olivia. She's a dog, if you're wondering...