Schiacciata – Tuscan Easter Sweet Bread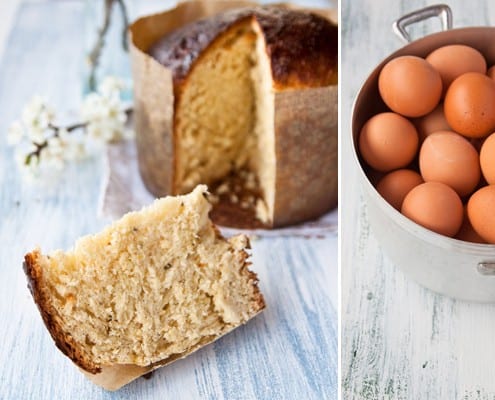 Schiacciata is a typical Italian Easter sweet bread, popular in most of the Tuscan region.
By Giulia Scarpaleggia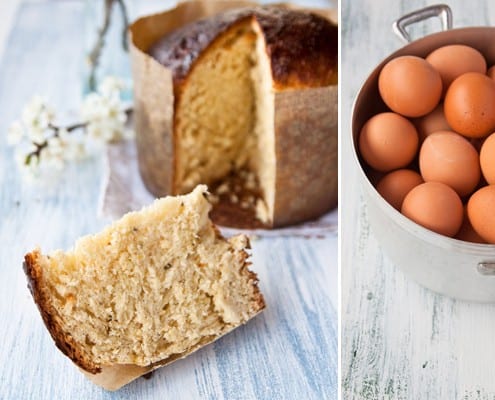 Its name is schiacciata (flat bread), but it is anything but flat. It's the typical Easter sweet bread of my areas, popular in most of the Tuscan region with slightly different names and small changes that could allow an expert eye to attribute undoubtedly the schiacciata to the Sienese area, the Elsa valley or the empolese county.
To tell the truth I call it sportellina, the very same name they use in San Gimignano, because my grandfather Remigio had really a sweet tooth for it, and as soon as you entered the Easter period he began to send us thick slices of schiacciata, tightly sealed in plastic bags to keep it fresh. Mum usually took it home just in time for tea, she came in and put the sportellina in a dish with a knife, in the middle of the table already laid for the afternoon tea.
Its name is schiacciata (or stiacciata) because they used to break (schiacciare in Italian) many eggs: it's spring and the hens begin to produce eggs at a fast pace. You make an omelet, you cook a fried egg, you make also a fricassee, but then you must find a way to use so many eggs… so the women baked the Easter schiacciata, but not just one or two, they kneaded them in large quantities with those arms accustomed to hard working in the fields, to give to their neighbours, relatives, the doctor, the pharmacist, all of the notables of the time.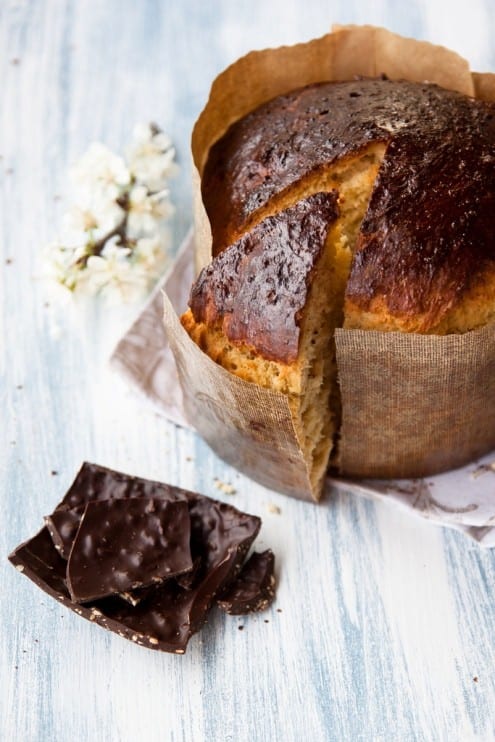 My mum's cousin, Gelsomino, as well as moral owner of the recipe that got me over my yeast performance anxiety, to this day still bakes about fifty schiacciate every Easter… what can I do, I know so many people…
He has generously given us well proved ingredients to use: I would say that after an annual output of fifty schiacciata they will guarantee for sure perfect results. As for the method to follow, the advice was to look at the dough. And so I did, and among us developped an old fashioned love story, one of those stories that followed the right rhythms and pauses, without hastening the steps.
As in any respectable love story, there is also a confidante, a friend now living on the other side of the world that shares your moods and experiences them at the same time. Emiko has rocked the same precious love for hours, and now she's proudly presenting you the Fucecchio version of this classic Tuscan sweet bread.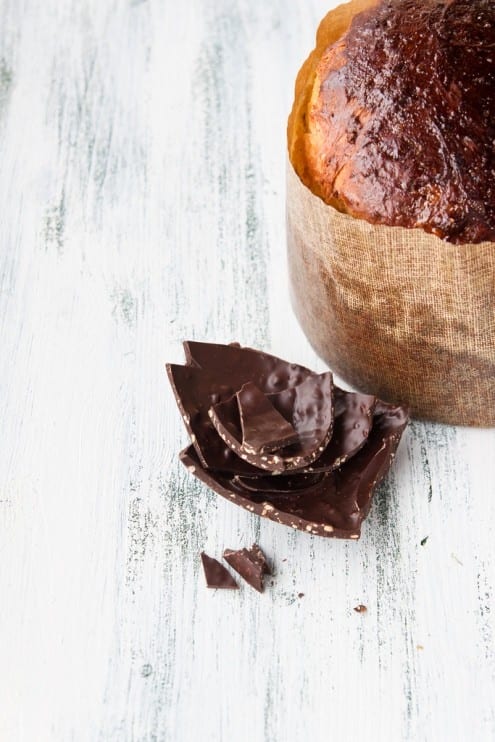 The Tuscan Easter schiacciata is not as buttery and almond sweet as the traditional colomba (another sweet bread shaped as a dove). It's a bashful sweet bread, it takes some time to be completely appreciated. It has the same reticent character of certain Tuscan people, faintly rough on the surface, but generous as soon as you get to know them better. It is traditionally eaten with the Easter chocolate egg or soaked in a tiny glass of vinsanto, the ever present sweet wine on our holiday tables!
As usual, I upset all the rules: I do something that should not be done, something that could strike me off the Tuscans roll: I soak my thick slice of sportellina into a glass of water, just like I did and still do with the biscotti di Prato. I do it stealthily, when anybody can see me, a pleasure doubled by being unseemly. Traces remain in the glass and a smile on my face to witness this heresy.
The Tuscan Easter Schiacciata
Author:
Giulia Scarpaleggia
Recipe Type:
Easter dessert, baked goods
Ingredients
about 3,3 lb (1,5 kg) of wheat flour
1,76 oz (50 g) of brewer's yeast (2 cubes)
5 fl oz (150 ml) of whole milk
7 eggs, at room temperature
0,75 cup (450 g) of raw cane sugar (or caster sugar)
8,15 tablespoons (110 g) extra virgin olive oil
3,5 tablespoons (50 g) of butter
3,5 tablespoons (50 ml) of mint rosolio
3,5 tablespoons (50 ml) of maraschino (cherry liqueur)
juice of ½ orange
2 tablespoons (15 g) of anise seed
1 egg white to brush the surface
Instructions
Starter. Dissolve the brewer's yeast into the lukewarm milk, then gradually add the flour, about 2,4 cups (300 g). The dough will be quite sticky, but knead it into a ball, dust with some flour and let it rest in a warm place for about two hours, until it begins to rise.
First rising. Add to the starter 3 eggs, one third of the sugar, one third of the olive oil and about 3,2 cups (400 g) of flour, knead and let it rest in a warm place for about 3 hours, or until doubled in volume.
Second rising. Add 2 eggs, one third of the sugar, one third of the olive oil and about 3,2 cups (400 g) of flour, half of the mint rosolio, half of the maraschino liqueur and the juice of half an orange. Let rest for at least 3 hours, until doubled in volume. Soak the aniseed in mint liqueur.
Third rising. Add all the remaining ingredients. Knead and let it rest for at least 3 hours, until doubled in volume.
Fourth rising. Once the volume has doubled again, knead again the dough for a while and divide it into 3 equal parts, then put them into 3 moulds suitable to bake them in the oven. Put them in a warm place to rise for at least 4 to 5 hours, until doubled in volume.
Preheat oven to 350°F (180°C) and when the schiacciate are ready brush the surface with the beaten egg white to polish them, then bake them for about 45 to 50 minutes, until they are perfectly cooked and dark brown on top.
Let them rest for some time in the oven, then let them cool completely before serving them.
The schiacciata will keep well for a week if wrapped in plastic.
Giulia Scarpaleggia
Giulia Scarpaleggia, Juls to friends and readers, is a Tuscany based and world oriented food blogger, writer and photographer. Her first passion was English and foreign countries: now she has deeply fallen in love with the vision that foreigners have of Tuscany. Simple and sunny, she has an insane passion for cooking.