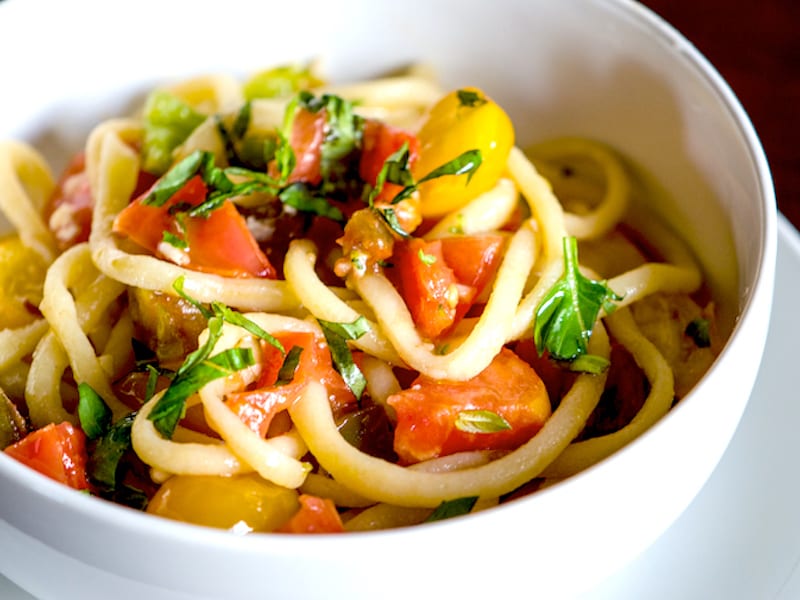 Tuscan pici pasta is a traditional dish made with handmade pasta. Pici are robust and can take on any kind of sauce to compliment their unique texture.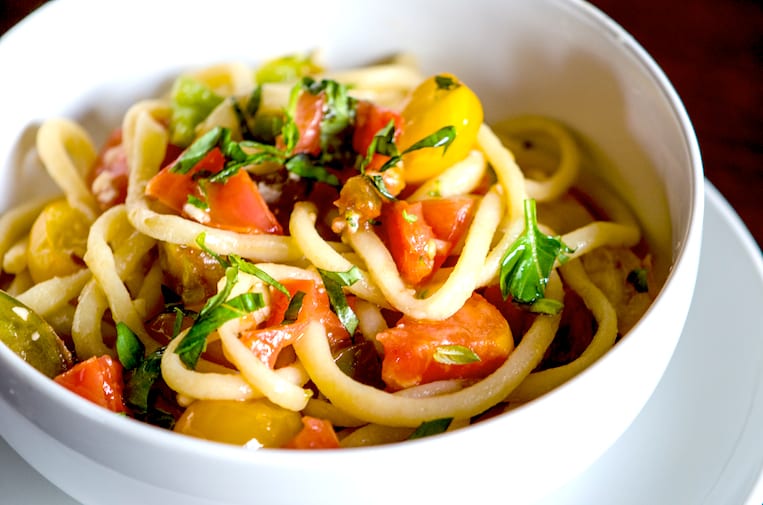 Pici is a rustic handmade pasta from Tuscany's Val d'Orcia. Called pici in Cortona and Montepulciano, and pinci in Montalcino, they are a long, irregular spaghetti, best when "fatta a mano" or "fatta in casa", made by hand, or in house. The name pici comes from the term "appiciare", which refers to the traditional manual technique used to form these long, thick noodles. Ancient in origin, dating back to the Etruscans, they were made from only flour and water, the poor everyday pasta of the Sienese peasants. Including a small amount of egg was the rich version, reserved for Sundays and holidays.
There are several different ways of producing pici, all of which require only your hands, a wooden board, and optionally a rolling pin – no pasta machine needed. The traditional "appiciare" technique involves rolling out a larger quantity of dough into a sheet around 1/4 to 1/2 inch thick. You cut a strip of dough about 1/4" thick from this sheet, grasp one end in your fingers to hold, then, using a flat palm, roll the noodle back and forth on a floured wooden board to round and lengthen.
Kathy Bechtel
Ingredients
For the Pasta
1 3/4

cups

all-purpose flour

1 3/4

cups

semolina flour

1 1/2

teaspoons

salt

1

cup

plus 3 tablespoons warm water
For the Sauce
5-6

medium fresh heirloom tomatoes

or a mix of full size and cherry tomatoes

2

tablespoons

extra virgin olive oil

plus more for drizzling

1

teaspoon

hot red pepper flakes

4

large cloves garlic

minced

10

basil leaves

chiffonade

Kosher salt
Instructions
For the Pasta
Place the flours and salt in a small bowl and stir to combine.

Pour the flour out on a clean counter, and form a well in the middle.

Pour the warm water into the well.

Using a fork, begin to scrape some of the flour from the inner sides of the well into the water, slowly incorporating more and more of the flour.

The water in the middle will thicken and become a soft dough. Eventually you will be able to loose the fork and just use your hands.

Keep incorporating the flour as needed to keep your dough from sticking to your hands and the counter top. You do NOT need to incorporate all of the flour, the amount of flour will depend on the type, the humidity, and other variables. You want a nice soft dough, not too sticky.

Knead the dough for about 10 minutes or so, adding a bit more flour only when it begins to stick. Cover the dough, and allow to rest for 30 minutes.

Pinch off a small piece of dough and roll between your palms or on a wooden board to form 1/4 inch round snakes.

Place the formed pici on a sheet pan dusted with semolina flour. Do not allow them to touch, as they will stick to each other.
For the Sauce
Coarsely chop and seed the fresh tomatoes.

Bring a large pot of water to boil.

In a large saute pan, heat the olive oil and red pepper flakes. Add the tomatoes and garlic, and cook over medium heat until the tomatoes soften, render their juice and begin to thicken, around 15 – 20 minutes. Season with salt.

When the water is at a full boil, season the water with salt, and add the fresh pici. Cook just until al dente; you want some bite to the pici, not mushy. Drain.

Combine the pici and the sauce in the saute pan, then serve in large bowls, drizzling liberally with more olive oil and garnishing with the basil strips.
Kathy Bechtel
Kathy Bechtel's obsession with food and cooking began as a teenager. After years following a traditional career path as a telecommunications engineer, she left to attend culinary school and wine training, and is now combining her passions for food and wine, the outdoors, and travel as owner and Culinary Tour Director of Italiaoutdoors. In this role, Kathy leads small bicycle, skiing and walking tours that explore the authentic regional cuisines, local products and undiscovered wines of Northeastern Italy.