Dive into the flavors of Turkish cuisine with a delicious recipe for egg pide and a helpful book as your guide.
When was the last time you ate great Turkish food? If you're in the US like we are and don't have any Turkish family that you are connected with, then it's been a long while. Also, if you're like us, you can't just leave work behind to jump on a plane to Turkey. Enter, John Gregory-Smith's new cookbook Turkish Delights: Stunning Regional Recipes from the Bosphorus to the Black Sea.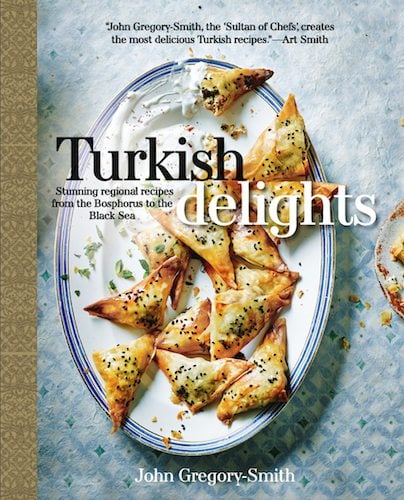 Turkey is a country with a variety of landscape which in turn mean a variety of flavors, ingredients, and traditional dishes. Thankfully, John's book covers more than 100 regional dishes that have our mouths watering. Chapter divide up these recipes between breakfast, Meze, pide, kebabs, salads, meat, seafood, and more. While yes, there are kebabs in this books, the author opens our eyes up to the many flavors and food beyond this one stereotypical food.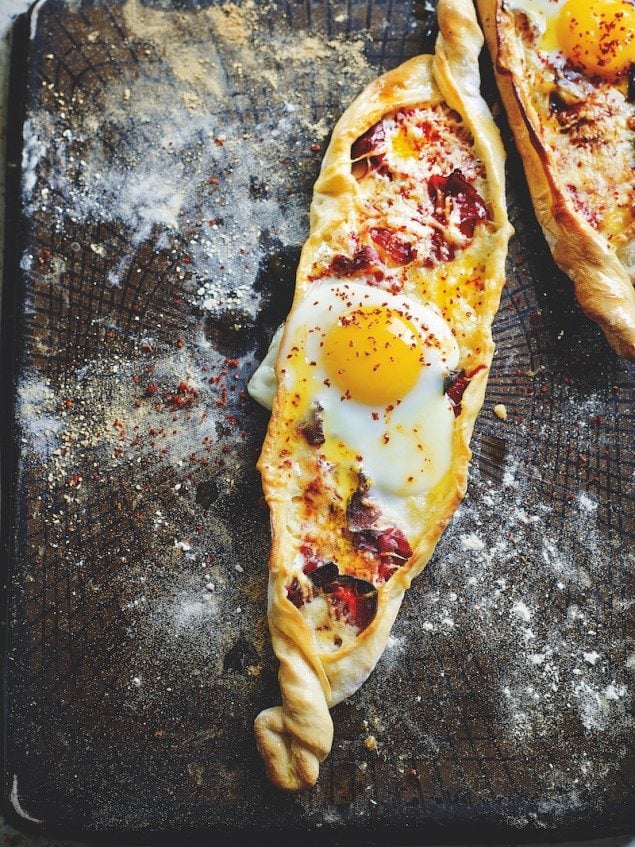 Pastrami and Egg Pide
The first sections highlight the different regions of the varied country and what foods one would find there. Then, it moves on to explain the essential ingredeints that come with the cuisine.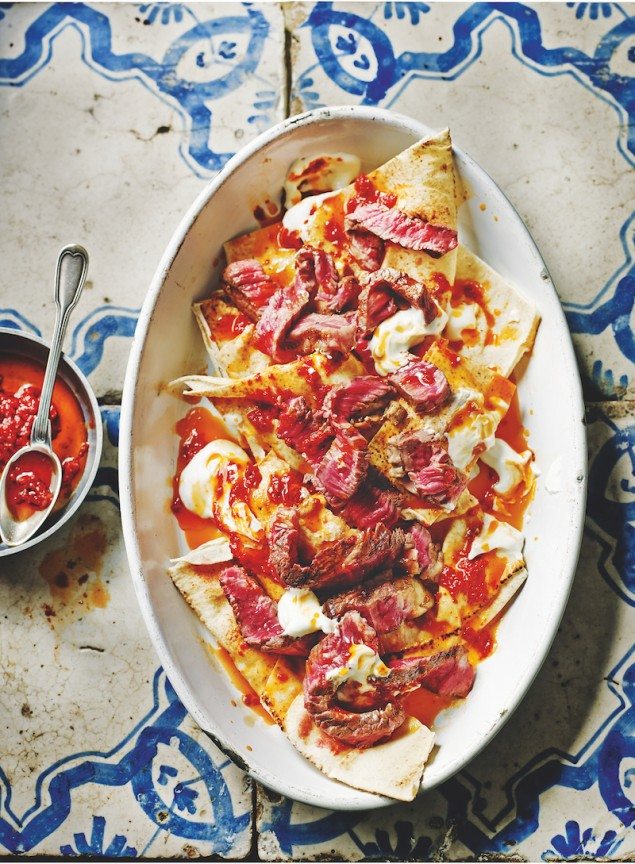 Iskender Kebab

Turkish Delights
One afternoon in Samsun, I stumbled across an old pide shop called Gözde Pide Salouu. It had a huge wood-burning oven and the two brothers manning it made the best pide I have ever eaten. Their pide-de-resistance was a kayseri pide—a pastrami and egg pide made with the smoky dried beef pastrami that is loved all over Turkey. This pide is all about simple ingredients cooked to perfection. The idea is to tear pieces off and dip them into the egg yolk. You can buy Turkish pastrami at a Turkish food store. It looks and tastes like prosciutto, which is a great alternative if you eat pork. In Turkey, this would be made with ka?ar (see page 70), but Cheddar works just as well.
Author:
John Gregory-Smith
Ingredients
½ quantity of Pide Dough (see page 63), cut into 4 equal pieces
5 ounces Turkish beef pastrami
2 packed cups grated Cheddar cheese
4 eggs
Turkish pepper flakes
Instructions
Preheat the oven to 425°F and line a baking sheet with parchment paper.
Use your hands to form each piece of dough into an oval shape. Dust both sides with flour and roll out into a large boat shape. The dough should be really thin—you should be able to just about see the board through the dough. Once you are there, prick the dough all over with a fork. Carefully place on the prepared baking sheet.
Tear the pastrami into pieces and drape it down the middle of each piece of dough, leaving a ¾-inch gap all around. Add the cheese. Fold the edges in on themselves all around the pide, so that you have a ⅜-inch border. Starting at one end and using your thumb and forefinger, squeeze the pastry border together so that it crimps and stands up a little. Do this all the way around and squeeze the two ends together. You should end up with a boat shape. Bake for 7 minutes.
Carefully crack an egg in the middle of each pide. Return to the oven for 4 to 5 minutes until the egg is just set and the edges are golden. Season with Turkish pepper flakes and serve immediately