Turkey Chili with Beluga Lentils and Roasted Sweet Potatoes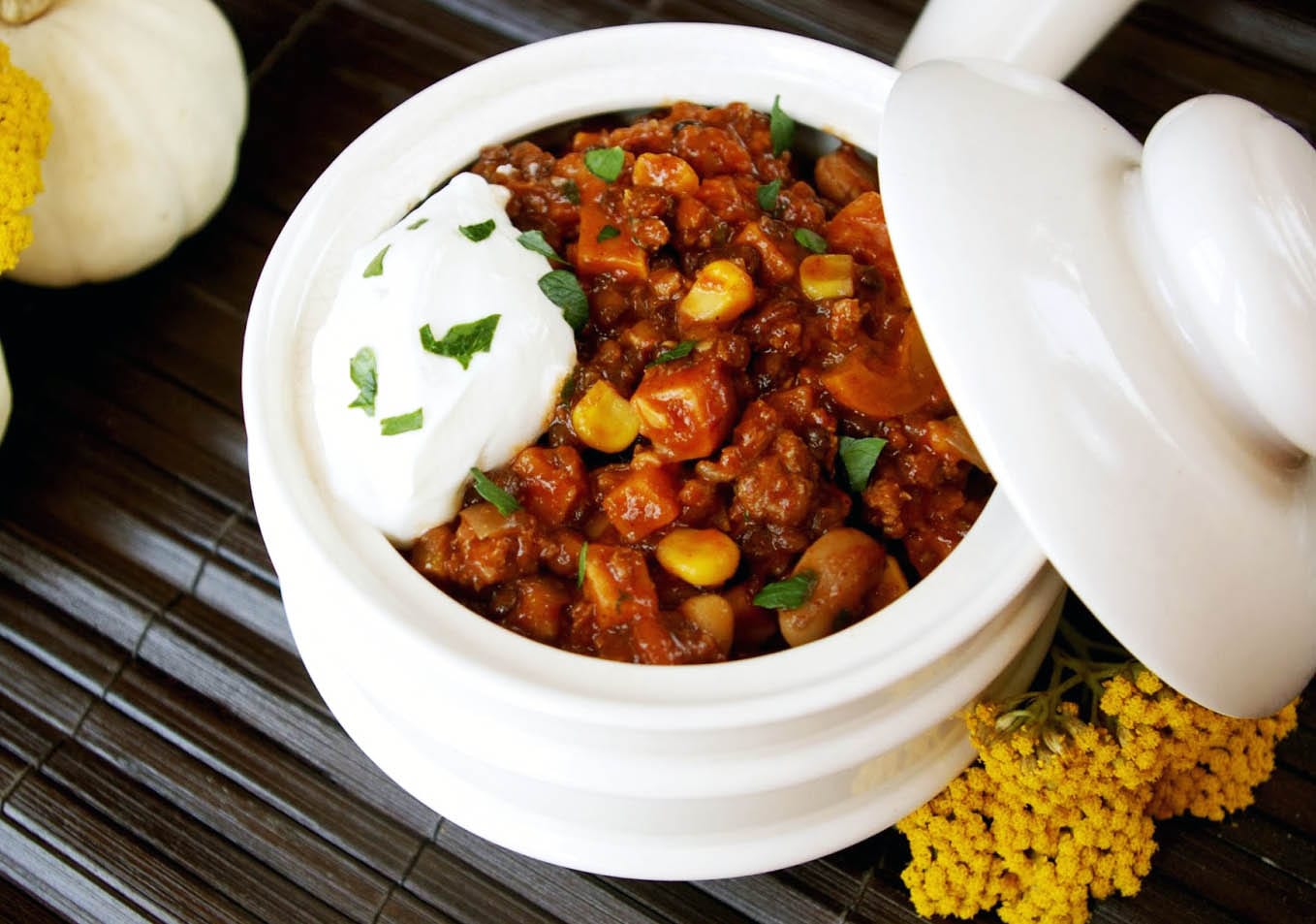 Chock full of hearty ingredients, warm spices, and healthy lean ground turkey, this is one soup to keep on rotation.
By Bria Helgerson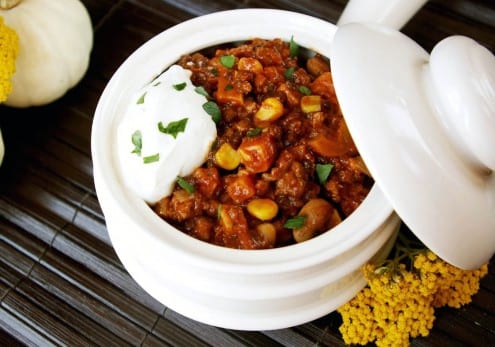 Turkey Chili with Beluga Lentils and Roasted Sweet Potatoes
Chock full of hearty ingredients, warm spices, and healthy lean ground turkey, this is one soup to keep on rotation.
Ingredients
2-3 lbs ground turkey,
3 teaspoons paprika
¼ cup AP flour
½ cup olive oil
1 large vidalia onion, chopped into ½ inch pieces
6 garlic cloves, minced
1 large green jalepeno, diced (remove seeds if you want it a little less spicy)
¼ cup tomato paste
4 tablespoons chili powder
2 tablespoons smoked chipotle chili powder
2 teaspoons ground cumin
2 teaspoons ground coriander
2 teaspoons ground ginger
1 28-ounce can crushed tomatos
2 cups white wine
8 cups chicken stock
4 medium sweet potatoes, peeled and diced small
2 cans canellini beans
2 cups black beluga lentils
2 small cans corn
2 bell peppers (red, yellow or orange are my preference), diced
½ cup parsley leaves, minced
greek yogurt and more chopped parsley to garnish
salt and pepper to taste
Instructions
Preheat oven to 400 degrees F. Toss diced sweet potatoes with ¼ cup olive oil and season generously with salt and pepper. Roast for 30-40 minutes, tossing periodically until starting to caramelize. Set aside.
Meanwhile, heat enough olive oil to coat the bottom of a large heavy bottom pot, such as a dutch oven, over medium-high heat. When oil is hot, add turkey and cook until cooked through and starting to brown. Add the onions and garlic and cook until softened and starting to caramelize, about 5-7 minutes. Sprinkle the flour over the turkey and cook for a minute or two, stirring constantly to cook off a bit of the raw flour taste. Add the jalepenos and saute another 2-3 minutes, until softened.
Add the tomato paste, chili powders, cumin, coriander, ginger, and stir to combine. Add the wine, bring to a simmer, then add the chicken stock and tomatoes. Stir to combine, then bring to a boil and add the lentils. Reduce heat, and simmer for 30-45 minutes, until lentils are starting to get tender.
Add the beans, corn, bell peppers, and sweet potatoes. Bring back to a boil and simmer for 15-20 minutes, until veggies are tender. Stir in parsley and serve immediately topped with greek yogurt and more parsley. This also freezes wonderfully.
Bria Helgerson
Bria Helgerson is a Chicago based food blogger and pastry school student. Lover of all things sweet and savory, she cooks, bakes, and blogs as she navigates her culinary life at her website These Peas Are Hollow.