This healthier take on an American favorite has a slight Indian flair with a coriander-spiced patty and thick yogurt sauce.
By Prerna Singh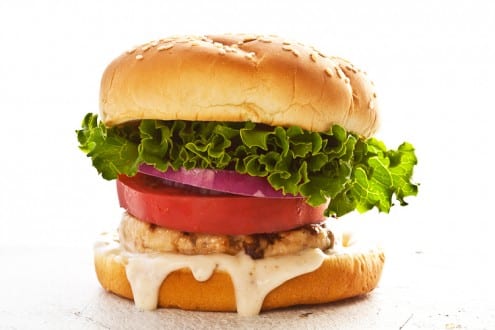 Turkey Burger
This healthier take on an American favorite has a slight Indian flair with a coriander-spiced patty and thick yogurt sauce.
Ingredients
For Burger Patty:
½ lbs turkey (ground)
½ cup onion (chopped)
1 teaspoon coriander seeds (coarsely crushed)
½ cup sun dried tomato (chopped)
Salt to taste
Yogurt Sauce:
½ cup hung yogurt (you can also use greek yogurt)
1½ tablespoon mayonnaise (optional)
8-10 mint leaves
1 teaspoon roasted cumin powder
½ teaspoon cloves powder
Also need:
4 medium burger rolls
Greens- Any choice of lettuce, baby spinach, arugula or clover sprouts
Sliced heirloom tomatoes
Sliced red onion
1½ tablespoon Olive oil for brushing
Instructions
Burger Patties:
Bring ingredients of burger patty together in a bowl. Mix well using spatula or hand. Divide into 4 equal parts.
Take one part in hand. Using both hands roll into a ball. Press between palms to make a flat ½ - ¾ inch thick patties. Pop in the refrigerator for 15-20 minutes.
Heat a grill or grill pan to medium high.
Lightly grease the grill pan. Cook patties both sides until done, about 3 minutes.
Yogurt Sauce:
Pound mint leaves in mortar and pestle.
Whisk ingredients together in a bowl. Set aside for later.
Assembly:
Brush the cut sides of rolls with oil. Place on hot grill. Lightly toast for 30 seconds.
Spread bottom roll half with yogurt sauce followed by burger patty then some some more sauce if wanted. Place tomato, onion and greens topped by the top roll half.
Serve with a side of chips, spicy sweet potato fries or coleslaw.
Oh, and do not forget that bottle of chilled beer to enjoy a summer meal!
Prerna Singh
Prerna is a food writer and photographer who contributes to sites like Menuism and WFAEeats (NPR Charlotte). With a goal of making Indian cuisine approachable, she created Indian Simmer, a blog nominated for 2011 Best Food Blogs by Saveur Magazine.