Sponsored Post: #EnjoyItsFromEurope This post is brought to you by Jambon de Bayonne aka Bayonne Ham, the melt-in-your-mouth charcuterie from Europe. You've probably tried cured ham before, but have you had French Bayonne ham? Be sure to enter for a chance to win Bayonne ham here.
This Turkey Burger with Bayonne Ham and Brie Cheese will surely become a favorite. The burger is light and juicy. It's placed on a bed of mustard aioli and a leaf of lettuce, then topped with an amazing layer of caramelized onions, slices of melted Brie cheese, and crispy Bayonne Ham. You can be generous with your mustard aioli because… why not? You'll find the combination of flavors is simply incredible.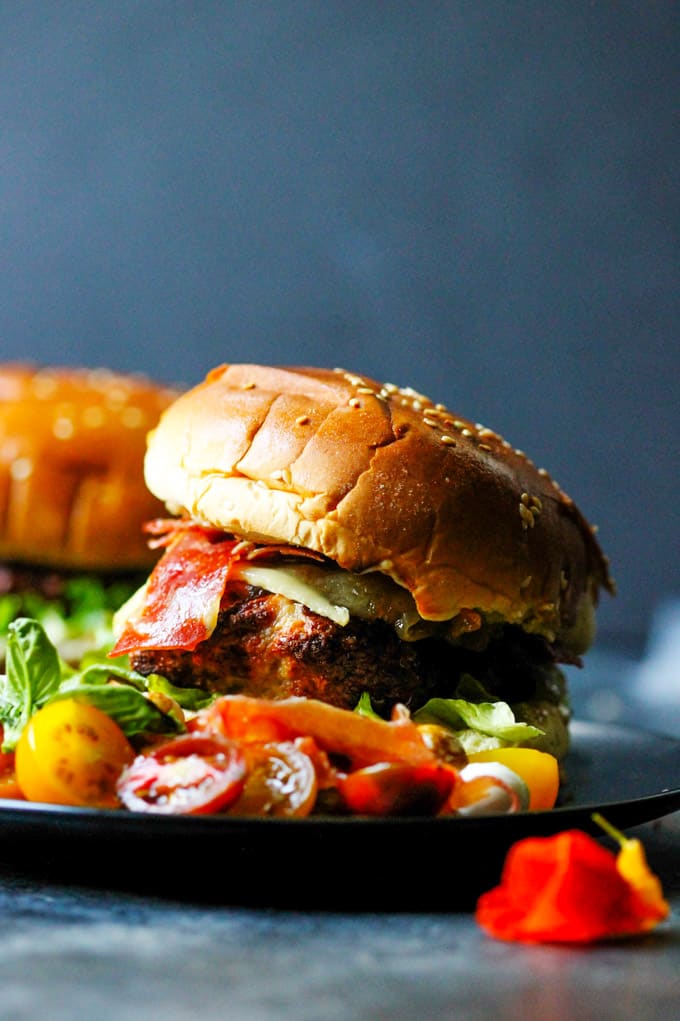 TURKEY BURGER WITH BAYONNE HAM – AN AMERICAN CLASSIC WITH A LIGHTER TWIST
I think nothing more screams 'American classic' then a Burger. All summer long you can smell it cooking on grills and BBQs throughout the neighborhood. I love a good ol' fashion American beef burger with some bacon and cheddar cheese. However, I eat it very rarely. I try to watch my diet so I often substitute a turkey burger instead – it's much leaner & lighter than its beef counterpart.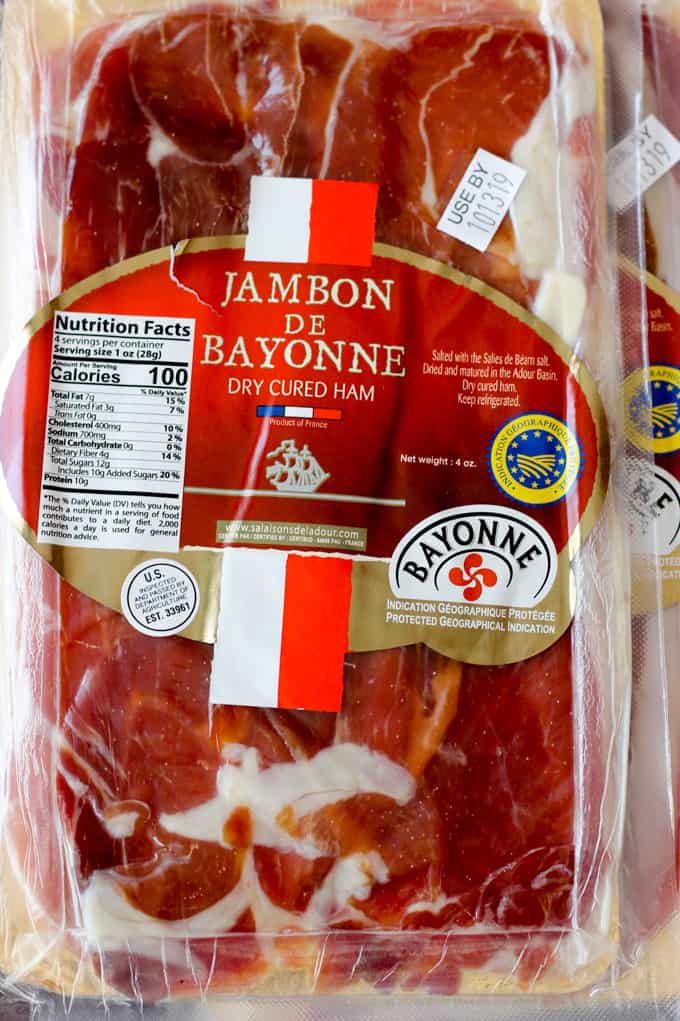 I also decided to use Bayonne Ham instead of bacon, to add some crispiness and saltiness to this recipe. It worked incredibly! Bayonne ham is a cured French ham that you can read more about in the next paragraph.
For this recipe, I created a mustard aioli with two kinds of dijon mustard (creamy and whole grain). It adds a nice flavor profile to this turkey burger. I also caramelized some delicious Vidalia onions (because they are in season and they're super sweet).
I used brie cheese in this recipe for two reasons: (1) it always goes hand-in-hand with turkey meat, and (2) it's French, so it pairs perfectly with my Bayonne ham.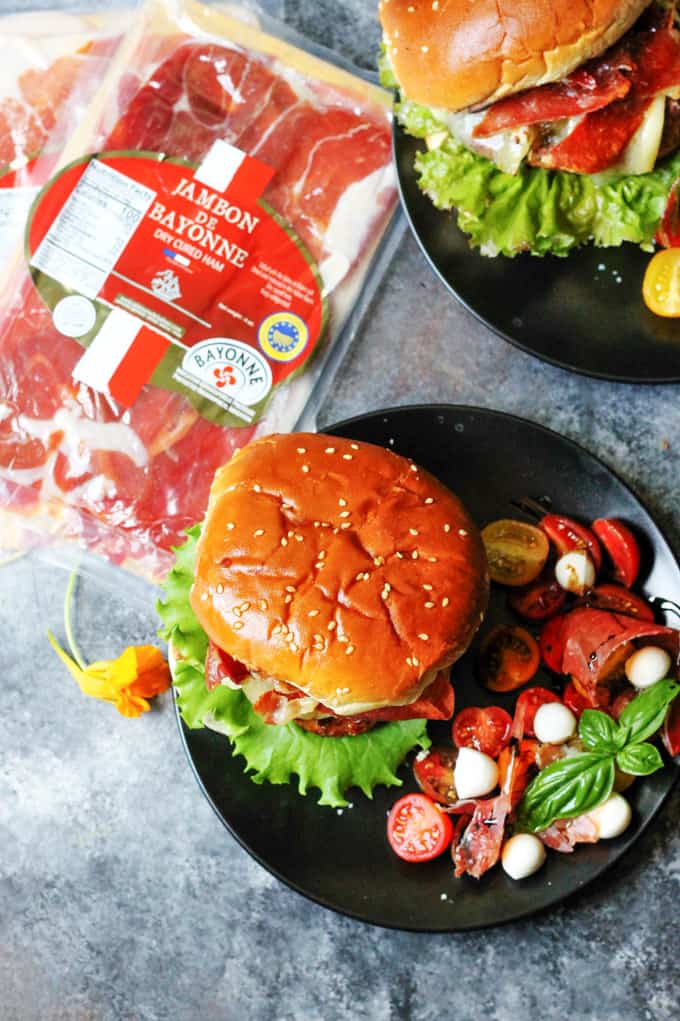 You've probably heard of, and tried different kinds of cured hams, but have you ever heard about a cured ham that's produced in France?
French Bayonne Ham is made with high-quality, whole, fresh hams, rubbed with a thick layer of special rock salt from the Adour river basin. On average, it takes 10-12 months to make a Bayonne ham, and the quality and care truly show in each flavorful bite.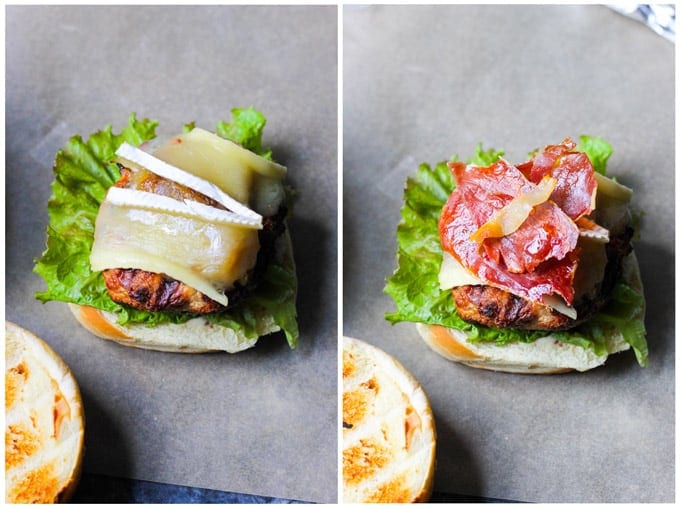 When I made these turkey burgers I didn't just form a patty, as I would've done with a beef burger. The meat is much leaner and has a tendency to dry out. In order to make your turkey burger juicy, you'll need to add a few ingredients to the meat itself.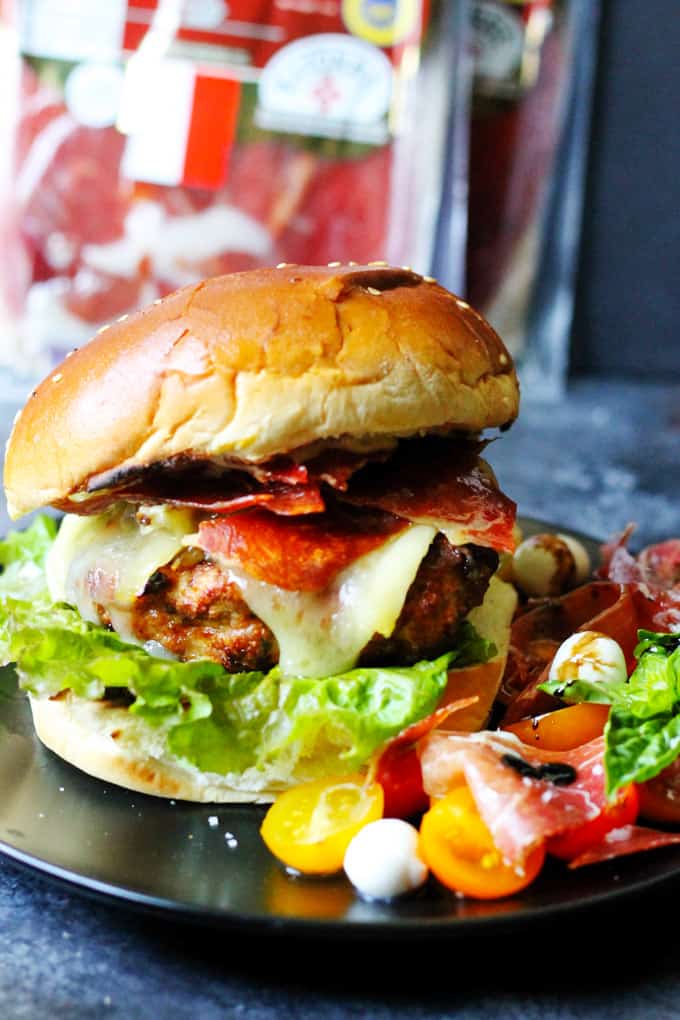 This Turkey Burger is a pretty good meal on its own already, but you can serve it with your favorite side dishes. I decided to serve mine with a side Caprese salad with some extra torn Bayonne ham, just because I couldn't resist it.
If you want to make the same kind of salad, just use some mixed cherry tomatoes, cut them in halves, add mini mozzarella cheese, a few basils leaves, and drizzle it with some balsamic (or balsamic glaze) and extra virgin olive oil. Season with salt and pepper and add some thorn Bayonne ham. So good!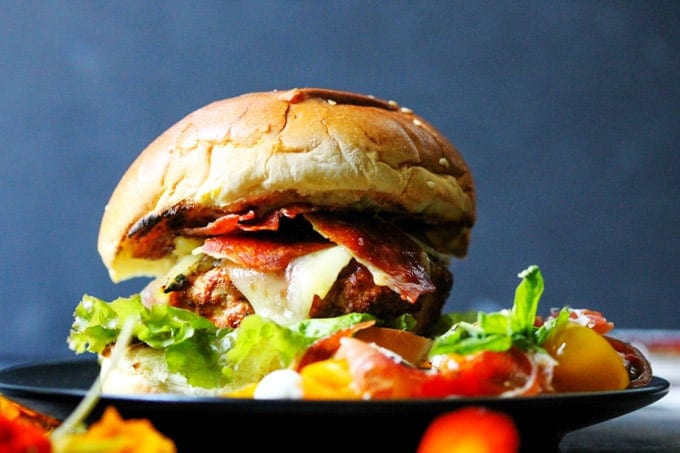 Be sure to enter for a chance to win Bayonne ham here.
Turkey Burger with Bayonne Ham and Brie
Ingredients
Burger Patties:
1 lbs. Ground turkey meat 93% fat;
2 Bread slices soaked in milk and squeezed out;
1 Egg;
⅓ cup Parmesan Cheese;
2 teaspoon Worcestershire sauce;
1 tablespoon Parsley;
1 teaspoon Onion powder;
1 teaspoon Garlic Powder;
1 teaspoon Sweet paprika
¾ teaspoon Salt & ½ teaspoon Pepper.
Caramelized Onions
1 large Vidalia sweet onions or 2 small Spanish onions;
1 tablespoon Butter; unsalted
1 Olive Oil; Extra Virgin
Salt and pepper to taste.
Mustard Aioli
½ cup Mayonnaise;
1 tablespoon Creamy Dijon Mustard;
1 tablespoon Whole Grain Dijon Mustard;
Black Pepper to taste
Other Ingredients
8 slices Bayonne Ham;
8 slices Brie Cheese;
4 Sesame seeds burger buns;
4 Lettuce leaves;
Oil spray for burgers.
Instructions
Caramelized Onions:
Slice your onions;
Heat up your pan, then add butter and olive oil, onions, and salt & pepper;
Cook it on low for 45 minutes to an hour (mixing often), until your onions are caramelized.
Turkey Meat Patties:
First, you'll want to soak your bread for a couple of minutes in milk. Once the bread is soaked, squeeze out the milk and only put the inner bread into a mixing bowl (you can skip the crust);
Then add turkey meat, egg, Parmesan cheese, parsley, and spices into a big bowl and mix it. Be sure not to overmix the meat. Otherwise, it'll be tough. You can use a fork to do this;
If your meat is too wet, you can add a few bread crumbs, but don't overdo it. You want the burgers to be slightly wet, as they'll be juicier;
Form 4 patties and set aside.
Mustard Aioli
In a bowl, mix together mayonnaise with both mustards and black pepper. Do not add salt, as your mayonnaise, as well as your mustards, are already salty.
Assemble Burgers:
Preheat your grill to hot;
Spray your burgers with cooking oil and place onto the grill;
Cook your burgers on each side for about 5-7 minutes (depending on the thickness of your patty);
Place slices of Bayonne ham on a tin foil and place it on a grill next to the burgers; let it cook for a few minutes to your desired crispiness; remove from the grill;
Once the burgers are cooked on both sides, add some caramelized onions on top of each burger, top it with sliced brie cheese and let it melt;
Remove burgers from the grill;
You can toast your buns if that's your preference; then add mustard aioli, a leaf of lettuce, a burger with onions and cheese and top it with crispy Bayonne ham. You can add more aioli on the top bun as well. Serve and enjoy!