Tuna and Avocado Wontons with Sriracha Aioli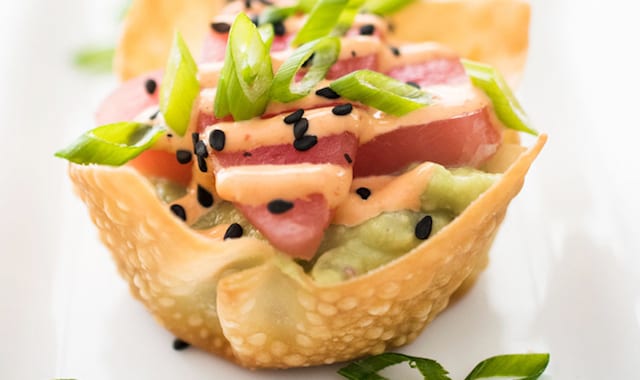 Make a vibrant, refreshing appetizer in minutes with tuna tartare and avocado served in crispy wontons with a Sriracha aioli.
By Kathleen Kiebler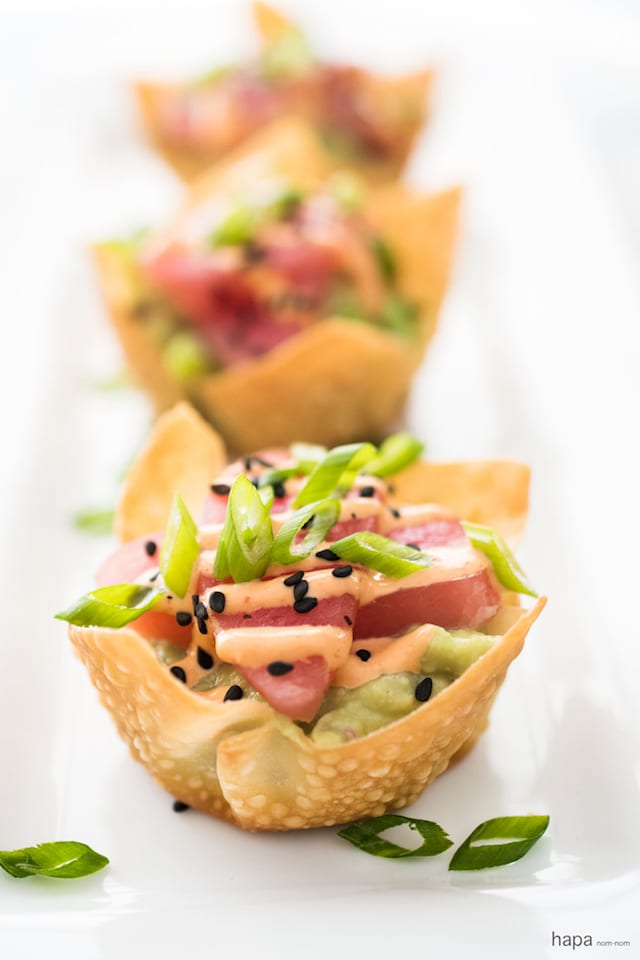 These Tuna and Avocado Wontons with Sriracha Aioli are incredibly easy to make. The little gems are ready to serve in just 10 minutes! And they definitely have that 'wow' factor. When simplicity, elegance, and serious flavor converge – you've got, what I like to call, the appetizer trifecta.
Serve at your next gathering for a light appetizer that will satisfy.
So just a few words on purchasing the tuna for this awesome appetizer. You've probably heard or seen the phrase, 'sushi-grade', but what exactly does that mean? Well, there's no official US qualification for the term. That being said, grocery stores are not in the business to make their customers sick, so when they say 'sushi-grade', what they mean is it's their freshest fish. Now just because it's their freshest, doesn't mean you should buy it. Here are a few points to keep in mind when you're shopping:
-Go to a reputable vender – one that goes through a lot of fish. For me, that's my local Asian market – they have a great selection and there's a lot of turnover. Also, many general grocery stores these days have a sushi counter that sells packages of sashimi for lunch, this is another good option.
-Observe or ask if their 'sushi-grade' fish is prepared and stored separately from their other fish – this will prevent cross-contamination.
-Use your senses – smell, touch, and sight. The fish should only smell like the ocean, it should be firm to the touch, and the color should be bright and vibrant.

Tuna and Avocado Wontons with Sriracha Aioli
Got 10 minutes? That's all you need to make Tuna Sashimi and Avocado Wonton Cups. Perfect for parties and impromptu get togethers.
Ingredients
12 square wonton wrappers
vegetable spray
¼ cup good quality mayonnaise
1 tablespoon Sriracha
2 avocados, pitted
1 Serrano or jalapeño, seeded, deveined, and minced
⅓ cup red onion, finely chopped
2 tablespoons fresh lime juice
½ - ¾ teaspoon Kosher salt
pinch of freshly ground black pepper
7 ounces sushi-grade tuna
1 tablespoon black sesame seeds (white is ok too)
2 scallions, green parts only, thinly sliced
Instructions
Preheat the oven to 350 degrees F. Lightly spray each cup of the muffin tin with the cooking spray. Gently press a wonton wrapper into each cup so that the wrapper takes its shape. Lightly spray the wonton wrappers with the vegetable spray and bake for 8 - 10 minutes, or until crispy and golden-brown.
While the wonton cups are baking, mix the mayonnaise and Sriracha in a small bowl to make the quick Sriracha aioli. Cover and refrigerate until ready to serve.
In a medium-sized bowl, mash the avocados with a fork. Stir in the Serrano, red onion, and lime juice. Season with salt and pepper to taste.
Slice the tuna ¼-inch thick, against the grain.
Once the wonton cups have baked, remove and allow to cool. Once cooled to room temp, place a dollop of the avocado mixture in each cup. Top with two slices of tuna, drizzle with the Sriracha aioli, and garnish with the sesame seeds and scallions. Serve and enjoy!
Notes
* The wonton cups can be baked the day before and stored in an air-tight container.
* If you're making these for a party - assemble just before serving. They will hold up for about an hour in the fridge, but if prepared too early the bottom of the wontons will become soggy.
* For a pretty application of the Sriracha-mayo, I used a squeeze bottle.
Kathleen Kiebler
Hi there, I'm Kathleen. I am a Hapa (a person of mixed ethnic heritage) who grew up in a family that loves to cook and loves to eat! My food is a reflection of me and I am a reflection of my food. My mixed background has given me multiple perspectives throughout my life. Those perspectives have left me open to not just exploring the beauty of my own cultural backgrounds, but others as well – and at the heart and soul of them, is food. Hapa Nom Nom creates a culinary environment where foods from multiple cultures are integrated into recipes that can be shared and enjoyed by everyone.