Take your mac and cheese to a whole new rich and delicious level with this truffled recipe.
Did someone give you a giant bottle of Truffle Oil? You should make this recipe from Del Frisco's Grille
Read the TOP 5 dishes to get at Del Frisco's Grille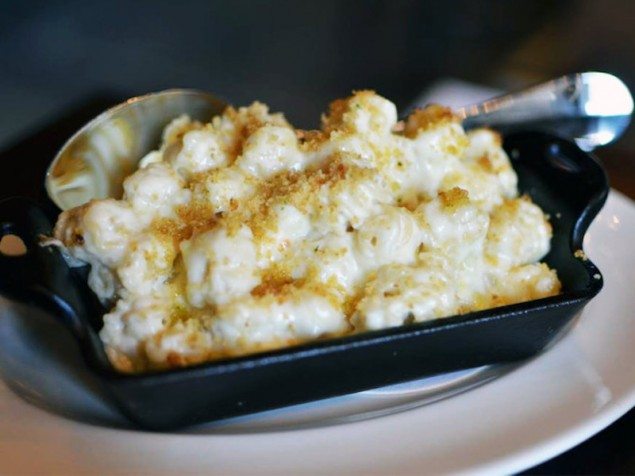 Print
Sauce
¼ cup

diced shallots

¼ cup

chopped garlic

2 Tbsp

olive oil

3 cup

heavy cream

4 oz

. shredded Gruyere (or swiss)

2 oz

. grated parmesan
Pasta
2 cup

dry radiatore pasta (any pasta with grooves will do.)
Instructions
Sauce
Sweat garlic and shallots till garlic browns slightly.
Add heavy cream and bring to a boil then simmer
Reduce by 1/3
Add gruyere and parmesan season to taste with salt and pepper. Reserve.
Pasta and Assembly
Bring 12 cups of water and 6 Tbsp of salt to a boil
Add pasta and stir to prevent sticking
Once pasta is cooked, strain and add to sauce
Stir pasta in with sauce over low heat.
Place in a 4×4 square gratin dish
Top with ½ cup Bread Crumbs, bake in a 400 degree oven till bread crumbs start to brown.
Remove from oven and drizzle with a good quality truffle oil (should have truffle in the oil)
Serve
Michelle Tchea
Michelle Tchea is a 4-time bestselling author. Her books include, Building a Perfect Meal, My Little SoHo Kitchen, Signature Dishes (Australia's Best) and Chefs Collective. Her work can be found in other leading luxury travel and food magazines including Travel+Leisure Asia, SMILE, NUVO Magazine and The Telegraph