Chocolate on chocolate, stuffed with chocolate. These triple chocolate pop tart pastries are a perfect treat for the ultimate chocolate lover. Plus, the chocolate dough just so happens to be gluten free.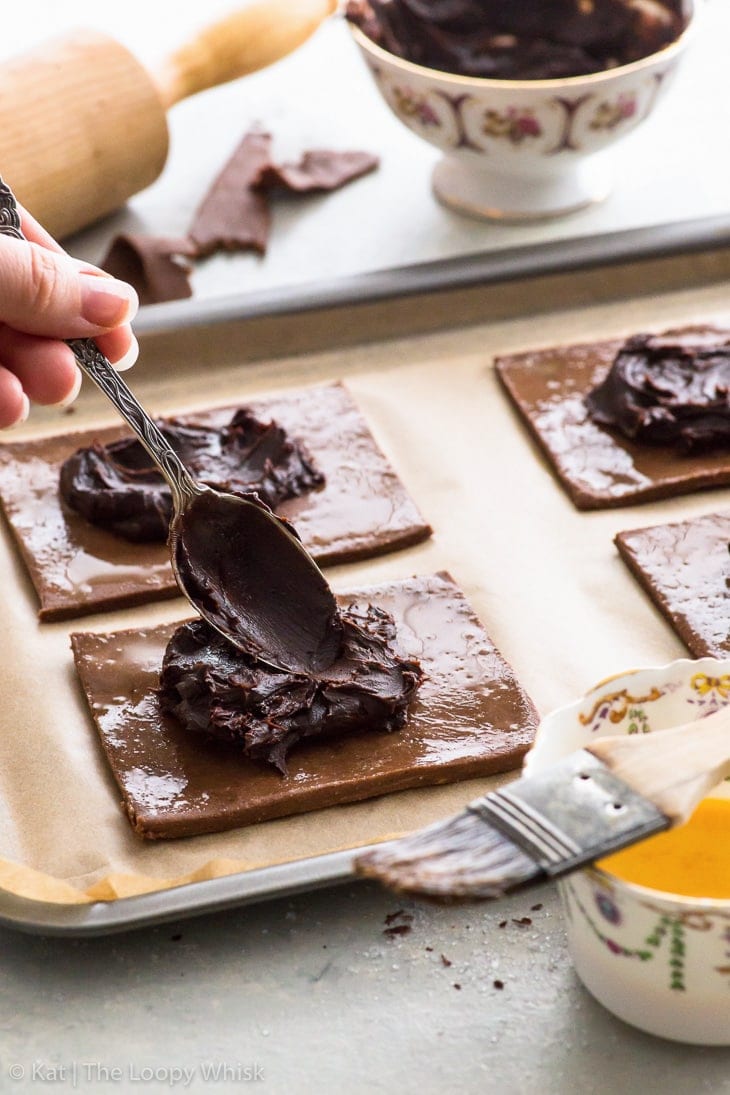 These are TRIPLE CHOCOLATE pop tarts!!! (Or maybe quadruple… I lost count, to be honest). They're probably the most chocolatey thing I've ever made… and with my track record, that's saying something.
If you love chocolate – these are the perfect dessert for you.
If you love pop tarts – these will blow your mind.
If you love both – try to refrain from eating your screen while you read this post.
You've been warned.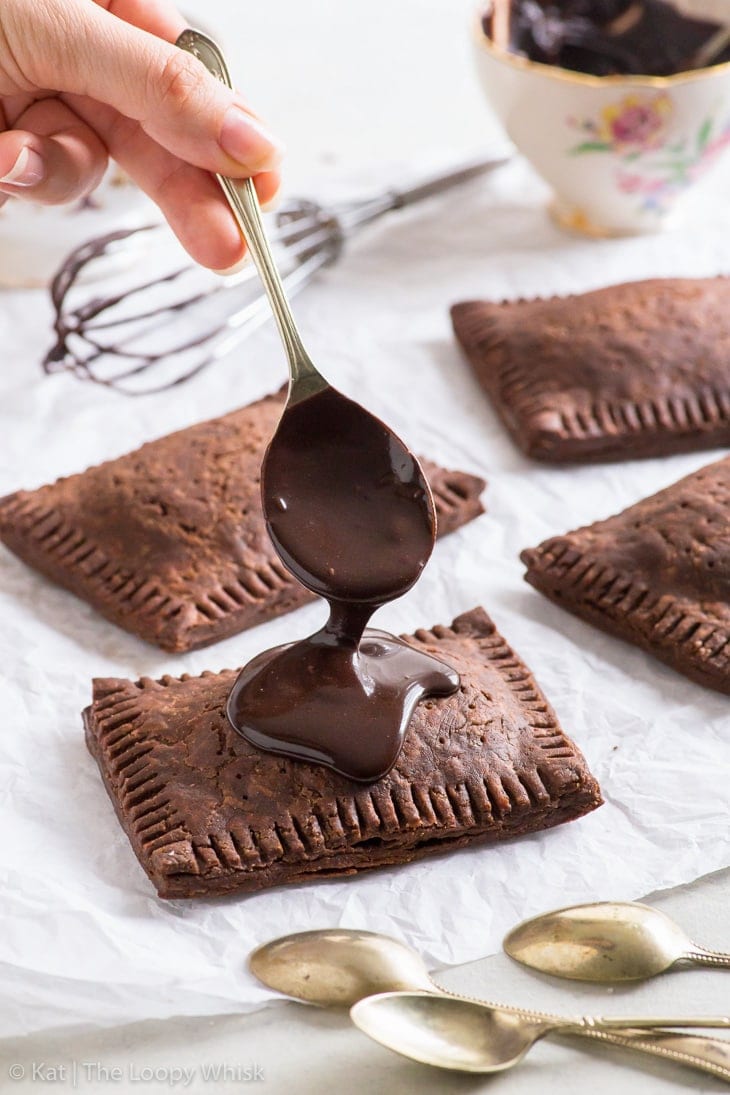 Can you tell that these chocolate pop tarts are REALLY EFFIN' DELICIOUS? Because they are. Spectacularly so – as evidenced by my horrible overuse of all-caps and exclamation marks. I would apologise… but these little chocolate-packed pockets of deliciousness deserve it all.
Think I'm exaggerating? Think again.
The chocolate pie crust is gloriously buttery and flaky, with a slightly bitter cocoa undertone. It's the jazzed-up version of my go-to gluten free pie crust, which I've used many times before.
The chocolate fudge filling is… pretty much what it says it is. Intensely chocolatey, so fudgy it's actually gooey and pretty much every chocolate lover's best dream ever.
The chocolate frosting adds another layer of chocolate deliciousness – it's sweet and chocolatey and brings the whole dessert together.
Because there is no such thing as too much chocolate… we'll add chocolate sprinkles. Because we can and it's a really really good idea.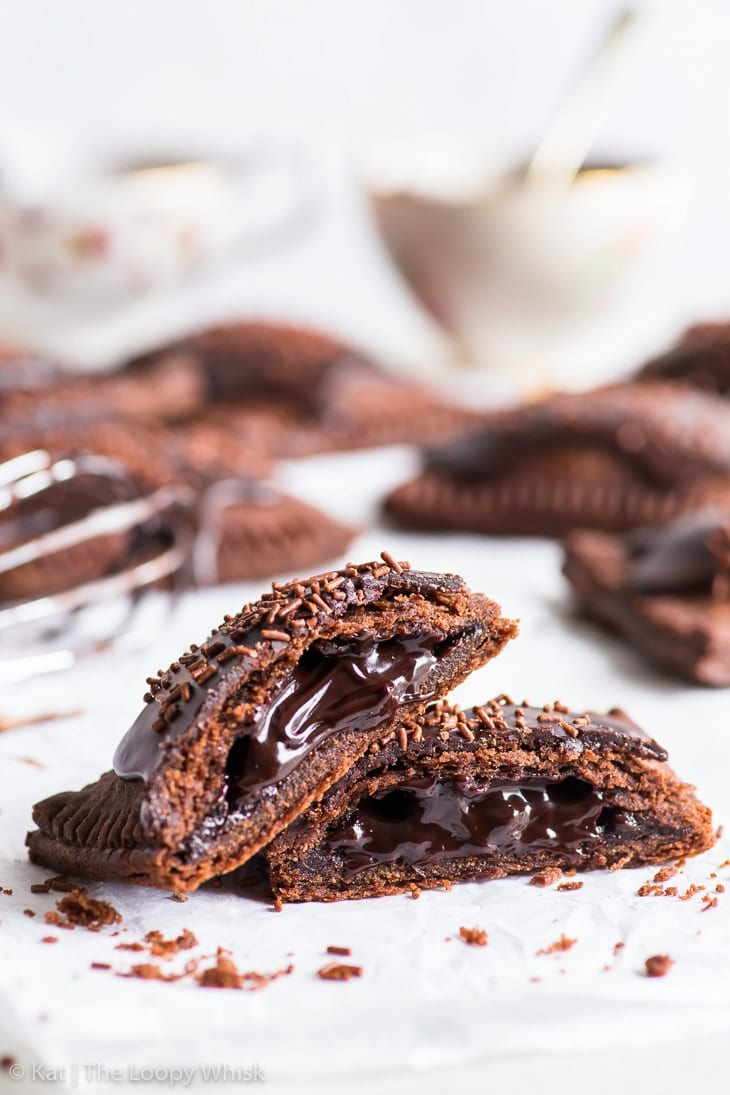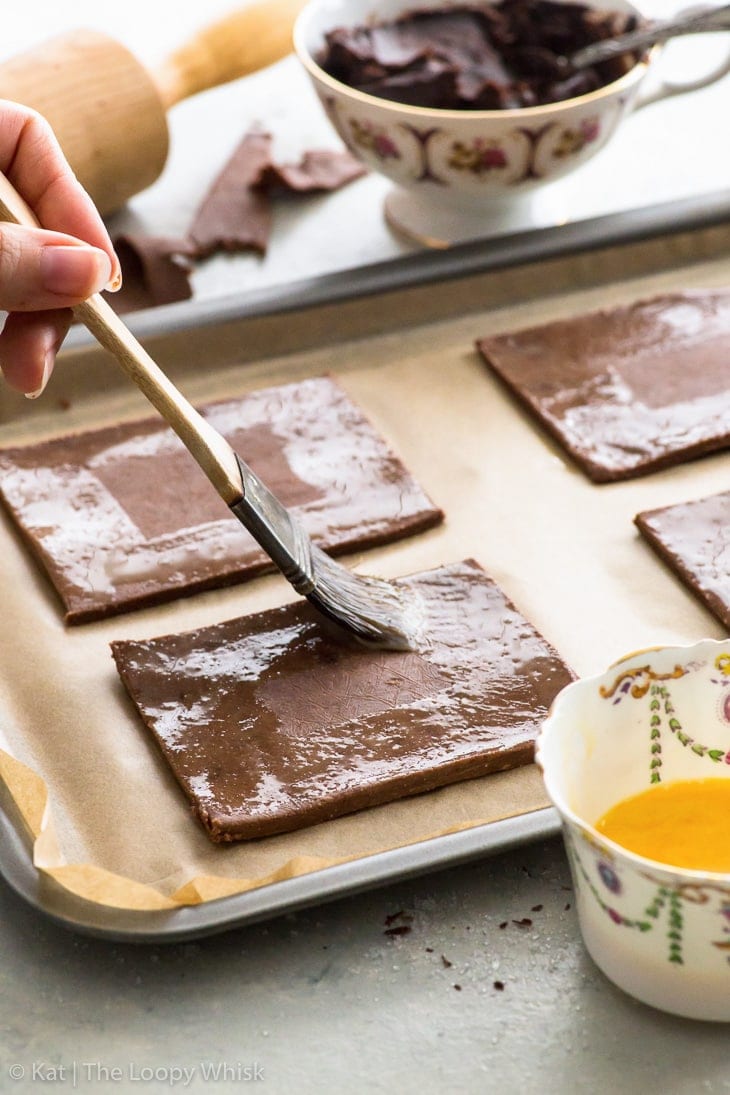 The pop tarts then bake in the oven for about 20 minutes. They're going to smell amazing and, no, sticking your head in the oven probably isn't a good idea. Once baked, they will be slightly puffed up and gloriously flaky. DA-YUM!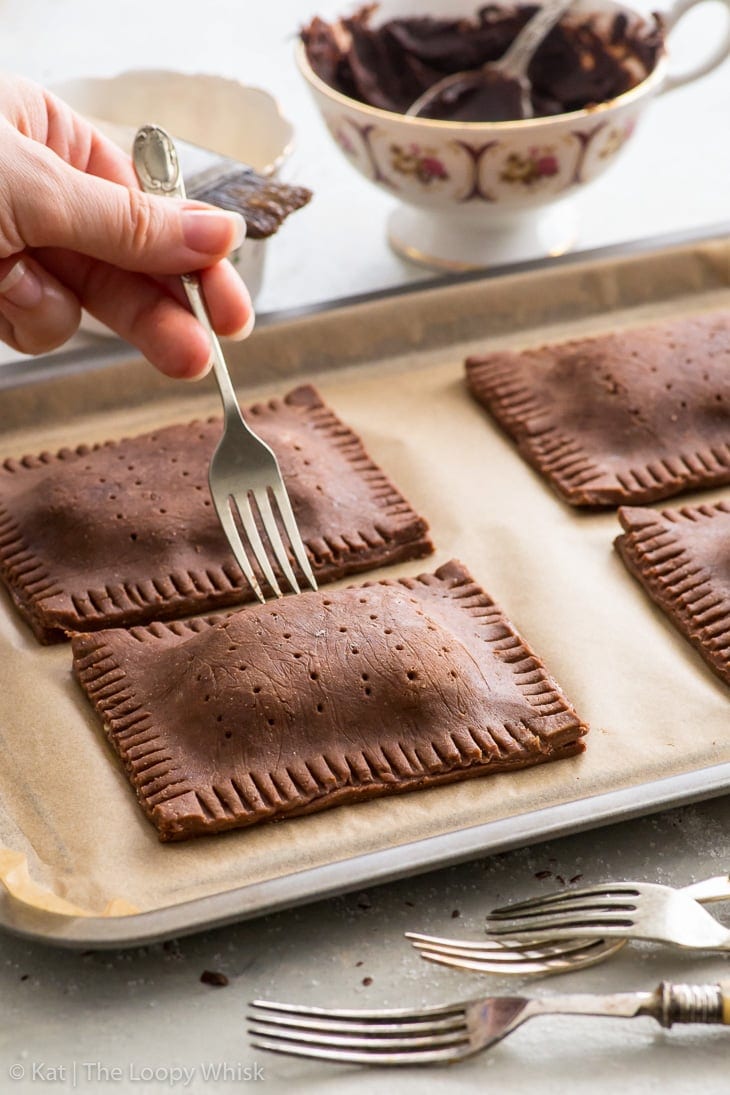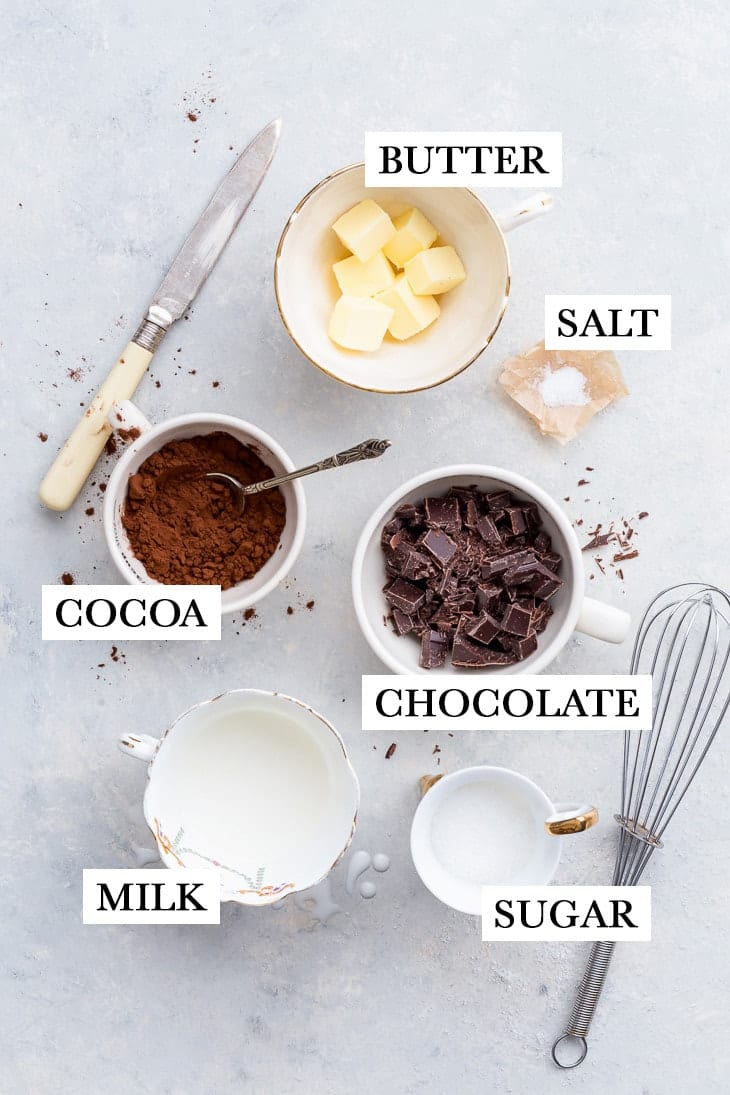 The chocolate frosting couldn't be easier to make: just mix together powdered sugar and cocoa powder, and then slowly add water, 1/2 tablespoon at a time, until you reach the perfect consistency.
The perfect consistency in this case means that the frosting will gently drip down the sides, but still form a generous layer on top of each pop tart.
Then, just spoon a bit of the frosting onto each pop tart. If you want them to be extra pretty, direct the "flow" of frosting with a spoon. (Nothing like a bit of controlled spontaneous beauty, is there?)
See Also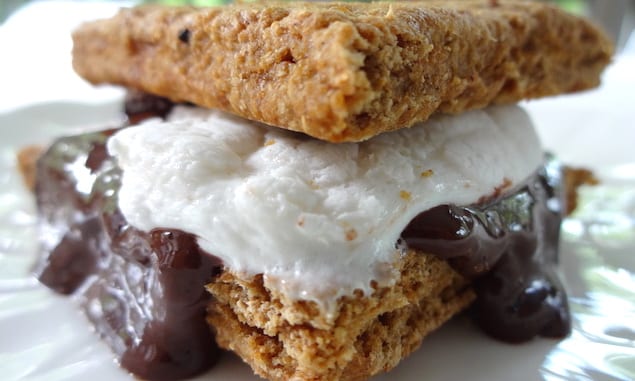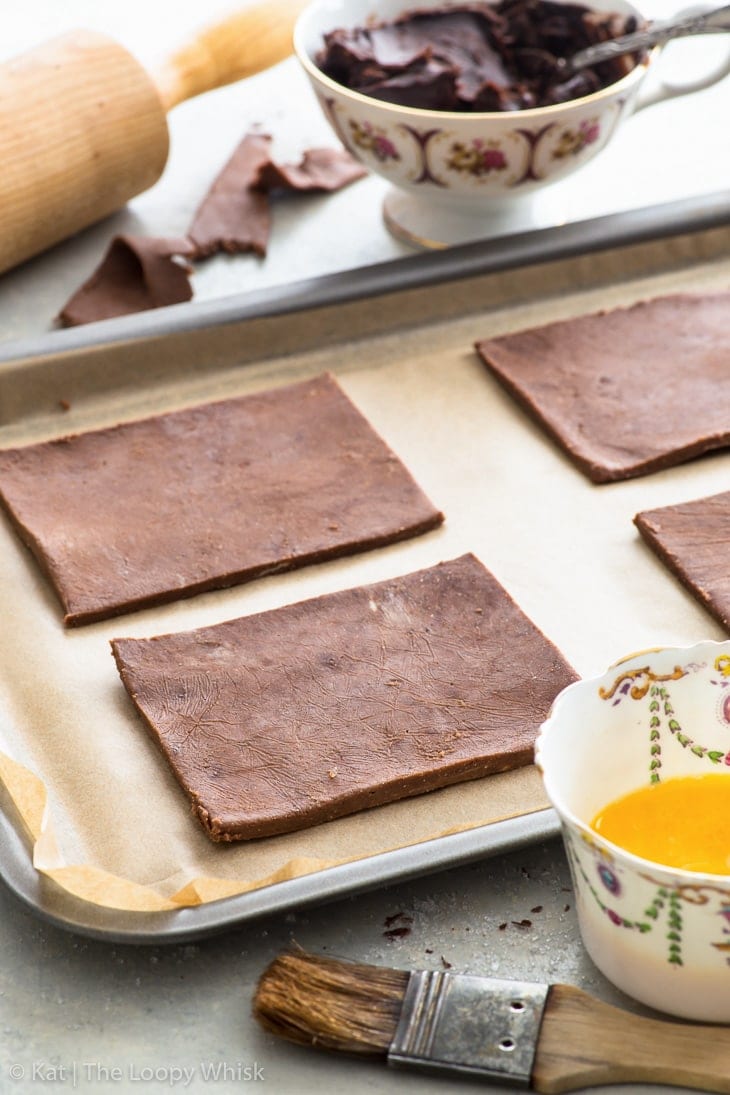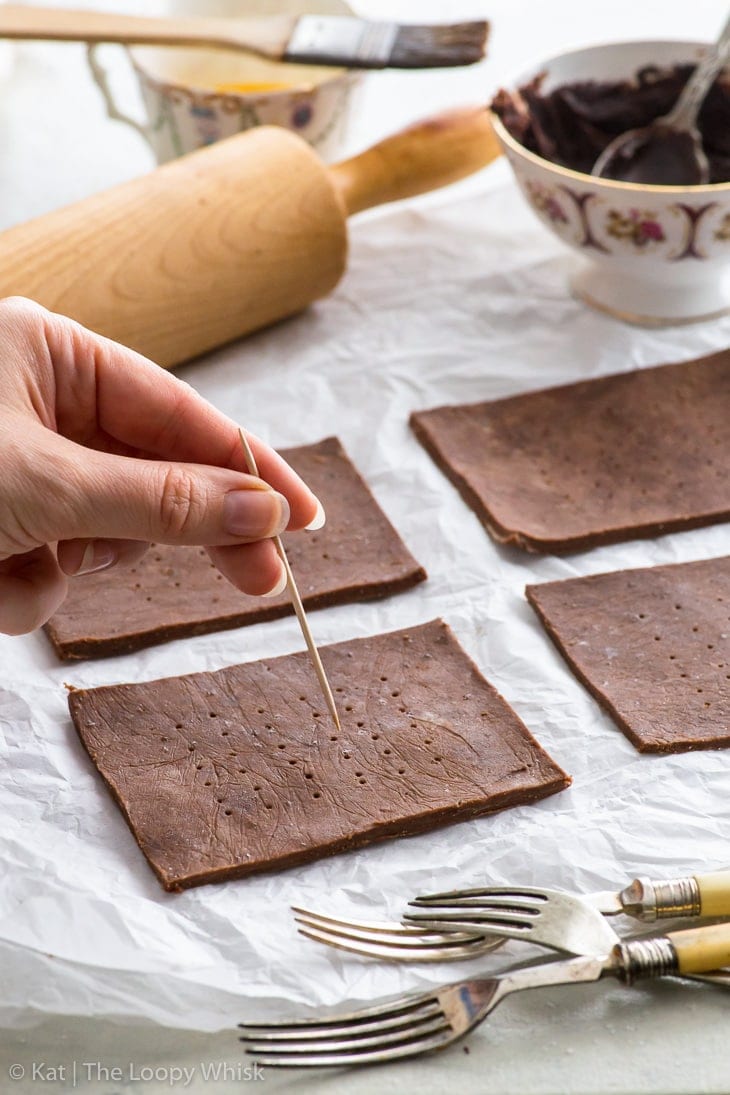 A scattering of chocolate sprinkles (because there wasn't enough chocolate in there already, duh), and we're done! These TRIPLE chocolate pop tarts… they're stunning. And glorious. And really, really delicious. Seriously, just look at them!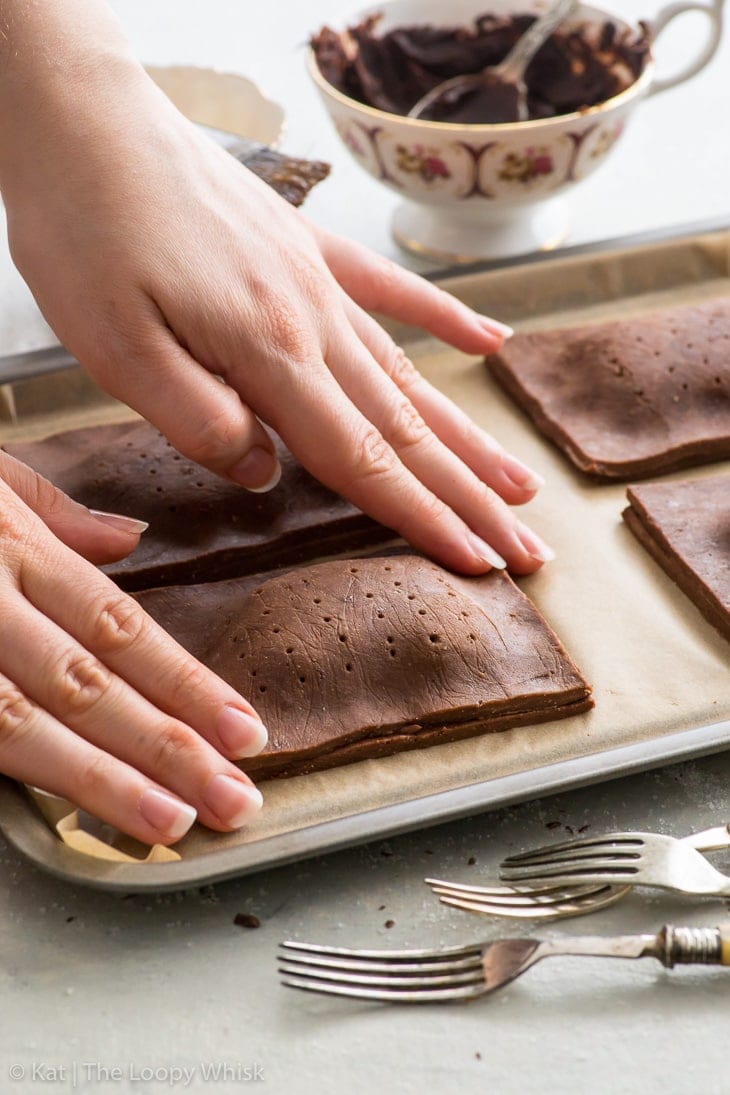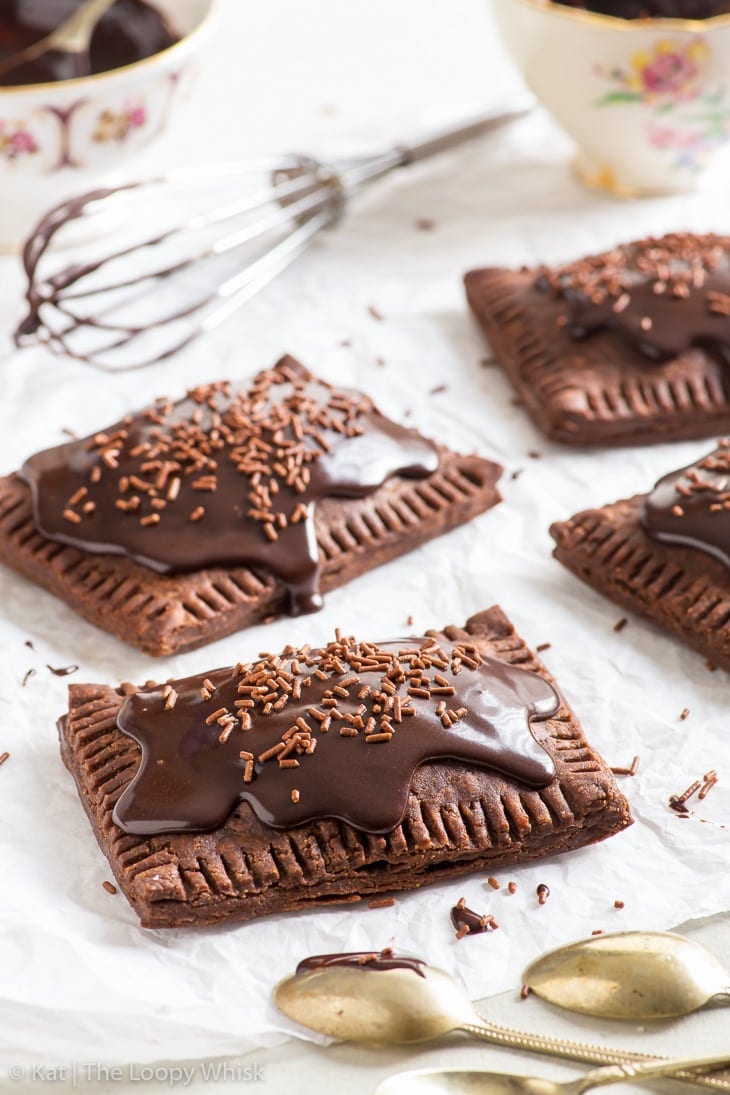 They are essentially chocolate on chocolate stuffed with chocolate… and with an additional sprinkling of chocolate for good measure. Now, what's not to love about that?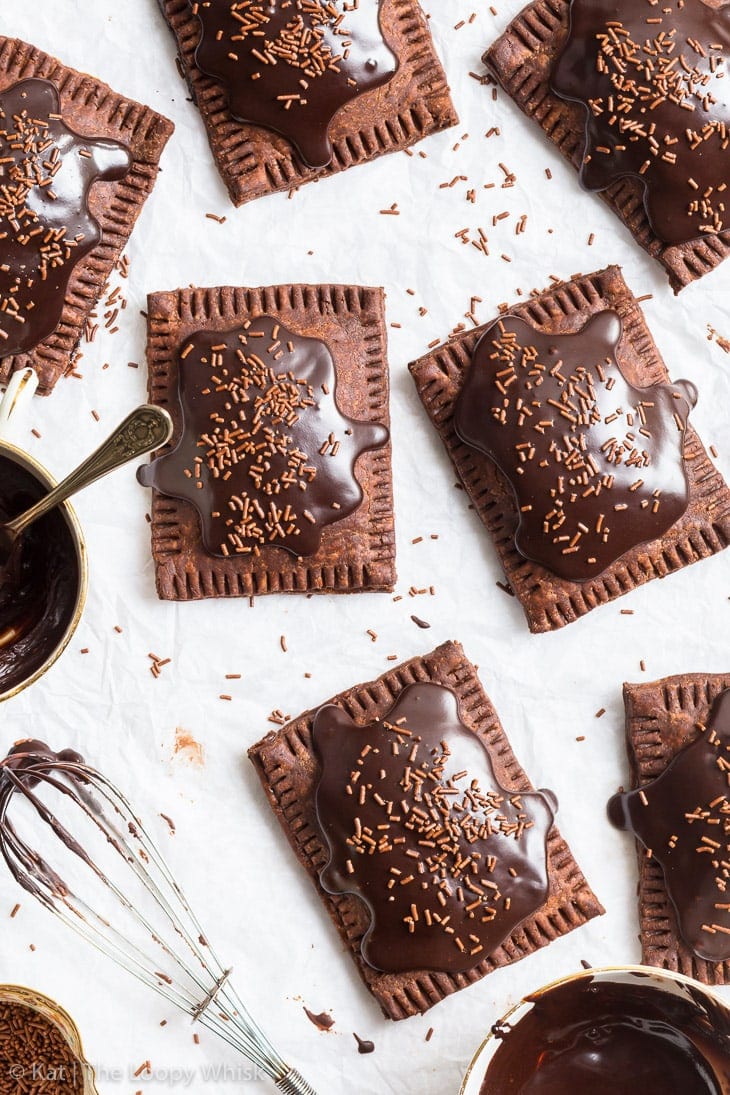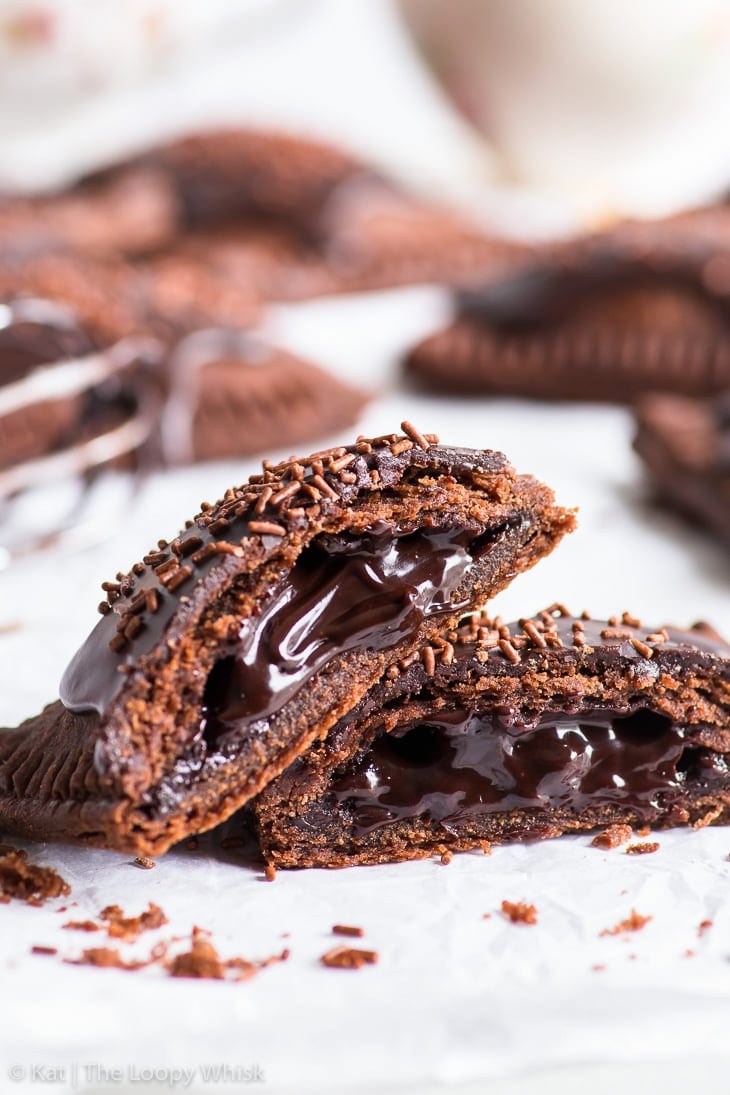 Click here for the chocolate pie dough recipe.
Print
Triple Chocolate Pop Tart Pastries
Author:

Katarina Cermelj

Prep Time:

1 hour 30 minutes

Cook Time:

25 minutes

Total Time:

1 hour 55 minutes

Yield:

8

pop tarts

1

x
Category:

Chocolate
For chocolate fudge filling:
1/4 cup

30 g cocoa powder

1/4 cup

50 g white sugar

1/4 cup

60 mL milk
pinch of salt

3 1/2 oz

100 g chopped dark chocolate, divided

1/3

stick (40 g unsalted butter)
For chocolate pie dough:
Click the link above for the recipe.
For chocolate frosting:
1/2 cup

63 g powdered sugar

1/8 cup

15 g cocoa powder

2

–

2 1/2

tbsp water
chocolate sprinkles
Instructions
For chocolate fudge filling:
In a saucepan, mix together the cocoa powder, sugar, milk, salt and half of the chopped chocolate. Heat until the chocolate has melted and you get a smooth mixture.
Remove from heat and add in the butter and the rest of the chopped chocolate. Mix everything together until the butter and chocolate have melted.
Set aside. The chocolate fudge filling will firm up slightly while cooling.
For chocolate pie dough:
Click the link above for the recipe.
Assembling the chocolate pop tarts:
Pre-heat the oven to 355 ºF (180 ºC) and line a baking sheet with baking/greaseproof paper.
Roll out the chilled pie dough about 3 mm thick, and cut out 3 x 4 inch rectangles. You should get 16 rectangles (makes 8 pop tarts).
Egg wash the edges of half of the rectangles and spoon a heaped tablespoon of the chocolate fudge filling into the centre of each one. Spread the filling slightly, but leave at least 3/4 inch room around the edge.
Prick the centres of the other 8 rectangles with a toothpick. Place these rectangles over the filling, seal the edges with your fingers and "crimp" the edges with a fork.
Bake the pop tarts in the pre-heated oven at 355 ºF (180 ºC) for 20 – 22 minutes.
Allow to cool slightly.
For the chocolate frosting:
While the chocolate pop tarts are baking, make the chocolate frosting by mixing together the powdered sugar and cocoa powder. Add the water, 1/2 tablespoon at a time while stirring/whisking, until you get the right consistency. (The right consistency in this case means that the frosting will gently drip down the sides, but still form a generous layer on top of each pop tart.)
Decorating the pop tarts:
Spread the frosting onto the slightly cooled pop tarts and decorate with chocolate sprinkles.
Storage:
The gluten free triple chocolate pop tarts keep well in a closed container in a cool dry place for 3 – 4 days.
Katarina Cermelj
Katarina is a Chemistry PhD student at the University of Oxford. At least by day – by night she transforms into a food blogger, baking up a storm, taking way too many close-up photos, and writing up blog posts for "The Loopy Whisk" (click on 'website' below to take a look!). Her recipe repertoire ranges from buttery, sugary goodness to raw vegan gluten- and refined sugar-free treats. But they are all joined by a common thread – an emphasis on easy and (mostly) quick recipes that are above all else about flavour. Oh, and she talks (writes) a lot.