Triple Chocolate and Pears Cake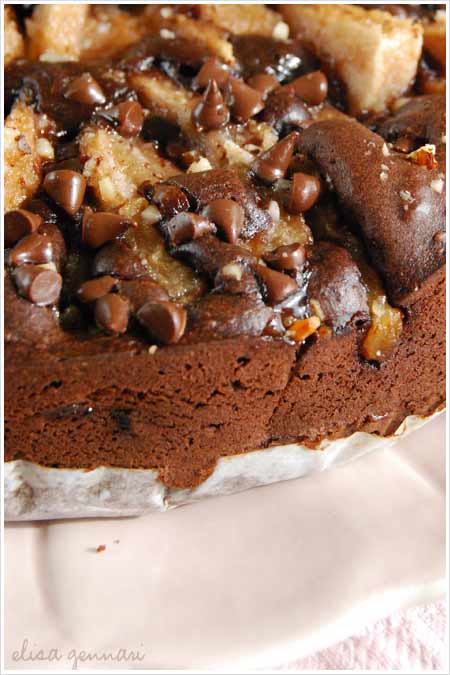 Eating this cake you'll experience various consistencies, from the soft delicate pears slices to the crunchy chocolate chips and nuts.
By Elisa Gennari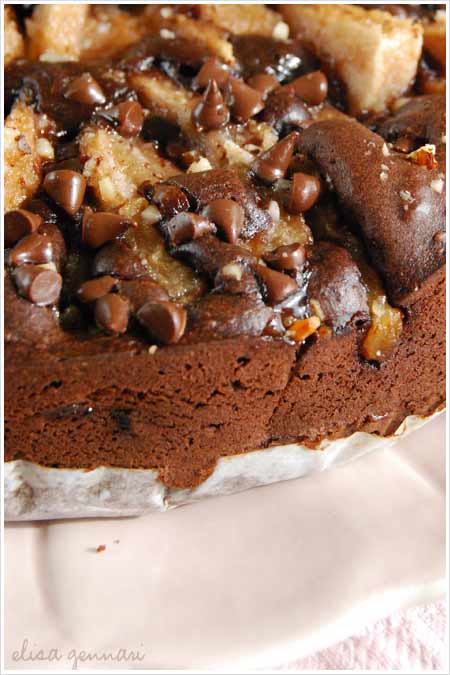 I must say that rarely I prepare something that is so full of fats, but this is absolute heaven, and it's perfect for a birthday or a special occasion or whenever you want a chocolate treat!
Eating this cake you'll experience various consistencies, from the soft delicate pears slices to the crunchy chocolate chips and nuts. The nicest thing is that is very easy to bake and it takes about an hour to prepare and cook. The triple chocolate comes from the three types of chocolate added: cocoa powder, dark chocolate (70%) and chocolate chips, so if you like chocolate you should definitely try it!
Healthty advice: if you suffer from nickel allergy you might not want to eat this cake or at least eat just a little slice of it (it depends on how bad your allergy is).
Chocolate and pears are naturally filled with nickel so if you don't want to spend the rest of the day with annoying collateral effects.. you better try something else.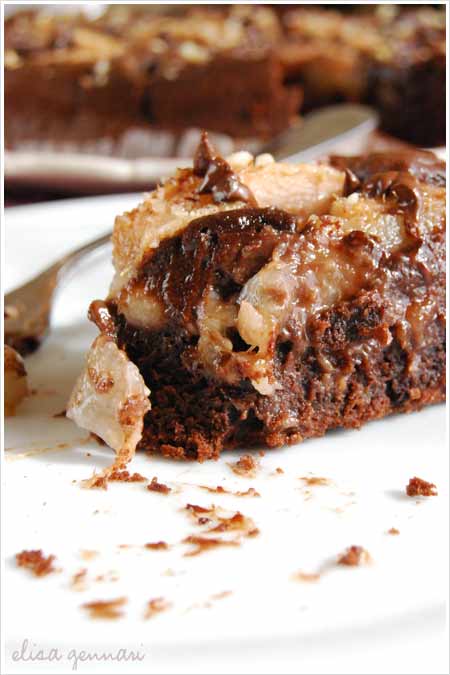 Now let's prepare the cake:

Triple Chocolate and Pears Cake
Heavenly triple chocolate treat with pears.
Ingredients
100gr of dark chocolate (70% at least)
100ml of double cream
2 eggs
90gr muscovado sugar
50ml of vegetable oil
225gr flour
120g unsweetened cocoa powder
25gr of baking soda or baking powder
90gr of chocolate chips
3 pears
2tbsp of grounded nuts or pecan
Instructions
Turn on the oven at 180°C/200°C (350/390°F) and grease a 24cm springform pan with some butter and dust it with flour (or cover it with parchment paper).
Melt the dark chocolate in the microwave in a bowl at 450W for about 2min. (or according to the direction of the producer).
In a big bowl or in the food processor mix the melted chocolate, double cream, flour, cocoa powder, oil, eggs, sugar and baking soda. Mix all the ingredients evenly.
Peel the pears or wash them thoroughly if you want to leave the peel on. Remove the core and slice them into 1cm slices.
Pour the mix into the pan and then cover it with the pear slices and sprinkle with chocolate chips and bake for 40minutes.
You can serve this cake either lukewarm or cold: the difference is in the chocolate chips: the colder the cake, the crunchier they gets.
Elisa Gennari
Elisa Gennari was born and raised in Rome, with a true passion for home made food. Her goal is to share her ideas about eating delicious food while still staying healthy. In her blog she teaches her secrets on how to cook Italian recipes, always with a healthy twist.