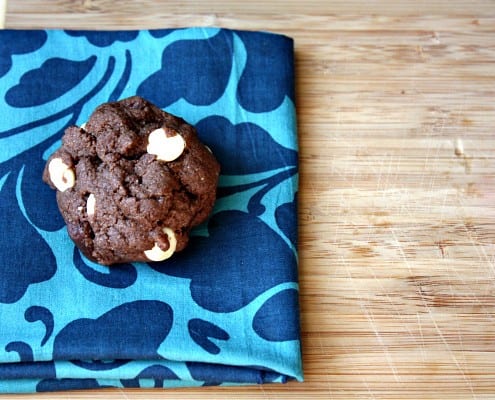 Rich, chocolate cookies dotted with white chocolate chips and packed with a secret weapon, coconut flour, that makes them high in fiber and lower in gluten.
By Abby Himes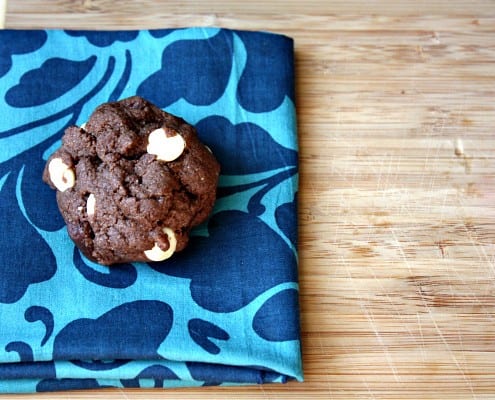 I was in the store last week and saw coconut flour on the shelf.  Usually I'd look at that package like it had 8 legs and keep walking, but this time I decided to take the plunge.  Coconut flour is tricky, it smells heavenly and lures you in promising high fiber and natural sweetness.  But then, my normally creamy cookie dough turns into a thick, dense, mound.  The words epic fail creep on to my lips…
Trust.
Trust the coconut flour.
So, I roll the dough into little balls and line them up on the cooking sheet, holding my breath and thinking to myself, "what a waste of chocolate…" (Talk about multi-tasking)
And then, it happens.  Like life always does when you're taking a risk.  That little glimmer at the end of the tunnel you had convince yourself existed in the beginning, becomes so bright you know you've made it.
See Also

And you are rewarded with moist, brownie-like, triple chocolate cookies.
So go ahead and have that third one, you earned it.
Rich, chocolate cookies dotted with white chocolate chips and packed with a secret weapon, coconut flour, that makes them high in fiber and lower in gluten.
Recipe Type:
Dessert, Cookies
Ingredients
1¾ cup All Purpose Flour
½ cup Coconut Flour
⅔ cup Cocoa Powder
1 teaspoon Baking Soda
½ teaspoon Salt
1 cup plus 3 Tablespoons Butter, softened
1¼ cup Sugar
2 Eggs
2 teaspoons Vanilla Extract
¾ of a 12 oz. bag of White Chocolate Chips
½ of a 12 oz bag of Chocolate Chunks
Instructions
Preheat your oven to 350 degrees F.
In a large bowl mix together the all purpose flour, coconut flour, and cocoa powder. Then add the baking soda and salt, stir well. Set aside.
In the mixing bowl, cream the softened butter on a medium speed and then add the sugar. Mix on medium speed until fluffy.
Add in the vanilla and eggs, mix in completely. Now begin adding the dry ingredients a little at a time. Be sure the mixer speed is on low!
Scrape down the sides of the bowl between each addition. Because of the coconut flour the dough will be very very dense. Once all of the dry ingredients have been added, pour in the chips and chunks and mix in by hand. (If the batter is just too stiff and you can't even mix in the chips, add 2 tablespoons of water and stir until incorporated.)
Once all of the ingredients have been added, scoop out a cookie sized amount of dough and shape it into a ball using your hands and place on the cookie sheet. Continue until you have a dozen on the sheet and then bake 9-12 minutes. Cool on a rack for 2 minutes and then take off the baking sheet and let cool completely on a wire rack.
Enjoy!
Abby Himes
Abby can be found cruising her local farmer's market and co-op looking for fresh, new, flavors and sustainable options. She sees food as an adventure, and is always excited to try something new. Abby is also the creator and voice behind the food blog, Seaweed & Sassafras.