SPONSORED STORY – BROUGHT TO YOU BY CASTELLO ALPS SELECTION
Three cheeses of varying strength and smoothness combine in these customizable bite-sized pastries.
By Laura Davidson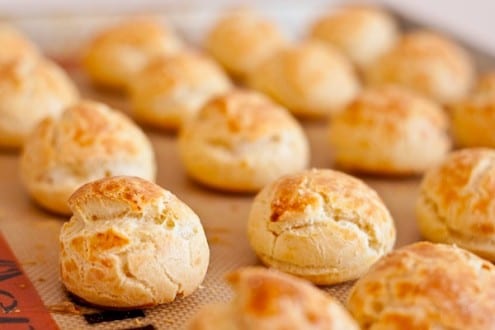 Gougeres are made with a choux pastry that is mixed with cheese, baked at a high temperature (to puff and steam), and generally served warm as an appetizer.
While they traditionally are supposed to be very small (about the size of a Brussels sprout), I tend to prefer to make them a tad bit larger and more substantial.
Topped with a little bit of fresh Hirten cheese, these little baked pastries can be put together extremely quickly and customized to your liking (with more cheese, fresh herbs, roasted garlic, etc.)
Win a Castello Alps Selection Cheese Tasting
Triple Alps Cheese Gougeres
Three cheeses of varying strength and smoothness combine in these customizable bite-sized pastries.
Ingredients
½ cup whole milk (or water)
2 ounces unsalted butter
2½ ounces all-purpose flour
½ teaspoon kosher salt
¼ teaspoon ground cayenne pepper
3 ounces Castello Swiss Alps cheese (equal combination of Hirten, Weissbier, and Classic) + more for dusting
2½ eggs (use the other half of an egg for a simple egg wash)
Instructions
Preheat oven to 425 degrees.
Prepare all your ingredients and set aside.
In small bowl, combine flour, salt, and cayenne pepper and whisk together.
In a saucepan, combine the whole milk and butter. Bring to a rolling boil (over medium-high heat), watch carefully to avoid the mixture from evaporating.
Turn down the heat to low and immediately add in the entire flour mixture at once, stirring with a wooden spoon until the mixture comes together (there should be a light coating on the bottom of the pan) and begins to dry out a bit.
Add the cheese and stir until melted and combined.
Transfer the dough to the bowl of a stand mixer (fitted with the paddle attachment) and turn on to medium high speed, allowing the dough to cool slightly.
With the mixer at medium high speed, add one egg at a time, allowing the eggs to be absorbed one at a time. You want the dough to not be stiff or runny--but have it be able to hang from the paddle in a "V" shape.
Transfer the dough to a piping bag (fitted with a round large tip)--or use two spoons--and pipe small rounds (about an inch in diameter) onto a Silpat or parchment-lined baking sheet. Brush the tops of each gougere with leftover egg wash and a sprinkle of grated Hirten cheese.
Bake for ~15 minutes at 425 degrees. Rotate the pan and turn down the oven to 325 degrees and bake for an additional 7-10 minutes or until golden brown.