Peanut butter and jelly sandwiches are a classic lunch staple growing up and go on to become a comfort food as an adult. Sometimes change can be quite delicious, even when it comes to the classics. Try these ideas for a way to reinvent the traditional sweet sandwich.
By Annelise McAuliffe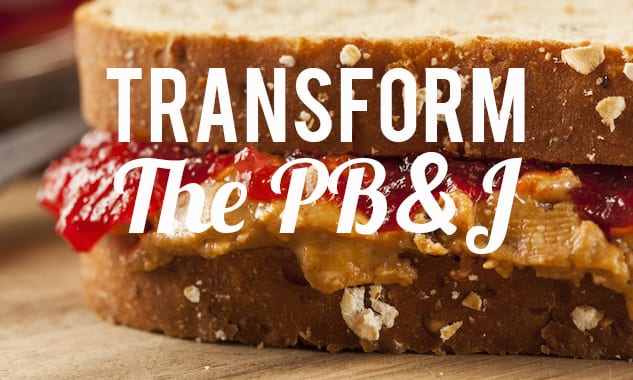 Shutterstock: Brent Hofacker
Add Bacon
Also known as the Fool's Gold Sandwich, this concoction is rumored to have been created and popularized in Denver, Colorado. Originally is was made by hollowing out a loaf of bread and then filling it with peanut butter, specifically grape jelly, and bacon and then sliced. It is said that Elvis flew all the way to Denver for this sandwich and then proceeded to eat it alongside champagne. Try your hand at making it at home. Get the recipe here.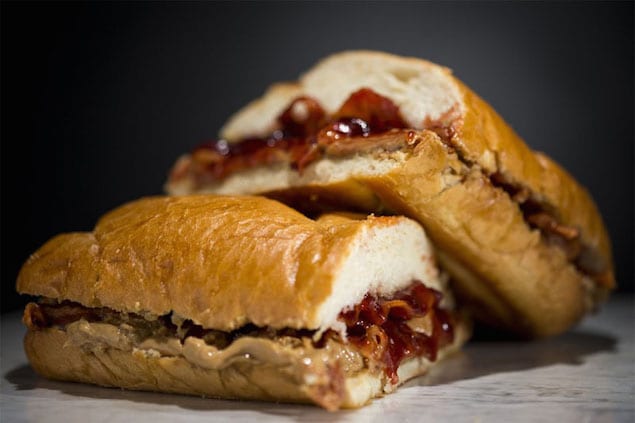 www.dispatch.com
Swap Jam for Fresh Fruit
It works to add new textures to a PB&J, hence crunchy peanut butter. Instead of jam, next time try adding fresh berries or even pomegranate seeds to the stack. You can also double up on jam and fruit, especially if it is strawberry jam and banana slices.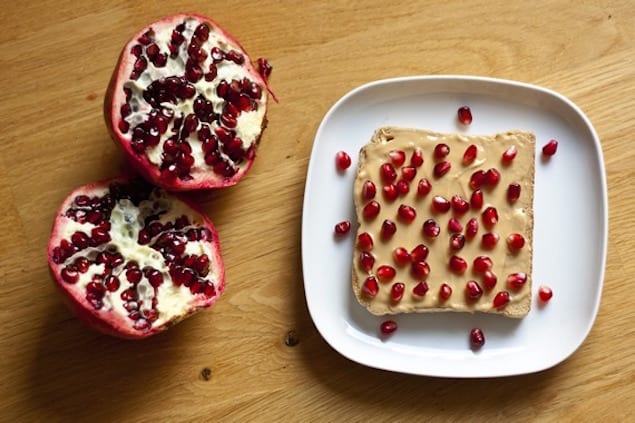 mylittlegourmet.com
Slather with Butter
Adding butter to you peanut butter sandwich makes it so rich and creamy. Sometimes it is nice to leave out the jam in this instance and just revel in the delightfully fatty and salty flavors of the butters. Some people enjoy thicker slabs of cold butter between layers of peanut butter and bread, but I personally enjoy butter that is slightly softened and just enough of it to add a hint of creaminess but not too much. Remember, peanut butter is still the star of this sandwich.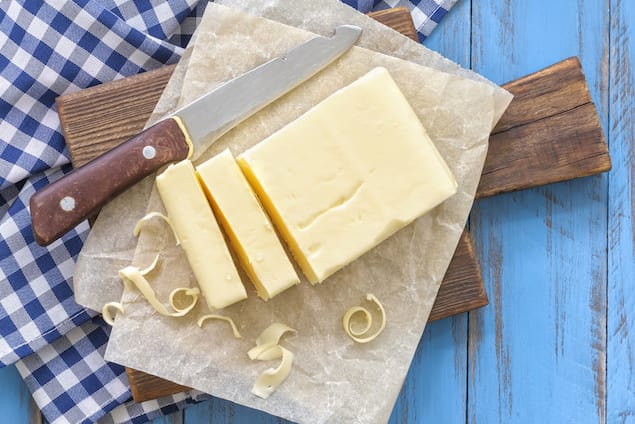 Shutterstock: Sea Wave
Grill It
Just like a grilled cheese sandwich, throwing a peanut butter and jelly into a pan to get melty and toasted turns it into an ultimate comfort food. If grilling it is too tame for the seasoned PB&J eaters out there, how about taking it for a spin in the deep fryer?
Try this recipe.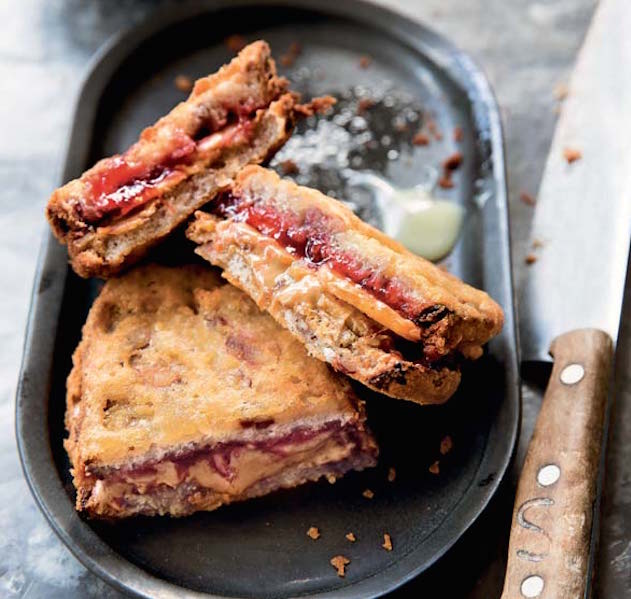 leitesculinaria.com
Bring on the Spreads
Peanut butter is friendly and love to invite delicious friends to the sandwich party. We love to add marshmallow fluff, hazelnut spread (be sure to try the crunchy variety of this!), cookie butter, honey, vanilla cream cheese, or even chocolate syrup.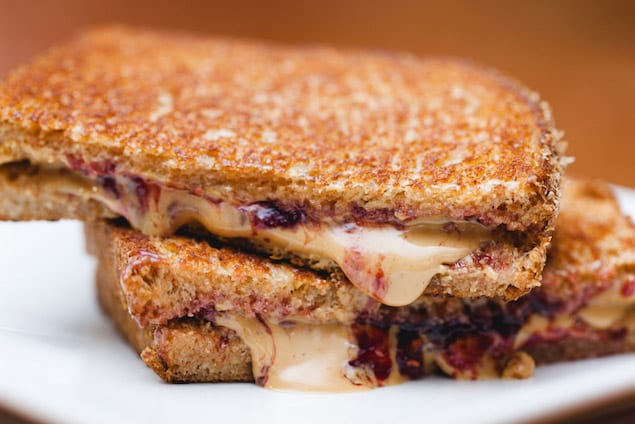 www.shanewootenband.com
Ditch Boring Bread
Swap out white or wheat bread of a fun alternative such as sourdough, roll-up wraps, or a cinnamon raisin loaf. Better yet, use leftover pancakes or waffles from breakfast for an extra special lunch.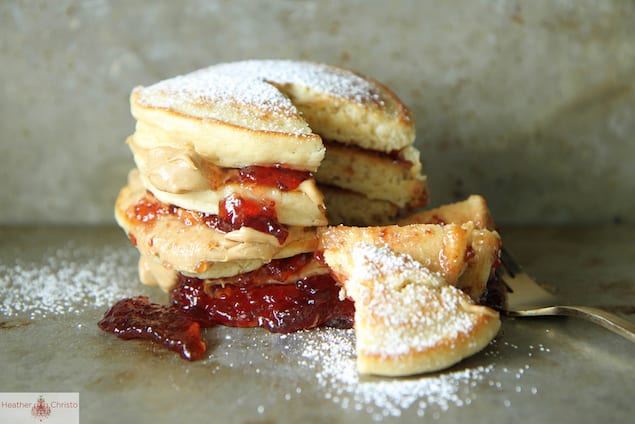 heatherchristo.com
Take it Savory
Peanut butters without added sugar or with
spices such as chilis or cayenne
add a new element to originally sweet sandwiches. Like Thai peanut noodles, try these sandwiches with chicken, tofu, and perhaps a slice of pineapple to calm down the spice.
Try this recipe with basil
or
this one with pork belly
.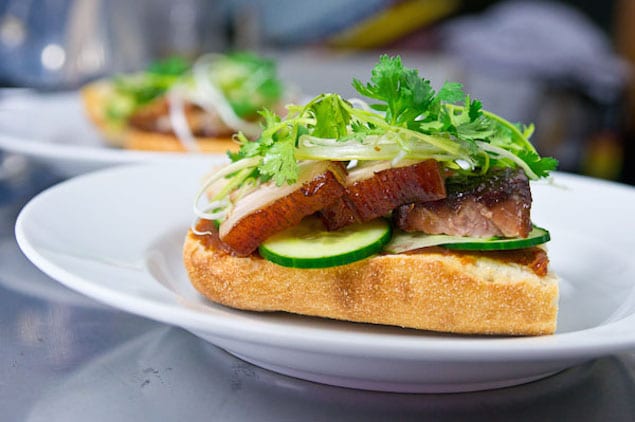 http://ilovepeanutbutter.com
Turn it into Dessert
Bring the sweet sandwich to a dessert level by swapping out the bread. Banana bread, pound cake, chocolate cake slices or even cookies can wrap around the traditional peanut butter and jelly fillings to make it into an awesome sweet treat.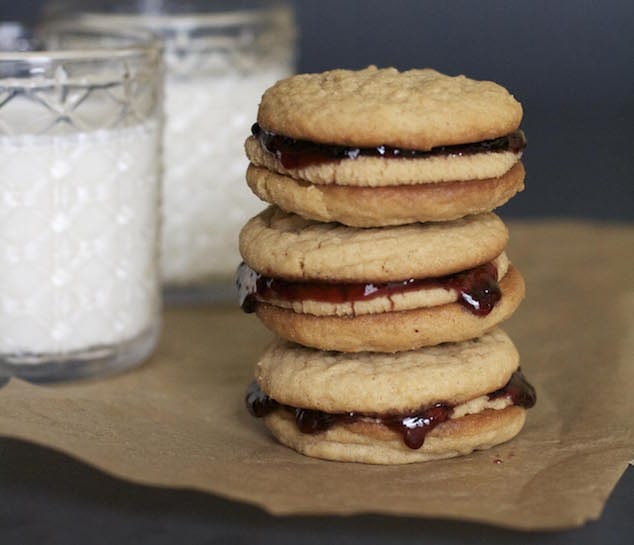 www.the-baker-chick.com
Add Toppings
Just like a salad or a giant bowl of ice cream, toppings can be the difference between a good sandwich and a great one. Try adding shredded coconut, sliced almonds, chocolate chips, dried fruit, potato chips, granola, or even celery to the mix.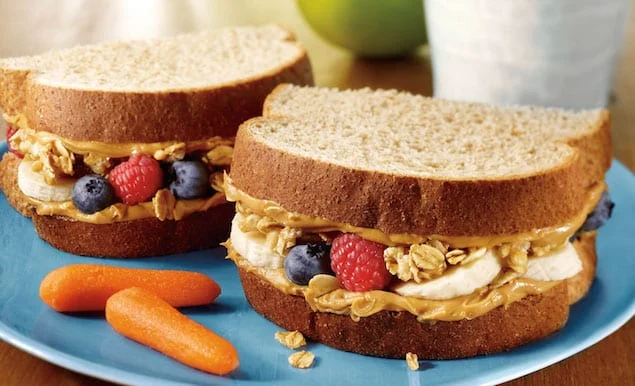 stroehmann.com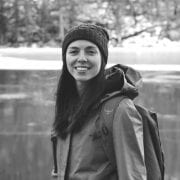 Annelise McAuliffe
Mandatory family outings to the Detroit farmers' market and nightly home-cooked meals cultivated Annelise's respect and curiosity for food. A graduate of The Culinary Institute of America, she spends her free time in New York City recipe testing, eating breakfast all day, and dreaming up international culinary adventures.