Traditional Hungarian goulash is a prime example of how a few simple ingredients, cooked properly, can yield an incredible flavor. Though many variations of Hungarian goulash exist, and every cook makes it just a bit differently, this is a traditional, authentic recipe from the heart of Hungary.
By Kimberly Killebrew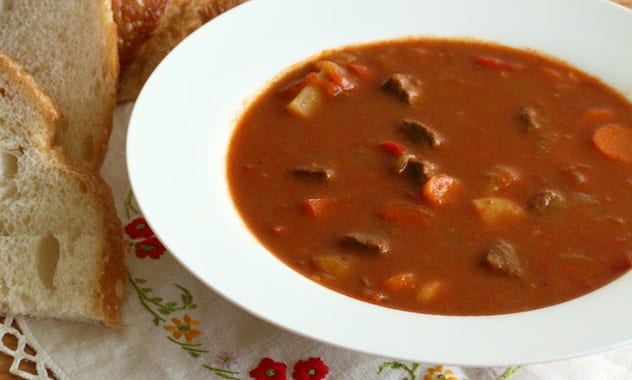 You already know how much I love Hungary from previous Hungarian recipes I've posted so I'll spare you some of the sentimentality this time. Needless to say, Hungary holds a special place in my heart, in my family's hearts. My brother lived there for 2 years as a young man, regularly wrote home to us about his experiences there, the beautiful scenery and breathtaking buildings, his love for the Hungarian people. When I visited Budapest I immediately fell in love with it. It has become one of my most favorite European cities. Its name comes from the two sides of the city (Buda and Pest) separated by the Danube River running through it. I don't know that any city has a more breathtaking site than Budapest's famous chain bridge, its parliament building, and the incredible Buda Castle.
I also love Hungarian food. Their breads and smoked sausages are fantastic, as are their meats, stews, sauces, desserts. Today I'm going to share the national dish of Hungary: Goulash, or, as Hungarians call it, gulyás, meaning "herdsman." Its origins are from Turkey and it was brought to Hungary by invading Turks and tweaked to Hungarian standards over time. Goulash is kind of in between a soup and a stew. Unlike some stews, Goulash is not overly packed full of beef and vegetables, it is a little more brothy. But through the cooking process, the broth becomes thicker and more like a rich sauce.
And no, contrary to popular belief here in the U.S., goulash is NOT made with ground beef or (heaven forbid) macaroni noodles!
To achieve the ultimate flavor, the cooking method is important and quality Hungarian paprika is essential. And lots of it! None of this "2 teaspoons of paprika" jazz. Hungarians use very generous amounts of paprika, and that's key. A Hungarian once told us, "however much paprika the recipe calls for – at least double or triple it!" For this size batch of Goulash, you want to use a full 1/4 cup of it. When I lived in Germany Hungary was just a few hours away and I would stock up on it when I visited. Now I order it online and recommend this imported Hungarian paprika. I mentioned earlier, many variations of goulash exist. Some include turnip or wine or caraway seeds, to name a few. But this recipe is the traditional, old-fashioned way of making Goulash that my brother and I learned from older generations of Hungarian women and it needs no embellishments. It's simply delicious!
See Also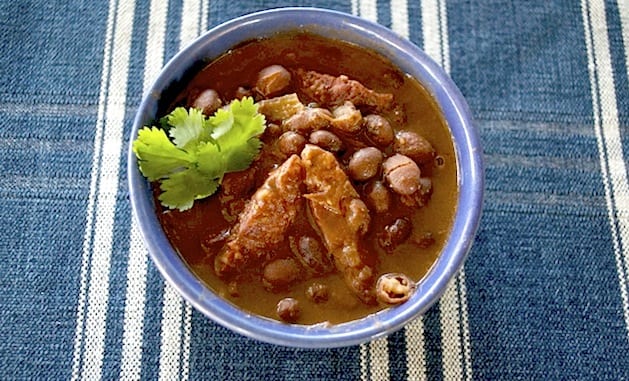 Print
Traditional Hungarian Goulash
Traditional Hungarian goulash is a prime example of how a few simple ingredients, cooked properly, can yield an incredible flavor. If you're using a tougher cut of beef, cook the beef first, without the carrots, tomatoes and potatoes, for 30-45 minutes, then add the vegetables and cook for another 30 minutes until the beef is tender.
Author:

Kimberly Killebrew

Prep Time:

5 mins

Cook Time:

1 hour

Total Time:

1 hour 5 mins

Yield:

4

1

x
Category:

Main

Cuisine:

Hungarian
3 tablespoons

lard or butter

1½

pounds yellow onions, chopped

¼ cup

good quality sweet Hungarian paprika

1½

pounds beef (see note), cut into ½ inch pieces

5

cloves garlic, minced

2

red bell peppers, seeded/membranes removed, cut into

½

inch chunks

1

yellow bell pepper, seeded/membranes removed, cut into

½

inch chunks

2

tomatoes, diced

2

carrots, diced

2

medium potatoes, cut into

½

inch chunks

5 cups

beef broth

1

bay leaf

1 teaspoon

salt

½ teaspoon

freshly ground black pepper
Instructions
Melt the butter in a Dutch oven over medium high heat and cook the onions until beginning to brown, about 7-10 minutes. Remove from heat and stir in the paprika. Add the beef and garlic, return to the heat, and cook for about 10 minutes, or until the beef is no longer pink.
Add the bell peppers and cook for another 7-8 minutes. Add the carrots, tomatoes, potatoes, beef broth, bay leaf, salt and pepper. Bring to a boil, cover, reduce the heat to medium, and simmer for 30 minutes (see note). Add salt to taste.
Serve with a dollop of sour cream, some crusty bread, and a cool cucumber salad.
Kimberly Killebrew
Raised in Western Europe, widely traveled, and currently residing near Seattle with her husband and children, Kimberly loves preparing and experimenting with a large range of flavors and cuisines. This is reflected in her food blog, The Daring Gourmet, where she invites all to "tour the world through your taste buds." Passionate cook, recipe developer and photo enthusiast, her culinary repertoire includes everything from gourmet to simple comfort food, and, as she puts it, "simply downright good eats."