Traditional French Baguette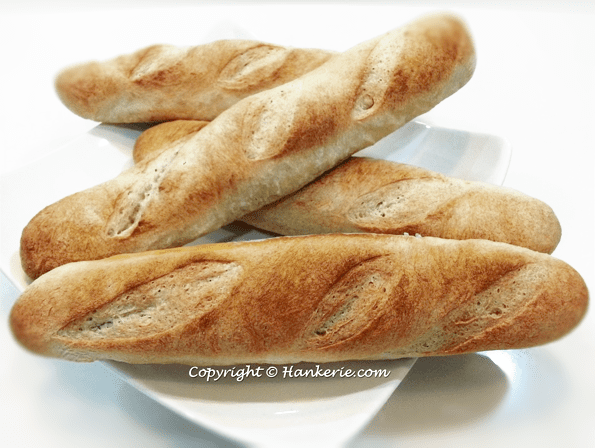 Most french flours have malt added during the production, so you can get fine results without adding more malt to the dough at mixing time.
By Han Ker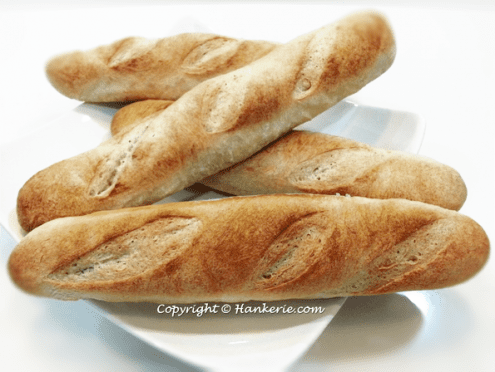 French baguettes are always my husbands favorite as he prefers salty bread rather than sweet. And hence this is my determination to keep myself updated and improve in the making bread area. Today, my baking chemistry is towards the chewy traditional bread, indeed the baguette taste are so much different from Europe or Australia. The main factor in fact is due to the flour quality that hardly can be found in Malaysia.

Traditional French Baguette
Most french flours have malt added during the production, so you can get fine results without adding more malt to the dough at mixing time.
Ingredients
500g bread flour
8ml malt sugar
1tsp sugar
2tsp salt
1tsp instant yeast
220ml luke warm water (adjust accordingly your weather humidity)
Instructions
Mix well all the ingredients above except water.
Add on the water bit by bit into dough, it might take some time to let the flour to absorb water. Being patience in this stage. This step is very vital.
Proof the dough at least an hour. Cover with towel.
Spread some flour on bench. Take out the dough and remove all the bubbles from yeast.
Dive the dough to four. Shape into long shape. Proof another 1 hour.
Bake in steamed oven in 250C for 20 minutes.
Crusty baguette ready to serve.
Han Ker
Han Ker began baking since 8 years old with her mum, more after she started her blog - Hankerie (http://www.hankerie.com) 2 years ago. She nonetheless possesses a passion for baking and creating in the kitchen, and applies her own creativity for crafting out her own recipes. Her specialty are pastries and sweet treats, as well as bread – as evidenced by the goodies that come from her kitchen. Determined to make the products of her creative imagination a reality, Han Ker is a firm believer that nothing is impossible if you try enough times. Apart from that, Blog-hopping has inspired her, and she shares openly without a care for the jealous hoarding of information. She is unendingly curious and is always seeking out new recipes to try, a method she insists works great in keeping the brain juices flowing while at home. She is truly a home baker of substance, a blogger, and cook with plenty to offer.