Suzie Castello provides for her children by trading vinegar for chocolate.
By Suzie Castello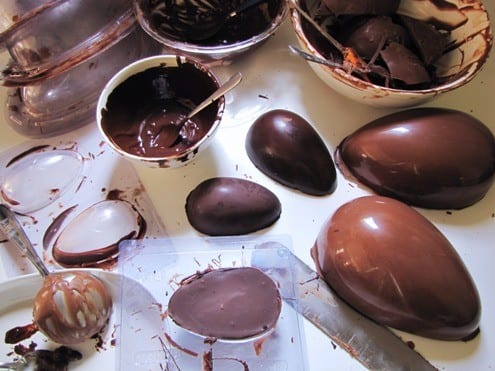 I feel that a measure of a parent's success is if they are able to provide a better life for their children than their own parents provided for them.  Well if this progress is measured in Easter eggs, I am a very good parent.
My childhood Easters in the States were spent coloring eggs with those food-color pellets that hung seasonally in supermarket aisles.  I remember dropping the pellets into vinegar while waiting for the eggs to boil and cool.  I hated the vinegar smell and waiting for the eggs to cook and cool.  I loved decorating the eggs and adored hiding and looking for them, but general disinterest and actual loathing returned come time to consume all those hard-boiled eggs.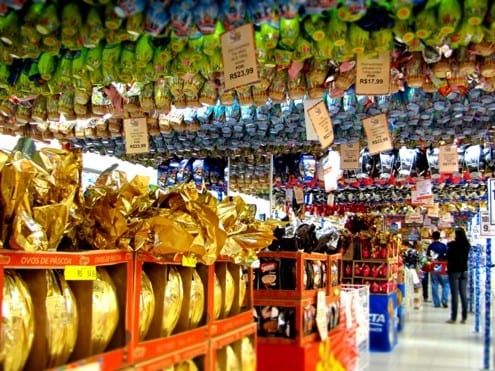 The decoregger was a revolution for my easter egg decorating, and I often pined for one of those inflatable bunnies holding a carrot that used to hang in the local Thrifty's just above the rows of hollow, chocolate bunnies. Most years I would find one of these bunnies at the foot of my bed on Easter morning.  Someone in the family had splurged for the beautiful, but disappointingly fake-tasting chocolate rabbit wrapped in colorful foil, saying that the Easter Bunny had left it.  The foil was far more interesting to me than its contents.  I remember experiencing the whole thing all over again at Christmas with those hollow Santas, and I drew the conclusion that Santa and the Easter Bunny shopped at the same drugstore.
Fast-forward a generation to my Easters in Brazil where the eggs are chocolate.  My vinegar associations were replaced with cocoa-perfumed tunnels of chocolate Easter eggs wrapped in colorful plastic hanging over the heads of shoppers of every box store, supermarket and bakery during the weeks of Lent. The eggs, ranging from 100g to over 1kg in size, are mostly oval versions of well-loved chocolate candy brands, such as Sonho de Valsa and Prestigioor Easter-time vehicles for the latest thing on kids' radars.  They are filled with bonbons or, even better, toys!  The thought of Batmans that fly and Hello Kitty mini-flashlights hidden in a chocolate eggs, wrapped in colorful plastic hanging over my head as I try to navigate my way to the check stand just blew my mind the first time I saw it. I resolved then and there that I would raise my kids (merely a sparkle in my eye then) in the Brazilian Easter tradition.  A year later, our week-old son received what ended up being a years' supply of chocolate (he only got his first real taste of chocolate during his 2nd Easter, of course) in egg form.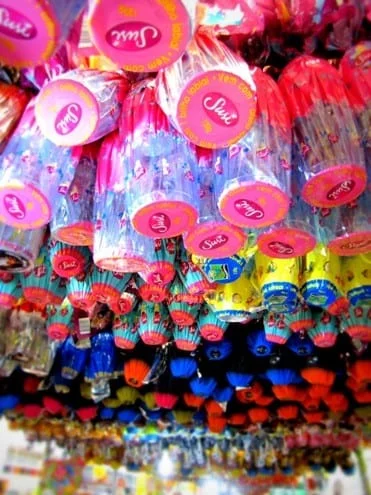 Every year there is a must-have egg that sells out early.  Parents scour store displays searching for the possibility of a last remaining coveted egg lurking among its not-as-popular competitors.  This year's sensation is the Kit Kat egg.  Its popularity is riding the fever of the Kit Kat bars newly introduced to these shores.  It is moments like this that make me think everything from my childhood is coming back.  There is a Xanadumusical playing in Rio, my kids asked for "this new game" Mouse Trap for Christmas and there is Willy Wonka-like frenzy happening in town over Kit Kat bars.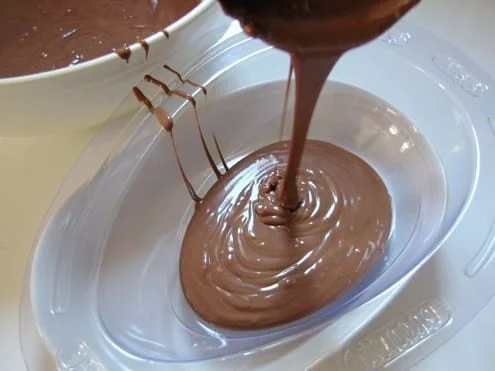 I spent 10 years combing the aisles for each years' sensation, such as the Hi Hi Puffy AmiYumi egg with an mp3 player, the pink chocolate Barbie egg with that came with a glittery lip gloss or latest creation by Kinderovo.  But for the last two years I have avoided the egg gauntlet and made my own.  This coincided with my kids' discovery of the Easter Bunny's true identity.
Now I enjoy making my own.  I took a class given by Nestlé a few years ago where I learned the basics of making eggs.  I am no chocolatierand not all my creations come out shiny and snappy, but I do manage to make some delicious eggs from a variety chocolate.  Each one comes with a goody inside, such as homemade bonbons or a toy.  I like that I can make a unique egg specially designed for each member of the family.  My husband likes the very dark chocolates, and our kids are heading towards that preference, while their younger cousins still enjoy the milk chocolate.
I feel a little neglectful about not carrying on a cultural tradition.  But it was one that didn't really captivate me.  I keep up Halloween, Thanksgiving  and the Fourth of July in a very American way.  I even taught them how to play baseball. No one can say I'm shirking in my duties as a traditions-keeper.  I haven't entirely abandoned the tradition of making eggs with my kids.  I've just switched the medium from vinegar to chocolate.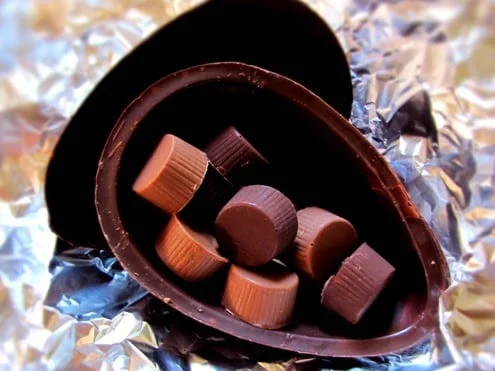 It is not difficult to make your own eggs.  Smaller ones are easier to manage than the 750g or 1kg behemoths.  Just melt the chocolate, temper it and add it to the mold. Chill the mold until the egg is hard and pop it out.  Wrap the eggs in colored foil and cellophane.  Let your imagination lead you to fillings and decorations you desire.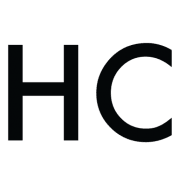 Suzie Castello
Suzie Castello is an American writer living and raising a family in a small town in the mountains just outside Rio de Janeiro. She writes about finding ways to cook, with the regional ingredients, dishes that tell her life story, from childhood in the States to travels abroad, and anything new discovered along the way. She is also the Editor of Da Minha Cozinha, a Portuguese-language blog about honest home-cooking.