From tasting menus and refined tostadas to roadside carnitas, take an edible tour through Ensenada, Mexico.

From tasting menus to roadside carnitas, on my trip to Ensenada, I was surely in the right hands. Traveling in Mexico with my friend, cook, mezcal expert and fixer Niki Nakazawa, always reveals the very best this country has to offer. I drove across the border at Tijuana, and met up with Niki as she was partying at Bichi, a biodynamic winery. I found her at a long picnic table, in the midst of a vineyard staff party. Entire families were drinking the funkiest natural wines, and reheating Domino's pizza over a wood burning stove. In my opinion, this is exactly the way beautiful wine should be consumed. In this low-key picnic environment, the man serving up the wine was José Pastor of Jose Pastor Selections in CA (very important importer of Spanish natural wines). Louis-Antoine Luyt, the French wine maker who makes incredible natty wines in Chile and who is a partner in Bichi, was also present.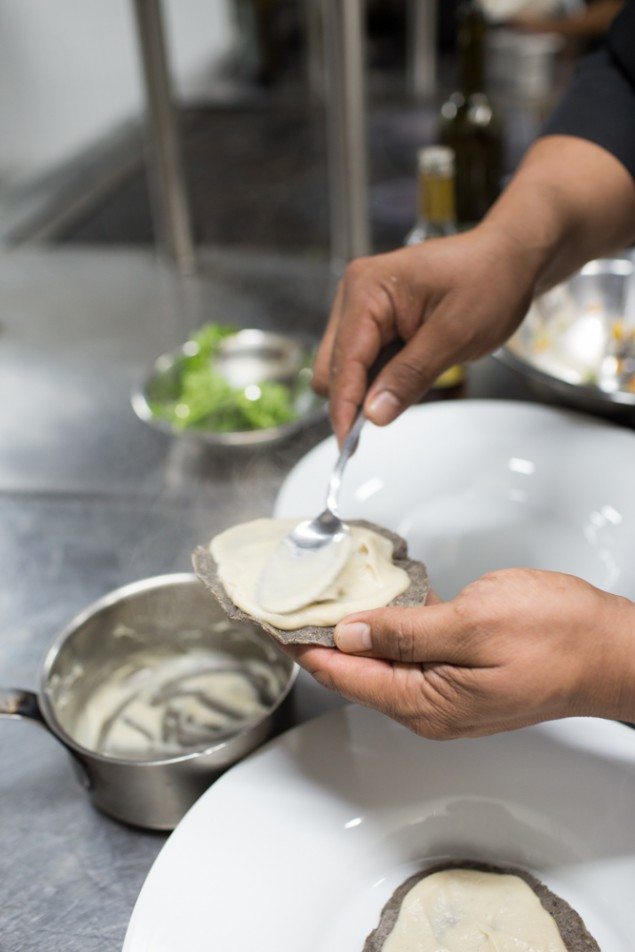 Niki is based in Mexico City, but when we met up she had just finished leading a tour of the country for Noma's Beverage Director, Mads Kleppe, tasting everything from Carlos Cohen's experimental mead inoculated with California Pinot Noir yeast to the exquisite clay-distilled mezcals of Eduardo Angeles in Santa Catarina Minas, Oaxaca. Her travels ended in Ensenada where she dipped into the Valle de Guadalupe's wine region, and visited the first farm to table restaurant in Mexico, Laja. Laja is near the wine trail, but definitely a world apart. There is no way one would find it without a tip, and after spending the day with Laja's Chef Rafa, and his brother Maro, the restaurant's organic gardener, I had the sense that this was not unintentional. This spot is a hidden gem, a place that attracts people with an expanded view of what constitutes "Mexican cuisine." For the people who work here, this is a way of life, a family, and a mission, rather than a means to food world stardom, or notoriety.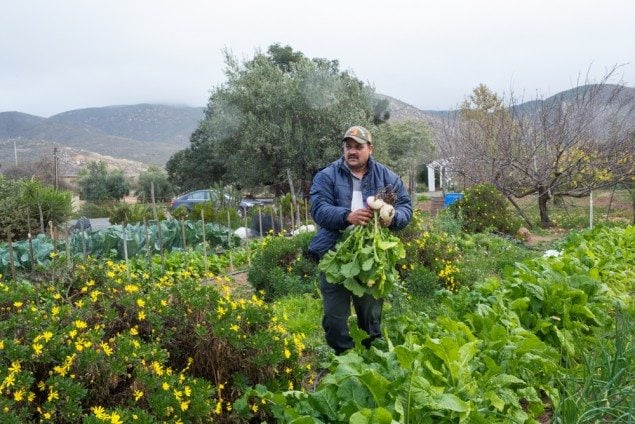 I wanted to taste their famous food, and to visit the grounds where they grow nearly every ingredient we ate that day. What I didn't expect was the marathon of cookery and culinary back flips that followed. First, Niki and I picked the veggies with Maro under a light haze of rain – monster radishes and beets, bushels of salad greens and the happiest herbs I've ever seen. Back in the kitchen, Rafa was already scheming, enlisting his full staff to create this rolling meal for two. The recipe I share here was so simple – a silky parsnip purée, spread over a seaweed based tostada, topped with a quick stir fry of fresh, thinly cut veggies. But that was only the first course.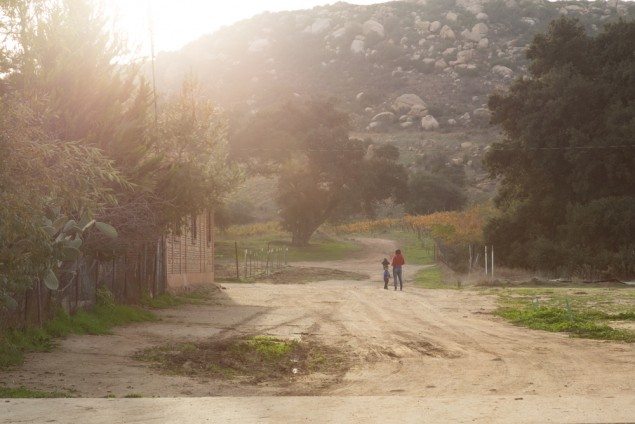 Having devoured the most refined, and delicious tostada of my entire life (and I have eaten a lot of tostadas), I thought Rafa would be wrapping-up. I was very, very wrong — we were in it for the long haul. There was a salad of baby lettuces and butter poached Japanese turnips. There was fish caught that day, perfectly seared on the outside, served with the most simple presentation of expertly charred garden vegetables. My personal favorite, a dish I still think about regularly, was poached eggplant in tomato jus, topped with fennel fronds and microgreens. Hours later and bottles of wine deep, Rafa finally hung up his apron and joined us. He told us how he inherited his position, starting as a line cook, before this place awakened his latent passion for food. Laja was started by chef Jair Téllez, now relocated to Mexico City where he has gone on to open celebrated restaurants MeroToro and Amaya. While Rafa is quick to tell us that Jair taught him everything he knows, he clearly has an intuition all his own, rising from kitchen assistant to head chef in Jair's absence. The amazing thing is that Rafa does not read or write, so no recipes were involved in his culinary education. Rafa learned by watching, tasting, and smelling. As we watched Rafa cook with his laser beam focus, it was clear that no script was needed. Check out the tostada recipe below.
Read more about their time together and see more images here.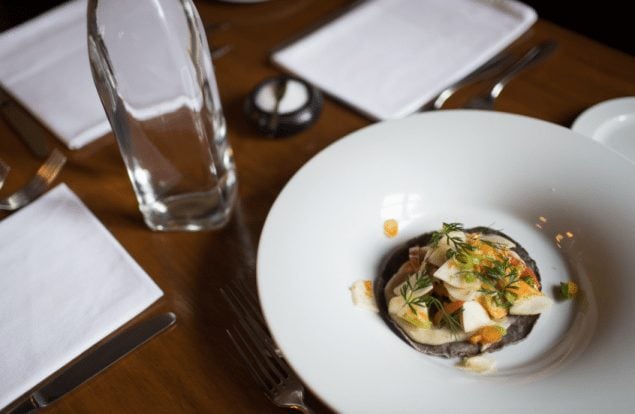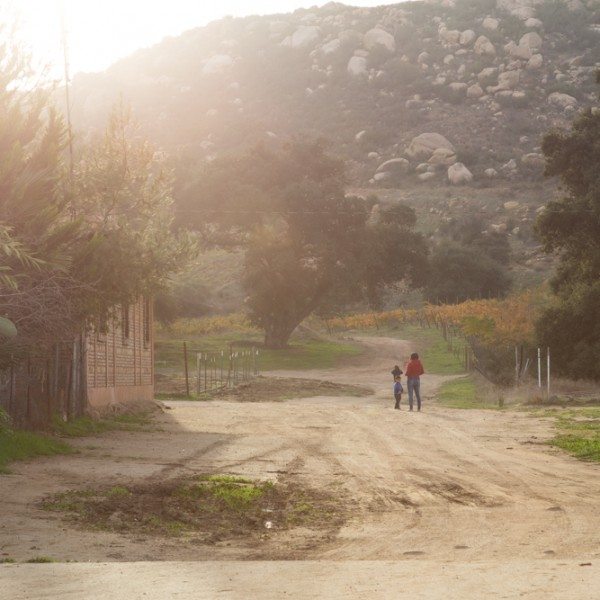 Tostadas and a Trip Through Ensenada
Julia Sherman
From tasting menus and refined tostadas to roadside carnitas, take an edible tour through Ensenada, Mexico.
Ingredients
2

TBS

OLIVE OIL

4

BABY PARSNIPS

DICED

1

PINCH

KOSHER SALT

1

PINCH

CRACKLED BLACK PEPPER

1

CUP

SLICED ONION

2

CLOVES

GARLIC

TOSTADAS
Instructions
Add 2 tablespoons of olive oil to a hot sauté pan. Sear off the parsnips with a pinch of salt and cracked black pepper.

When they start to smell like potato chips, flip the turnips and brown them on the other side. Add the onion to the pan and sauté for a minute before adding the sliced garlic.

Lower the flame and cover the pan for 5 minutes. Uncover and increase the flame, adding two tablespoons of water and sautéing for an additional 30 seconds. Cover and allow the water to reduce for another 30 seconds.

Add the cooked vegetables to a high-powered blender with two tablespoons of olive oil and a tablespoon of water. Blend until silky smooth adding a touch more water if needed. Season with salt and pepper to taste.

Spread the purée on a tostada and top with some basic sautéed veggies. Rafa sautéed a combo of mixed veg (Japanese turnips, sliced garden carrots, snap peas and green onion), but just a sprinkle cilantro would do the trick.
Julia Sherman
I am an artist and a photographer, but when I am not making art in my studio, I am growing my own vegetables, eating salad, and feeding salad to my creative friends. I find people whose work I admire, I cook with them, share a meal, and take their photo. Like me, all of these influencers in their respective fields use their kitchen as a creative sanctuary, a place where they can "make something" that is easily shared with others.