There is love. There is family. And there is chocolates.
By Jehanne Ali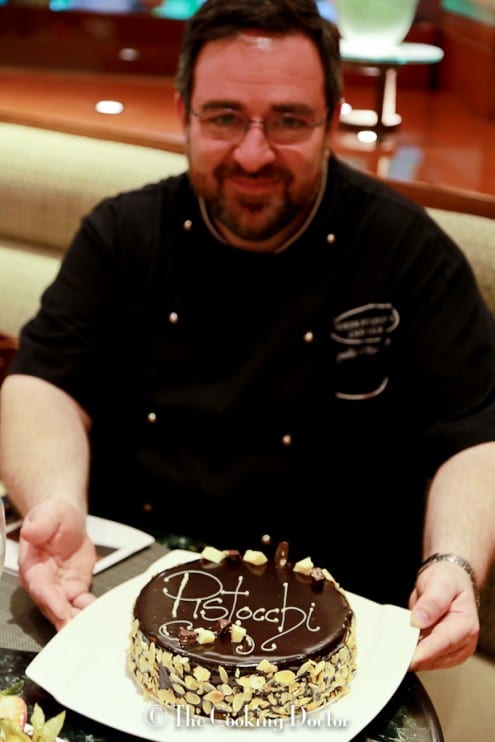 This is a story that started 23 years ago in a little village in Tuscany. The young man dreamt of creating luscious chocolates, delicious enough to wow the world. With the help of his magic team which consists of his Italian family, a Thai wife and the new addition of a beautiful little daughter, Torta Pistocchi is what it is today and has traveled the world to reach Singapore, in a debut Chocolate Week, organised by Hilton two weeks ago.
Elegantly dressed in his Chocolatier attire, Claudio Pistocchi was all smile to welcome me and my little daughter for a short chat and high tea recently. I have missed his chocolate making workshops, as they were conducted on weekdays so I made up the loss by an almost equally good alternative; with warm thanks to Joyce from Hilton who invited me cordially.
It was a successful Chocolate Week for Claudio. Anyone who drives past Orchard Road will not have missed the big billboard 'The Art of Pistocchi displayed outside the Hilton Hotel'- and it is really an art of chocolaterie that has been shining through his best creation of 'Torta', a cake made of pure chocolate bliss complemented with richness of cream, and almost nothing else! The family run business started seriously 8 years ago in Florence, with initial start of 600 pieces of Torta made a year. Now the number has tripled and quadrupled exponentially, with torta cakes sold across Italy, London and now Singapore, but one thing remains consistent throughout the years, they are truly homemade, in his own words..'I don't use machine, all the cakes are made with my own two hands and shoulders!'
That is impressive. This kind of honest cooking always intrigues me, and earn the due respect. What is more heartwarming is he keeps the same team as he did 8 years back- which consists of his parents and sister for the production line, in a true Italian style. The production line has grown to include all kinds of chocolates, cakes and even cocoa powder. The cocoa beans are organically sourced directly from the plantations, and the tempering is done in his own factory in Florence.
Claudio is keen to share his knowledge and expertise with the audience in Singapore. The chocolate workshop organized by Hilton Singapore has taught the participants techniques on chocolate tempering, homemade chocolate making and even tips on melting the chocolate with water. The chocolates are flown in from Florence, and now available in a few Italian restaurants as well as Hilton Singapore. All chocolate creations for the High Tea were using his chocolate products, from cakes, petit fours and ice-creams. They were delicious!
I was curious enough to try the Torta. He personally cut two slivers of the latest creation, which consists of white chocolate and Yuzu, dedicated to his little girl. 'She is my everything, and represents Pistocchi;- was his response when I asked if I could snap a photo of him and his daughter.
I enjoyed my afternoon, and my daughter even more so, it was trays of chocolate delight that can wow anyone, and transcend us back to the story of 'Charlie and the Chocolate factory'. I would like to thank Claudio for his time and Joyce invite, hoping that there will be more chocolate workshops organized in near future so I can learn from the expert. Or maybe it is time to visit Tuscany!
Do you want to know who the force behind the scene for this chocolaterie success? Claudio's sister, Claudia was kind enough to email me the pictures so I can share with all of you here.
The famous Torta Pistocchi..in all its deserved glory..
Torta Pistocchi has garnered its popularity in London as well, where they are widely available in Italian delis. If you are in the area, do visit these 2 main cafés to enjoy this unadulterated chocolate cake, which will surely please the palate.
TUSCANIC LTD
99/101 Regent Street
London W1B 4EZ
LUIGI DELICATESSEN
349 Fulham ROad
London
SW10 9TW
Jehanne Ali
Jehanne is an enthusiastic baker, food blogger, mother and wife all in one. She swaps her scalpel from her day job as a doctor to kitchen utensils in the evening and creates magical treatment of healthy treats for her family, which she shares in her blog, The Cooking Doctor. She is a firm advocate of healthy eating and always believes that honest and healthy food will steer you clear from the doctors.