Top Chef Magazine Launches with Food & Wine's January Issue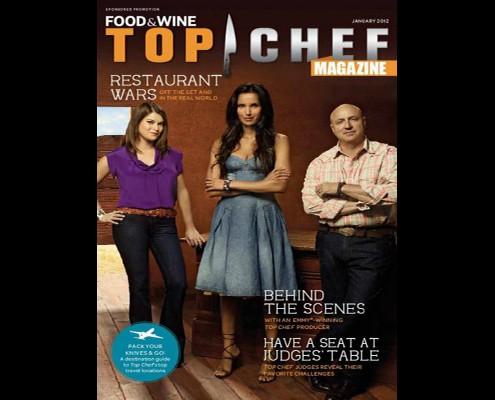 The crazy-successful Top Chef franchise branches out into print with an upcoming insert in Food & Wine.
By Marnely Rodriguez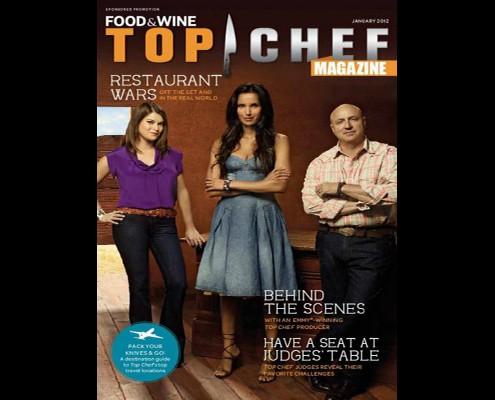 FOOD & WINE along with Bravo has published a 24-page promotional section in its January issue called Top Chef Magazine, featuring the show's highly popular challenges and  Judges' Table, where judges from all three shows sound-off on everything from the worst thing they ever ate on the show to Restaurant Wars and "Top Chef" Quickfire Trivia. The magazine will also be translated into a free iPad issue in January 2012 with added content available only through the app.
"FOOD & WINE has been a sponsor from the beginning of "Top Chef" and we are excited to partner with Bravo to bring content from the franchise together in print and digital for readers to enjoy," said VP/Publisher Christina  Grdovic. "FOOD & WINE Special Projects Director and "Top Chef" judge Gail Simmons edited the magazine and along with "Top Chef" hosts Tom Colicchio and Padma Lakshmi, shared expertise on all things "Top Chef", making this the go-to resource for fans who want an insider look at what happens when the cameras aren't rolling."
"This magazine builds upon the success of both the "Top Chef" franchise and our partnership with FOOD & WINE to provide a unique, behind the scenes opportunity for our "Top Chef" fans to connect with the show," said Ellen Stone, Senior Vice President, Marketing, Bravo.
The season nine winner of "Top Chef: Texas" will be featured in FOOD & WINE and will attend the FOOD & WINE Classic in Aspen, which is celebrating its 30th anniversary.
Marnely Rodriguez-Murray
Marnely Rodriguez-Murray is the author of the food blog Cooking with Books. A graduate of The Culinary Institute of America, she has worked as an Overnight Bread Baker in Colorado, a Chocolate Maker in Virginia as well as a Pastry Cook on the whimsical island of Martha's Vineyard, just to name a few. She currently resides on Martha's Vineyard with her chef-husband, where they are both on an endless search for Caribbean flavors, new culinary trends and gastronomic inspiration.