Made with rich Santorini tomatoes, these keftedes or fritters are a delicious appetizer to impress guests.
By Michelle M. Winner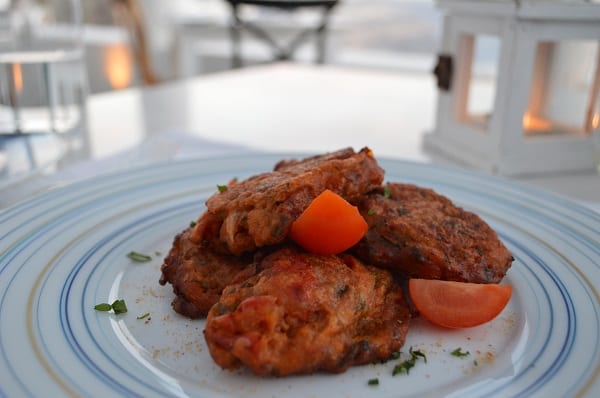 What are Tomato Keftedes?  You start with the tomato I discovered on Santorini. An incredible small tomato that packs a punch of flavor. In fact it is referred to in various parts of Greece as the Santorini tomato. It only grows here in Santorini developing its tart, rich  deep flavor from the relentless sun, wind and lack of water.  My dear friends at Iconic Santorini Hotel suggested I try their Executive Chef Konstantinos Avgoulis' version of Tomato Keftedes.
Born and raised on Santorini, Chef  Avgoulis treats Iconic  guests, one of the Mantis Hotel Collection  , to many of his treasured family recipes including his rose jam and this one using the noblest of ancient fruits, the tomato.  Of course there is nothing to compare with tasting these for the first time sitting  at the edge of the caldera outdoors in Iconic's shady pergola covered restaurant  accompanied by a lemony  Assyrtiko from Estate Aryros or some cold bubbly from  Santo Wines.
See Also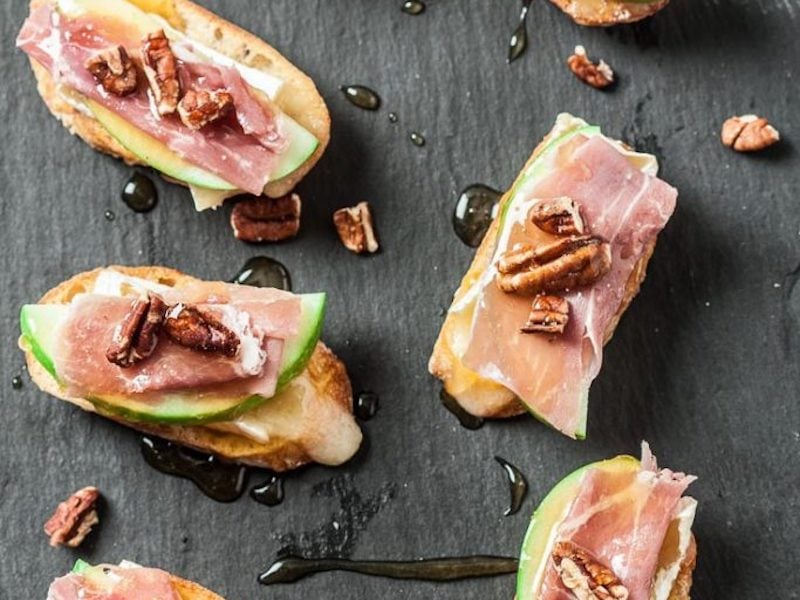 Iconic Santorini Tomato Keftedes
Eaten as a pupu or a full entrée, these are decedent and simple. It's the tomato that does the work.
Author:
Executive Chef,Iconic Santorini Chef Avgoulis
Recipe Type:
Greek Islands: Santorini
Ingredients
Ingredients:
½ kilo Santorini tomatoes or cherry tomatoes
2 large red onions
3 spring onions
1 zucchini
4 tbsp. of finely chopped mint
250 gr. soy flour (self-rising flour)
150 gr. hard flour
1 tbsp. of baking soda
Salt & pepper
Instructions
Preparation:
Cut the tomatoes in small pieces and put them in a large bowl. Grate the zucchini and one of the onions and put them also into the bowl. Then you must finely chop the other onion and the mint and add them into the mixture together with the baking soda.
Add as much salt and pepper as you wish into the mixture in the bowl and mix all the ingredients very well. Then you must let the mixture rest in the fridge for about 5 hours.
Finally, add the two types of flour and mix well, until the mixture becomes a thick dough. Use a spoon to cut the shape of each tomato ball and drop each spoonful into boiling oil to deep-fry them until they get that nice golden-brown colour. Drain and serve hot.
Tip: if the tomato balls dissolve in the hot oil, you can add more flour to the batter to make the mixture even thicker.Kali Oreksi! (enjoy your meal)
Michelle M. Winner
Michelle was born with a fork in her hand. As a culinary travel writer and confirmed foodophile she delights in the world-wide discovery of new flavor profiles, spices, salts and herbs. Based in one of the world's foodie meccas; Portland, Oregon, not far from "Pinot Noir Heaven" Michelle shares culinary travel and chef's recipes. Her photography has appeared in Saveur Magazine and she has contributed culinary travel articles to Forbes online, WSJ online, Business Insider, Condé Nast Digital Media, Islands magazine and many others. A confirmed globetrotter, she still keeps her bags packed and fork in hand (well . . . except through airport security.)