Even if Easter is over, lamb season is not – and these Tomato-Braised Lamb Shanks are so easy and so delicious, you'll want to eat them year round.
Text And Photo By Alida Ryder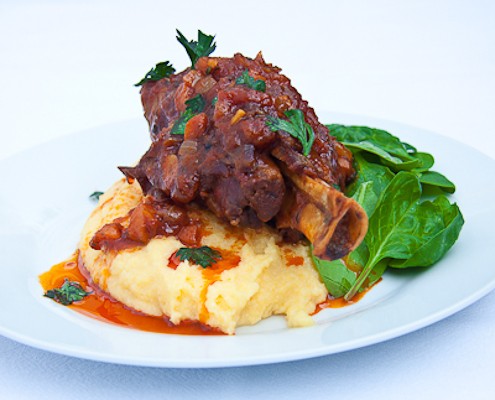 Of all the cuts of Lamb, the shank is my absolute favourite. I love how it goes soft and sticky once it's cooked and, as is the case with all good quality lamb, the flavour is so sweet and almost intense, that when you take the lid off the pot, you're hit with the most incredible aroma. Paired with juicy, sweet tomatoes and some creamy polenta, how could this NOT be the perfect meal.
I'd never actually made polenta before this and I was utterly delighted at the result. In South Africa, a staple food is Maize Meal/Mielie Meal/Pap and Polenta is very similar,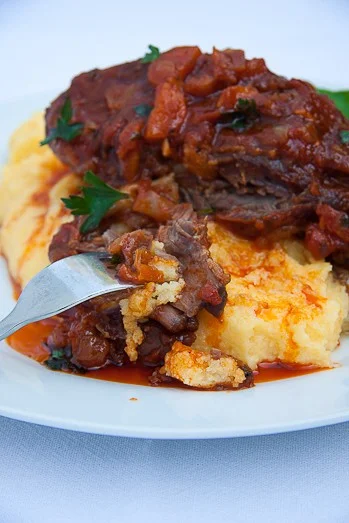 it's just the colour that's different. Pap is generally served with meat and a tomato based sauce and as I was eating this, I realised that THIS meal, is just fancied up "Pap & Vleis" (pap & meat). And as with pap, the reduced and thickened tomato sauce that the lamb was cooking in, went perfectly with the Polenta. I suggest you try to get the quick cooking Polenta as it only takes 2 minutes to cook. I just stirred in some parmesand and butter, seasoned to taste and it was perfection.
I served our meal with some baby spinach dressed with lemon because I always feel I need something fresh with rich stews/braises. But you could very easily leave it out and still have a fabulous Meal.
Tomato-Braised Lamb Shanks
Delicious Tomato-Braised Lamb Shanks served with creamy Polenta. Perfect for an Easter meal.
Ingredients
6 lamb shanks
2 onions, finely chopped
4 carrots, finely chopped
4 garlic cloves, finely sliced
2 tins, chopped tomatoes
1 tin tomato puree
750dl / 3 cups lamb stock
3tsp sugar
½ tsp dried mint
1tsp dried parsley
salt & pepper to taste
Polenta
500g / 3-4 cups polenta, cooked according to package instructions
2tbsn butter/margarine
handful of parmesan/ pecorino
Instructions
preheat the oven to 200°c.
In a large casserole pot/ dutch oven, brown the shanks in a bit of oil. Remove from pot and set aside.
In the same pot, add a bit more oil and fry the onions and carrots until the onions are soft and translucent. Add the garlic and sautè for another minute.
Add the chopped tomatoes, tomato puree and lamb shanks back into the pot.
Combine the lamb stock with the sugar and herbs and pour into the pot.
Cover and place into a pre-heated oven.
Allow the lamb shanks to braise for an hour at 200°c then turn the oven down to 160°c and allow to braise for another hour or two until the meat comes off the bone easily.
Stir the butter and cheese into the polenta (this is optional) and serve with the lamb shanks.
Alida Ryder
Alida Ryder is a South African food writer and blogger. She has a passion for simple and delicious food, as well as fun and healthy family cooking. She shares her tips and recipes on her Simply Delicious blog and of course here at Honest Cooking.