The title tells the whole story in what could hardly be called a recipe. But it's a suggestion worth taking as the complexity of rock salt carries this salad.
By Chitra Agrawal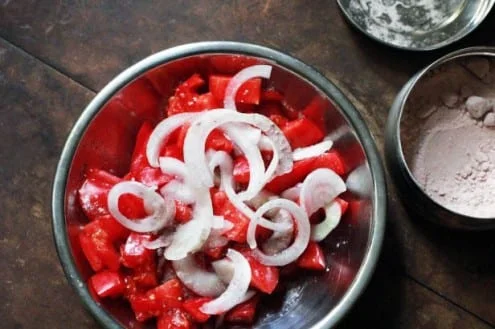 Tomato and Onion with Rock Salt
The title tells the whole story in what could hardly be called a recipe. But it's a suggestion worth taking as the complexity of rock salt carries this salad.
Ingredients
2 medium size tomatoes, chopped large
¼ medium white onion, cut into thin rings
rock salt, to taste
Instructions
Place tomatoes in bowl first.
Garnish with onions and a sprinkling of rock salt.
Gently mix together and serve.
Chitra Agrawal
Chitra writes the food blog, The ABCD's of Cooking, which chronicles her adventures cooking American Born Confused Desi recipes. When she is not recipe blogging, Chitra can be found hosting her online cooking show and a supper club featuring Indian-inspired, vegetarian cuisine. She also teaches cooking classes and sells Indian street foods (sometimes yummy Indian tacos!) at events and artisanal markets in Brooklyn. Her cooking has appeared in the New York Times Dining Journal and she is a contributor to The Huffington Post, Gojee, The Daily Meal and Brooklyn Based.