Serve these as an appetizer or a main on the first day and toss leftovers with tomatoes, cilantro and onions to make a quick and fragrant stir-fry.
By Rinku Bhattacharya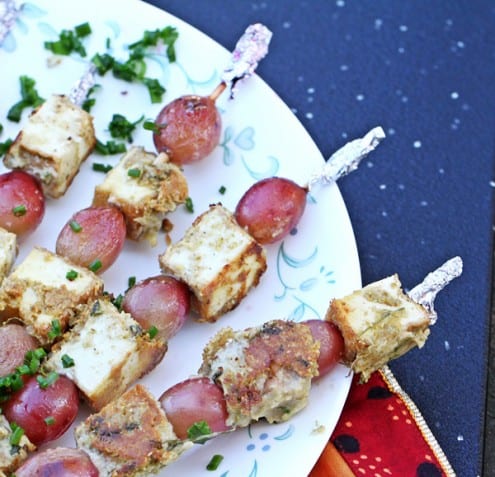 Tofu and Red Grape Kebabs
Serve these as an appetizer or a main on the first day and toss leftovers with tomatoes, cilantro and onions to make a quick and fragrant stir-fry.
Author:
Rinku Bhattacharya
Ingredients
½ cup tahini
1 tablespoon grated ginger
1 tablespoon powdered coriander seeds
1 teaspoon red cayenne pepper
½ teaspoon fennel seeds (powdered)
1 teaspoon cumin seeds (powdered)
½ teaspoon freshly grated nutmeg
1 tablespoon dried fenugreek leaves (optional)
Salt to taste
2 limes
¼ cup plus 2 tablespoons pure dark maple syrup
10 – 12 ounces extra firm tofu
1 tablespoon fresh chopped thyme leaves
25 to 30 red grapes
2 tablespoons olive oil for cooking
1 red onion, sliced
Chopped Chives to garnish
Instructions
Place the tahini in a blender. Add in the coriander seeds, ginger, coriander powder, cayenne pepper, cumin, grated nutmeg and the fenugreek leaves (if using). If you find it difficult to get the fenugreek leaves you can leave them out, otherwise the maple like fragrance of fenugreek leaves will actually complement the deep notes of the maple syrup.
Add in the salt, squeeze in the lime juice and add in the maple syrup. Blend this to a smooth marinade.
Cube the tofu and add to the tahini maple marinade and set aside for 2 hours. This mixture can be left overnight in the refrigerator.
Mix the thyme with the remaining two tablespoons of the maple syrup.
Lightly toss the grapes in this mixture.
To assemble, skewer the tofu and the red grapes alternately.
Either pre-heat the oven to 375 degrees and drizzle a baking dish with the olive oil.
Place the skewers in a single layers and bake for 10 minutes and turn and add the onions and bake for another 6 to 7 minutes and finish by broiling on low for a couple of minutes.
Alternately heat a cast iron skillet and drizzle with oil place the skewers in a single layer and cook for 4 to 5 minutes on each side, letting the cubes turn gently golden. They need to be turned 4 times and halfway into the process you can add the onions in a corner to allow them to cook a little.
Arrange the skewers on a plate and serve them garnished with chopped chives.
Rinku Bhattacharya
Rinku Bhattacharya, is a teacher of Indian Cooking and the author of the blog, Spice Chronicles. A busy working mother Rinku is committed to offering a practical approach of flavorful, everyday cooking often with an Indian Accent. An author of three cookbooks, Instant Indian, Classic Foods for Every Region of India made easy in the Instant Pot, Spices and Seasons, Simple, Sustainable. Indian Flavors and The Bengali Five Spice Chronicles. Rinku's passion for food starts with cooking and trying new recipes and extends to pairing and drinking wine with food and trying usual combinations by fusing various culinary influences. Rinku and her family are very committed to a sustainable lifestyle, and she uses mostly local produce for her recipes. She is joined in this effort by her husband who is an avid gardener and her children, Deepta and Aadi.