A deliciously beany dip using white pea beans, toasted sesame seeds and hot sauce.
By Bryan Picard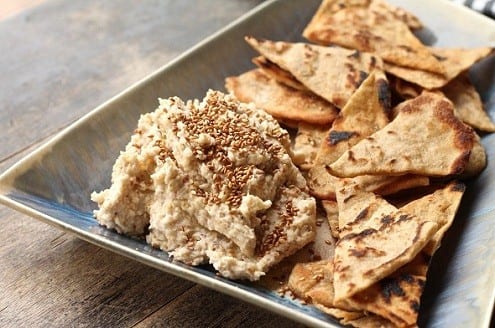 Now I know "hummus" means chickpeas, but really we use the name for anything resembling a beany dip. I've tried many sorts of beans and the white (or white pea bean) really works for me. Instead of the usual smooth tahini, I've toasted sesame seeds, which gives this hummus a little crunch. For a spicy kick I also added some hot sauce. You could easily put more or less, depending on the level of hot that you enjoy. Also, the recipe yields 4 cups, which may seem like a lot, but trust me, you'll go through it fast enough.
Enjoy!
Toasted Sesame and White Bean Hummus
Ingredients
2 cups dried white beans
½ cup olive oil
½ cup sesame seeds, toasted
½ teaspoon cumin seeds, toasted
6 tablespoons lemon juice ( about 2 lemons)
2 teaspoons hot sauce
3-4 garlic cloves, chopped
salt
Instructions
Soak the beans overnight.
Drain the beans and simmer in water for 45 minutes to an hour.
Strain and let cool for 10 minutes.
In a food processor mix the cooked beans, olive oil, sesame seeds, cumin seeds, lemon juice, hot sauce and garlic cloves. Whiz until smooth and thick.
Add more oil if too thick. Season with salt to taste.
Serve with flatbreads or crackers.