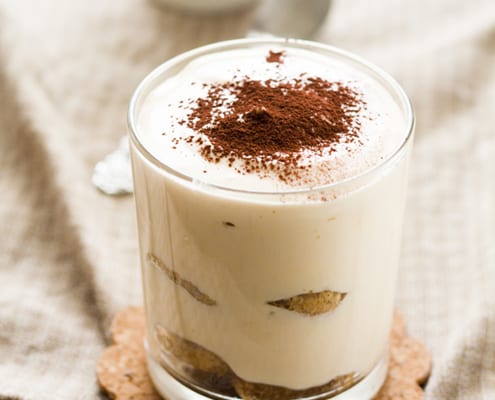 There's just something so pleasing about having a dessert from a glass.
By Tamara Novakoviç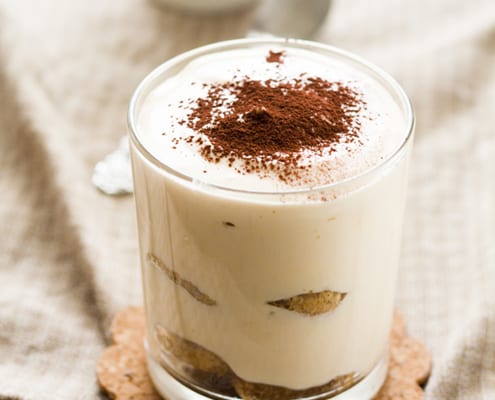 I think tiramisu is the perfect traditional cake to be twisted like this, because of its soft filling and cookie (ladyfinger) base.  When making tiramisu, I don't like to use raw eggs (I use them only if I have really fresh ones from the farm). That's why I cook them over double boiler for about 10 minutes. This is such a simple and foolproof recipe!

Traditional tiramisu served in glasses!
Ingredients
6 egg yolks
7.5 oz (200 g) sugar
1 tsp vanilla extract
10.5 oz (300 g) mascarpone cheese
1.8 cups (420 ml) whipping cream
½ cup (120 ml) espresso, cold
¼ cup (60 ml) rum or marsala
1 tbsp cocoa powder
ladyfingers
Instructions
Cook strong espresso, let it cool. Add rum or marsala.
Whisk yolks with sugar and cook over double boiler, whisking constantly, for 10 minutes. Sugar must melt and mixture has to be pale and thicken. Remove from heat, add vanilla. Let cool slightly, stir in mascarpone.
Whip cream and fold into mascarpone mixture.
Dip ladyfingers into cooled espresso with rum or marsala, cut them in half and assemble onto the bottom of a glass. Top with some filling. You can sprinkle cocoa over each filling layer. Place another layer of ladyfingers on top, finish with the filling. Let cool in fridge for at least 2 hours.
Top with cocoa powder before serving.
Tamara Novakoviç
Tamara Novakovic is a passionate self-taught cook, food blogger, freelance food writer and photographer behind bite-my-cake.blogspot.com. Her life journey has led her through Faculty of Humanities in Zagreb, Croatia to discovering passion for making cakes. She is currently a weekly food columnist for Croatian newspaper V magazine and food magazine Repete.