Pour hot espresso, drizzle cocoa powder or shaved chocolate, either way tiramisu ice cream is an incredible treat, whether it brutal summer or cold winter.
By Kankana Saxena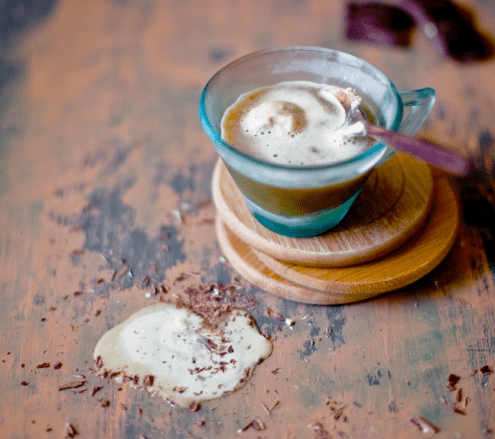 Tiramisu Ice Cream
Pour hot espresso, drizzle cocoa powder or shaved chocolate, either way tiramisu ice cream is an incredible treat, whether it brutal summer or cold winter.
Ingredients
1-1/2 cups milk
½ cup cream
1 vanilla bean
3 egg yolks
½ cup sugar
1 cup mascarpone
1 tablespoon coffee powder
¼ cup espresso
Instructions
Pour milk and cream in a deep pan and turn on the heat. Slit vanilla in half, scrap the beans using a small spoon and drop it in the pan along with the vanilla pod. Heat it, stirring occasionally.
In the mean time, whisk egg yolk and sugar to a creamy consistency. Add mascarpone cheese to it and whisk again.
Pour ¼ cup of hot milk slowly to the egg yolk mixture while whisking simultaneously. Pour egg yolk mixture back to the hot milk pan and give a mix. Cook the mixture on a medium heat, stirring constantly, for about 5 minutes or until the custard looks thick and coats the back of your spoon.
Pour the mixture in a container and put the container on an ice bath for about an hour or allow it to rest in the refrigerator overnight.
Finally, add coffee powder and espresso to the custard mixture and freeze it in your ice cream maker according to the manufacture's instruction.
Kankana Saxena
Kankana Saxena shares culinary journey, travel stories and passion for photography in her blog 'Playful Cooking'. Her cooking style is mostly nutritional with little bit of indulgence here and there. She believes in the mantra 'homemade is happiness'! She is a native of India but currently resides in Santa Clara, California with her husband.