Before the heat of summer banishes us all to the beach, host a spring party. We have you covered with the top tips for a successful event bursting with color, innovation, and seasonal produce.
By Shuchi Mittal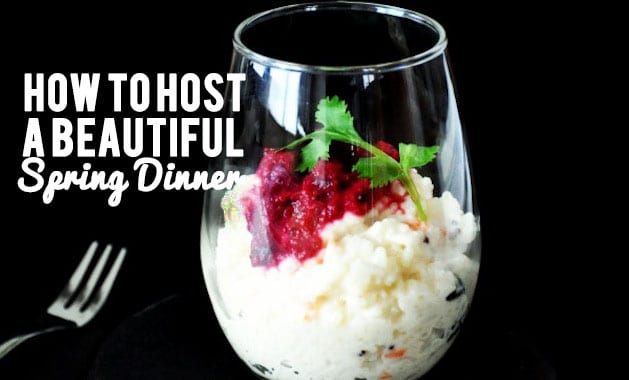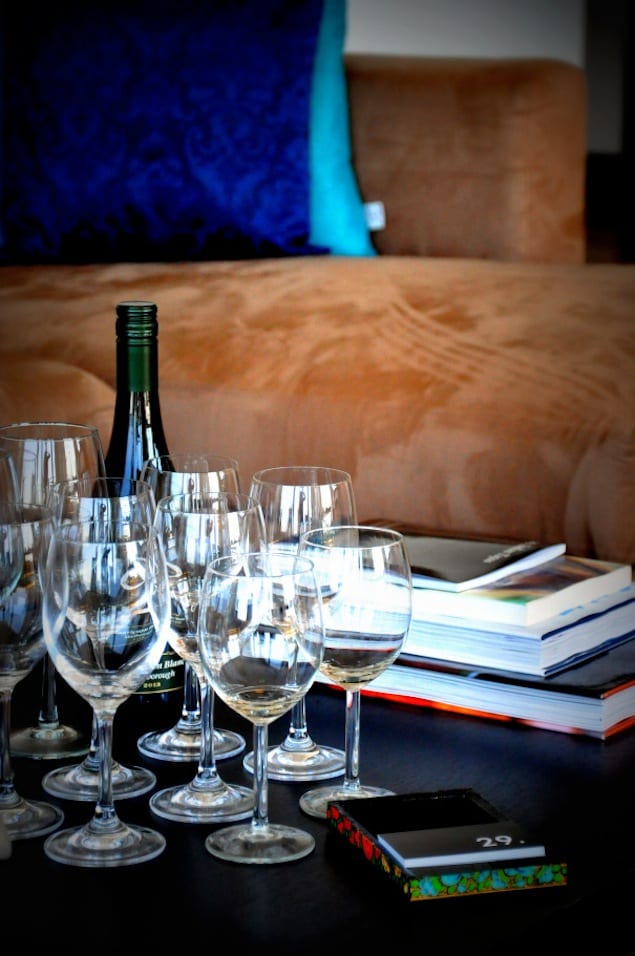 With spring in full bloom, it's time to dust off the cobwebs from that pile of party invites.
Whether you are a pro-host, or one who struggles with putting out an appetizer table, these simple tips will help you make your night just a tad fancier.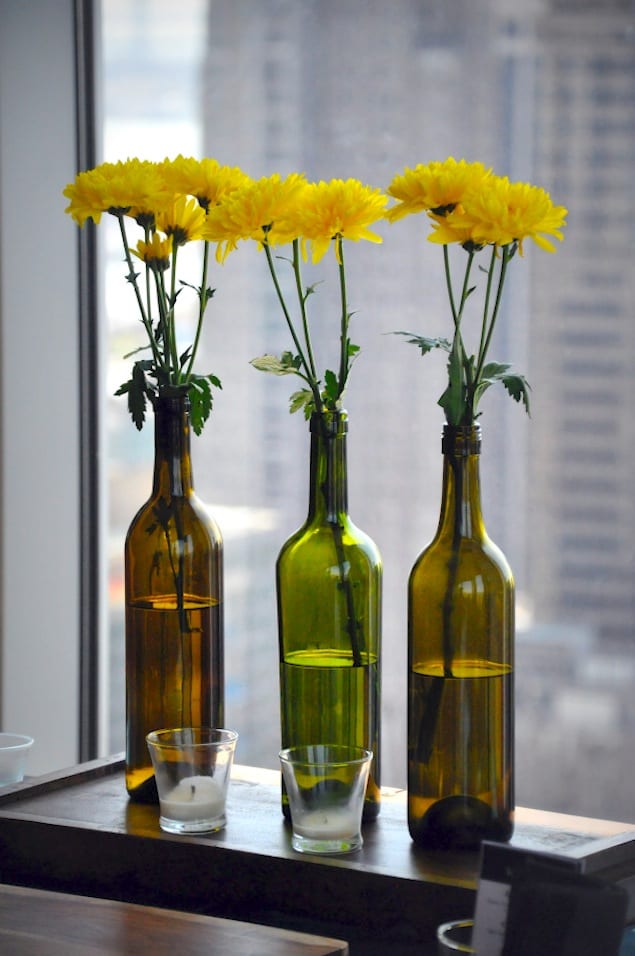 1. Spring is all about color
Not only should your dishes be dressed up with fresh produce, even the table deserves a little love. Use old wine bottles to create DIY vases that look oh-so-adorable with a swig of flowers!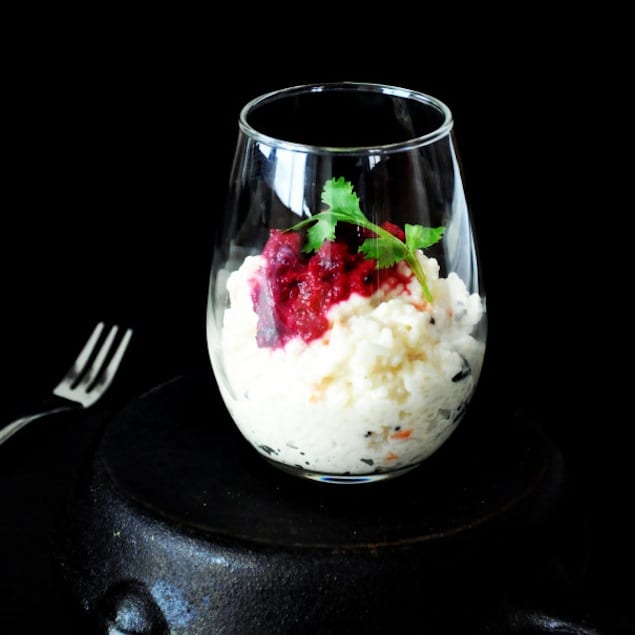 2. Be creative with your dish ware
Use wine tumblers to serve entrees like rice based dishes. Why you ask? Well, why not! Isn't it a beautiful to showcase a small dish?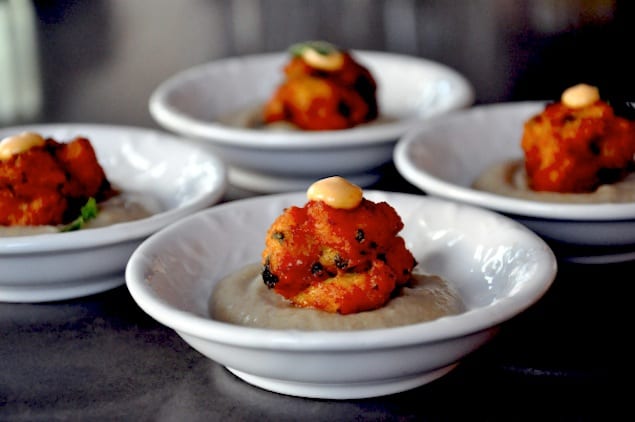 3. Mix & match ingredients
Play around with food – sometimes the strangest of combinations create the most mind blowing bite. The jar of olives in your cupboard, the almost-stale bread, the endless bunch of kale, are not quite as unworthy as you think. This dish – a spicy chicken dumpling served atop a creamy curried cauliflower puree was an absolute hit at my dinner!
4. Get people in the mood
The only thing worse than bad food at a party, are bored guests. Get the happiness started with little shots that help break the ice and get the conversations flowing. Trust me, it'll work.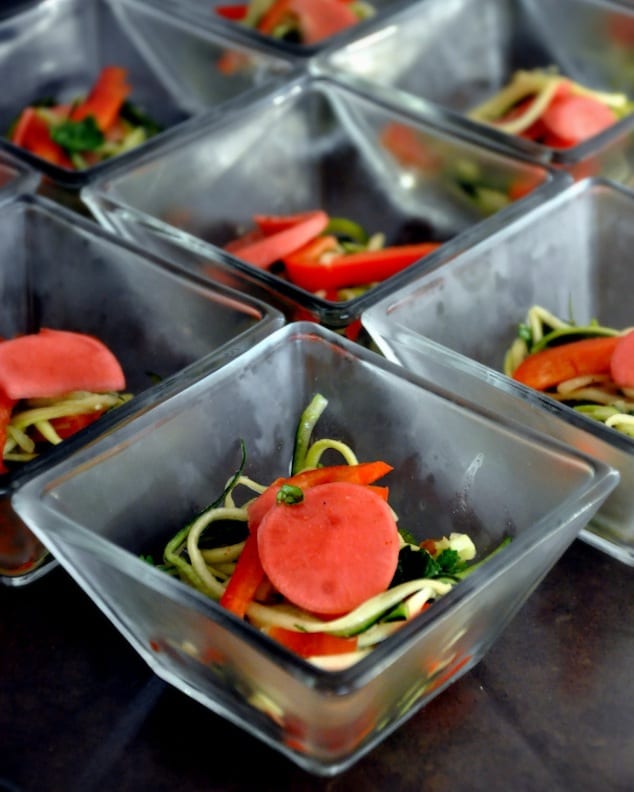 5. Serve something fresh and seasonal
Salads – an element that most Indian meals are devoid of. Add an individual sized seasonal salad, like this squash & cucumber 'spaghetti' w/ pickled radish & cilantro lime dressing, to your buffet table. Not only is it uber simple to put together, but it will also add a vibrant crunch to your meal. Oh, and chill your dishes before serving – it will keep the crunch that much longer!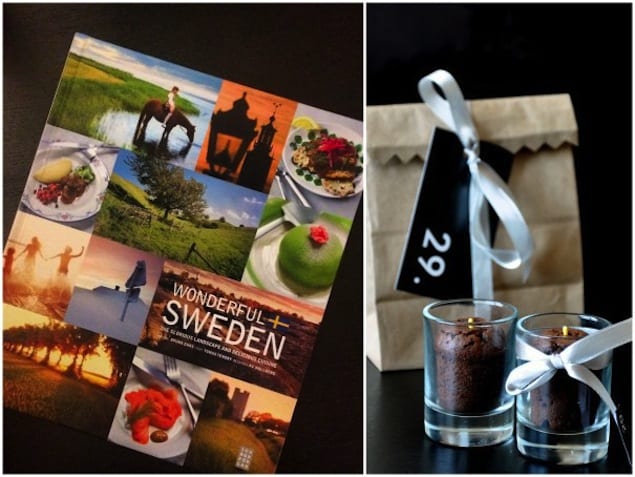 6. A Giveaway
Who doesn't love a little competition? Incorporate an easy game into the evening, with a winning gift of something edible, something handmade or something you prize – like a cookbook. Not only does it encourage interaction, it shows you off as the power host you now are.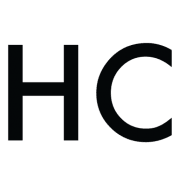 Shuchi Mittal
Shuchi cooks with the heart of a poet. Banker turned chef, she runs the 29. Private Kitchen in NYC focusing on social tasting events, dining experiences and small-scale private events. Using simple & wholesome ingredients, she likes to re-invent homemade Indian flavors into modern tapas & small plates. Her dream? To cook, feed, write, and eventually open her own communal dining cafe - with a published recipe book on the stands.