Tilgul is a colourful sesame candy coated with sesame seeds, often served on Makar Sakranti, a Hindu festival celebrated on 14 January.
By Anita Mokashi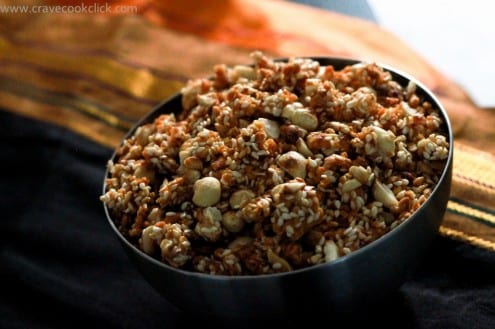 Tilgul is a colourful sesame candy coated with sesame seeds; in Maharashtra people exchange tilgul on Sankranti, a Hindu festival celebrated on 14 January. The sweet is a mixture of seasame seed (called "Til" in Marathi/Hindi) and jaggery (called "Gul" in Marathi/Hindi) and hence the name. On the Sankranti eve, families serve their guests with Tilgul while saying "Tilgul kha, goad goad bola" which literally means "Eat Tilgul and talk all sweet".
Makar Sankranti is one of the most auspicious occasions for the Hindus, and is celebrated in almost all parts of the country in myriad cultural forms, with great devotion, fervour and gaiety. It is a harvest festival. Makar Sankranti is perhaps the only Indian festival whose date always falls on the same day every year on the 14th of January (with just a few exceptions when it is celebrated either on 13th or 15th of January).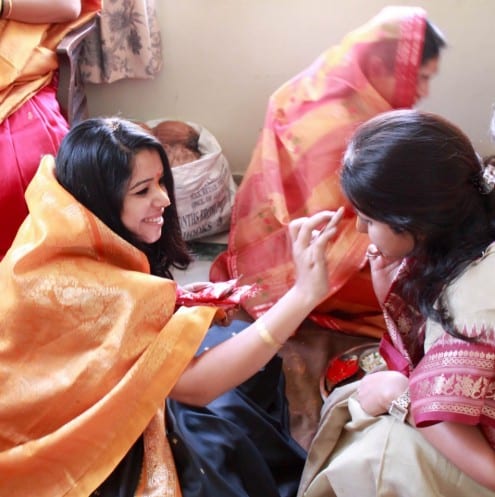 Makar Sankranti is the day when the glorious Sun-God begins its ascendancy and entry into the Northern Hemisphere and thus it signifies an event wherein the Sun-God seems to remind their children that 'Tamaso Ma Jyotir Gamaya'- may you go higher & higher, to more & more Light and never to Darkness.
To Hindus, the Sun stands for knowledge, spiritual light and wisdom. Makar Sankranti signifies that we should turn away from the darkness of delusion in which we live, and begin to enjoy a new life with bright light within us to shine brighter and brighter. We should gradually begin to grow in purity, wisdom, and knowledge, even as the Sun does from the Day of Makar Sankranti.
This is a special day for the women in Maharashtra when married women are invited for a get-together called 'Haldi-Kunku' (literally meaning turmeric and vermillion) and given gifts such as utensil, clothes etc. Typically, women wear black sarees or black coloured outfits on this occasion. The significance of wearing black is that Sankranti comes at the peak of the winter season and black colour retains and absorbs heat, helping keep warm. Maharastra is also famous for kite flying on this special occasion.
The festival of Makar Sankranti is highly regarded by the Hindus from North to down South. The day is known by various names and a variety of traditions are witnessed as one explores the festival in different states. Sankrat is celebrated at a huge scale in Baroda, Gujarat with lots of kite flying and fire crackers.
Tilgul - Hindu Festival Recipe
Tilgul is a delicious sweet served at Hindu festivals.
Ingredients
2 cups seasame seeds(til)
1 ½ cup chikki jaggery(gul)
1 cup groundnuts and chana dal
1 tbsp cardamom powder
1 tbsp ghee
Instructions
Roast seasame seeds in pan till brown colour and keep it aside.
Dry roast the groundnuts and chana dal. Crush them coarsely
In another pan boil the jaggery.
Add 1 tbsp ghee to melted jaggery.
Add roasted seasame seeds, groundnuts, chanadal and cardamom powder to the jaggery. Mix all well.
Anita Mokashi
Anita Mokashi is based in California, but born and brought up in Mumbai, India. Her blog Crave Cook Click is mostly about Indian cooking, but occasionally she shares recipes from other cultures and cuisines too. Anita is also the publisher of a popular photography blog.