Tiger Beer was the first locally brewed beer in Singapore. To this day, it still rules the night.
By Marissa Sertich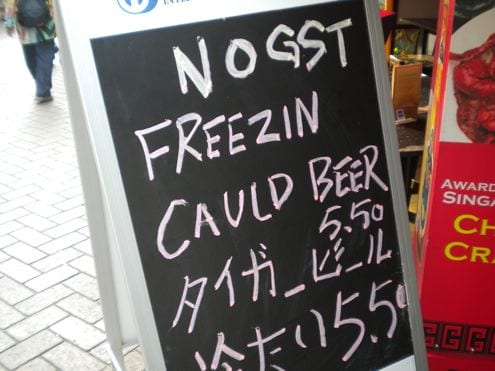 Stepping out of the shower, the water sticks to my skin in a way that leaves me feeling sweaty before the first cup of coffee.  Managing to wipe away the damp, my pores are already in high gear and my shirt is lost to the tropical heat.
Stepping outside, what once were mere sweat marks become the Singaporean version of a wet t-shirt contest.   Next to me, the local women enter the bus wearing full suits with long pants.  I can only figure that the acclimation to this sort of thing must be born with you – I've been here for two months and I don't think my blood is any thinner.
It is, however, diluted with alcohol.  Tiger is the brew of choice at the hawker stalls – the covered food-centers here in Singapore – launching in 1932, it was the first locally brewed beer in Singapore.  When the cheapest bottle of wine rings up at seventeen dollars and the famous  "Singapore Sling" at the Raffles Hotel costs twenty-six, one has to reconsider their alcohol options.  It's nice to know that after all the industrialization, modernization and deforestation of this tiny island, Tigers still rule the night.
The tropical heat requires a good, cold beer.  It's even common here to pour beer over ice.  However faux pas it may be to western beer enthusiasts, it beats the heat and keeps the body cool – at least until the bottle's empty.   Plus, those two extra ounces of hydration are the difference between a pounding headache and sleeping restfully though the night's dead air.
See Also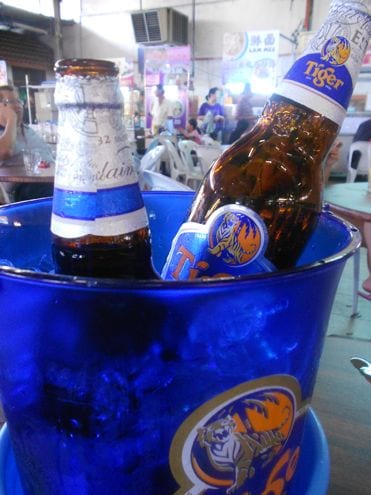 "It's Time for a Tiger," read the advertisements.  This is not only true; it is a mantra here in Singapore.  Stuck in a dimension somewhere between tourism, work, political understanding, and Aldous Huxley's "A Brace New World," the Tiger is Buddha, leading locals and expats alike to a sort of sweaty, intoxicating enlightenment.
So, when I truly want a bit of culture, true culture, I always wander to the hawker.  The Tiger is a staple, becoming as much a part of the culture as chicken rice (an oily, stock infused rice with steamed or boiled chicken), and laksa (a spicy, coconut curry soup with rice noodles).  In the evenings, I watch hawker fill with those ready to eat and imbibe.  Groups of old men surrounded by a carnage of empty bottles, boisterous, drunken tourists enjoying their holiday, expats quietly enjoying the scene, and myself, all join together in sweltering heat to fight the heat, enjoy the company and consume a Tiger or two.
Marissa Sertich
Marissa Sertich Velie is a New York based pastry chef and graduate of the Culinary Institute of America. She passionately documents her adventures of baking and eating her way through the fascinating (and sometimes nutty) underbelly of the American pie. Velie has a Master's degree in Food Studies from NYU.