A delicious, refined, Indian dish from the Purple Poppadom Restaurant in Wales.
By Nikki Vivian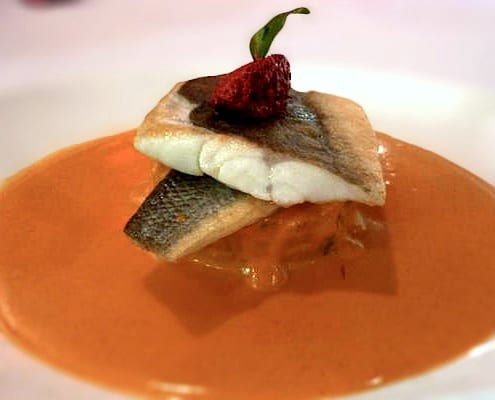 A new food festival hit Swansea, Wales last weekend. The Welsh Menu. As well as food producers, children's activities and tasting sessions, there were a host of demonstrations delivered by Welsh chefs and local food establishments.
See Also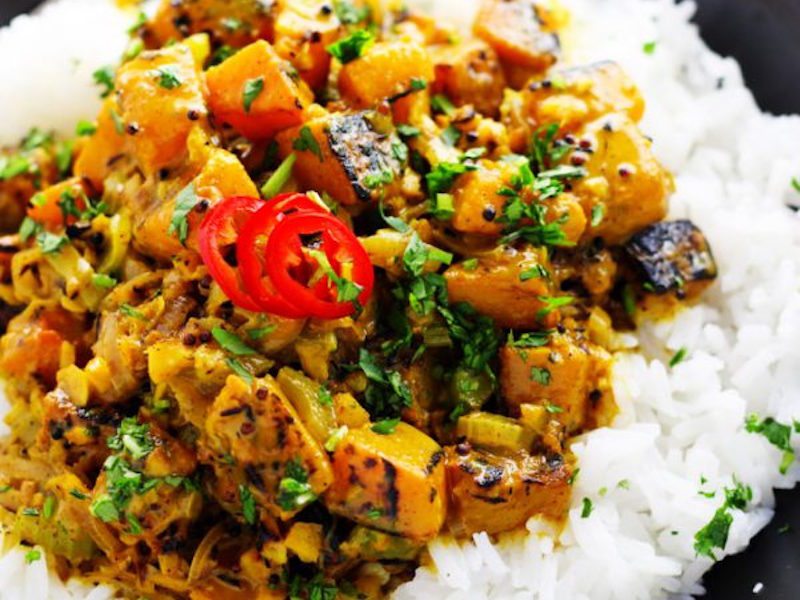 Tiffin Sea Bass, Purple Poppadom Style
A delicious Indian bass recipe from The Purple Poppadom restaurant in Swansea, Wales.
Ingredients
Tiffin Sea Bass
4 fillets of Sea Bass
1 large onion
10g/.5 oz ginger
5 curry leafs
1tbsp turmeric powder
300g/11 oz coconut milk powder
300ml/ 1¼ cup water
Curry Leaf Mash Potato
1 tsp mustard seeds
10g/.5 oz lentils
1 large onion
10g/.5 oz ginger
1 green chilli
3 curry leaves
1 tps turmeric powder
450g/ 1 pound boiled potatoes (skins removed and grated)
50ml/ ¼ cup water
Instructions
Tiffin Sea Bass
Peel and slice the onions,chop the ginger finely, peel the raw mango and cut into small cubes.
Mix the coconut milk powder with 600ml/ 2½ cups hot water and blend well.
Heat oil in a pan, add sliced onions, ginger, mango and curry leaves and saute until transparent.
Lower the heat and add chilli powder, turmeric powder, a pinch of salt and saute for 2 minutes then add the water and bring to the boil.
When the mixture starts to thicken, add the coconut milk and cook until the sauce thickens again.
Take off the heat and pass through a fine sieve.
Cut each bass fillet into two.
Coat the sea bass fillets with salt and oil and then bring the sieved sauce to the boil. Season well.
Heat a pan and place the bass fillets skin side down and cook on both sides for 3 minutes.
Curry Leaf Mash Potato
Chop ginger, onion, green chilli and curry leaves.
Heat oil in a pan, add the lentils until they crackle then add the mustard seeds, ginger, onion, chilli and curry leaves.
Lower the heat, add turmeric powder and a pinch of salt and saute for 1 minutes.
Add the water, boiled potatoes and mash well. Check seasoning and add as desired.
To finish
Place the Curry leaf Mashed Potato on the centre of the plate and pour the sauce over it. Finally, rest the cooked bass fillets on top.
One of these demonstrations was delivered by my favourite local restaurant,
The Purple Poppadom
. Head Chef and owner Anand George took to the stage with competition winner Ben Vivian to teach the audience how to make one of his award winning dishes, Tiffin Seabass. I can share the recipe with you below. I have had this at the restaurant and it is outstanding so I am very excited to have the recipe to try out at home.
Nikki Vivian
Nikki is a food blogger from the UK and founder of food review website yourlastmouthful.com. Having travelled extensively, Nikki is passionate about discovering food from across the globe. Currently living in South Wales, she makes it her business to sample the best local produce and offerings from local independent food businesses.