Three Cheese and Fig Paignets with Castello Alps Selection
A delicious take on Paignets, with three alpine cheeses from Castello and a delicious fig filling.
By Denise Browning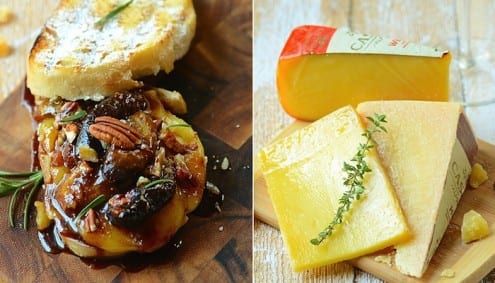 For the creation of this post I received a package containing 3 premium cheeses under the Castello brand Alps Selection: Hirten, Classic, and Weissbier. Each of the cheeses has a unique taste and texture, and is crafted through intricate artisanal techniques from milk produced on small farms in the Alps.
Creating a recipe with a focus on the American market was rewarding– it was a unique chance to put to use what I have learned about American cuisine both from culinary school and by living in the USA for the last 11 years. Although given the option of choosing any one of the three cheeses to develop a recipe upon, I decided to make use of all three of the high-quality, delicious cheeses. I drew inspiration from one of my favorite regional American cuisines — Creole!!! But my goal was to create something to highlight the cheeses, the real stars of our dish…
Since figs pair so well with the Castello Alps Selection Weissbier cheese, I made a Fig Foster filling instead of using the traditional bananas, and added to it praline pecans to accentuate the nutty sweetness of this cheese. A German contribution to Creole cuisine, black pepper, was also incorporated into the filling along with rosemary, in order to highlight the herbal and spicy notes of the Castello Classic. Bearing in mind both how ideal Castello Hirten is for sandwiches and the Italian contribution to Creole heritage, I decided to make panini. But the dish simultaneously ended up becoming a fruit dessert due to its fruity sweet filling. And to bring out the influence of NOLA's cuisine even more, I covered the top of our panini with powdered sugar– just like a beignet. This is how we ended up with our Castello Moments Triple Cheese and Spicy Fig Foster Paignets with Praline Pecans, a.k.a Castello Moments Paignets!!
This dish immediately became a family favorite, but above all, we just couldn't keep ourselves from noshing on the cheeses all by themselves.
Oh, and that's not all!!! Did you know that you also have the chance to win a Private Cheese Tasting in your own home? To enter, click on the banner at the bottom of this post.
I hope that you enjoy my paignets as much as my family and I did, and wish you the best of luck in winning the wonderful Private Cheese Tasting sponsored by Arla Foods USA… Bon Appétit!
Three Cheese and Fig Paignets with Castello Alps Selection
A delicious take on Paignets, with three alpine cheeses from Castello and a delicious fig filling.
Ingredients
2 teaspoons ground cinnamon
1 tablespoon granulated sugar
3 tablespoons unsalted butter (1-1/2 ounces)
1 cup light brown sugar
6 fresh large figs, halved lengthwise and quartered
A pinch of black pepper
⅓ cup dark rum
2 tablespoons praline pecans, chopped
1 teaspoon fresh rosemary, chopped
For the Panini/Paignets
Non-stick cooking spray or oil to brush griddle pan
4 slices from a French bread loaf
2 thin slices of Castello Classic cheese
2 thin slices of Castello Weissbier cheese
Castello Hirten cheese crumbs, to taste
Powdered sugar to sprinkle
Instructions
In a small bowl, combine the cinnamon and sugar, mix thoroughly, and reserve.
In a large skillet, combine the butter and brown sugar; then, place the pan over medium heat. Stir with a wooden spoon until the sugar melts completely and the mixture caramelizes to a creamy, rich brown color. This process requires approximately 4-5 minutes.
Add the figs quarters to the skillet, sprinkle pepper on top, and cook for approximately 1 minute, stirring gently every now and then. Remove pan from the heat, pour rum into the pan, return pan to the heat, and carefully ignite with a long match, or just tilt the skillet to ignite. Note: Never pour the alcohol straight from the bottle if the pan is on the stove; any splash back can ignite, and the flame can travel into the bottle.
Scatter the cinnamon-sugar mixture directly over the flame. As the flames die, stir gently to combine all the ingredients and add both the chopped praline pecans and rosemary. Use the warm Figs Foster as a filling for the paignets.
For the Panini/Paignets
Heat a large cast iron grill pan over medium-high heat and either spray on the non-stick cooking spray or brush pan surface with oil.
Place 2 slices of bread in the pan and let crisp and acquire grill marks, about 3-4 minutes (on just one side of each slice of bread). Remove slices from the pan and set aside.
Place the other two remaining slices of bread in the pan, and top each with one slice of Classic cheese and then one slice of Weissbier cheese.
Reduce heat to medium, cover the two slices of bread on the grill pan with a larger, inverted skillet, and let cheeses melt, about 2-3 minutes.
Remove from the heat and transfer to individual serving plates.
Spoon half of the warm Fig Foster filling on top of the melted cheeses, top figs with crumbs of the Castello Hirten cheese, and place one slice of the reserved grilled bread on top.
Sift powdered sugar on top of each slice of grilled bread and serve immediately with a glass of red wine. Bon appétit!!
Win a Castello Alps Selection cheese tasting for you and your friends – enter below!
Win A Castello Moments Cheese Tasting
This article is part of Castello Moments, a collaboration between Honest Cooking and Arla Foods USA.
Denise Browning
Denise Browning is a native Brazilian foodie, trained Chef, cooking instructor, restaurant menu/recipe developer, and former lawyer. She is also the author of From Brazil To You - a blog that features Brazilian, fusion, and international dish recipes, stories, and photography of Brazil. Her writing has appeared in Cia Brasil Magazine, while her photography is frequently featured on Foodgawker, TasteSpotting, and Foodepix. She lives in Texas with her American husband and two children.