PARTNER POST – Be inspired to create beautiful cheese boards with Castello cheese. And what goes better with cheese than wine? Enter to win a trip for two to Napa, California.
Create a beautiful dessert and cheese platter complete with a sweet and spicy strawberry jam.
By Stacey M Doyle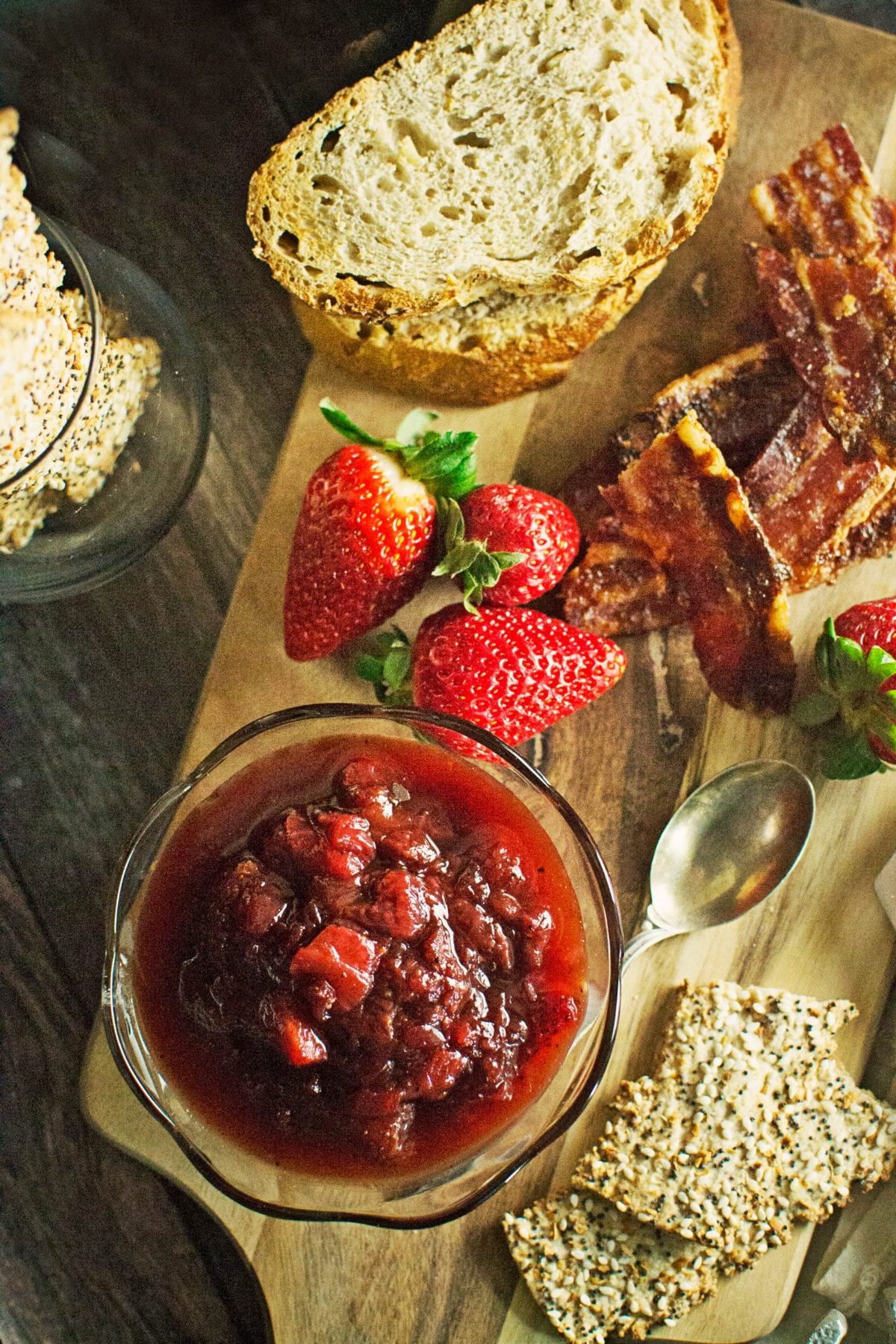 Creating a Cheeseboard for Two (or more) doesn't have to be humdrum and boring. Yes, certain pairings of cheese and food go together better than others, but at the end of the day, it about you, your taste and personality and the theme of the night. So first things first, I like to settle on which cheeses I want to focus on and then build around them incorporating the flavors that would best express my cheeseboard theme. I went for more of a dessert theme this time.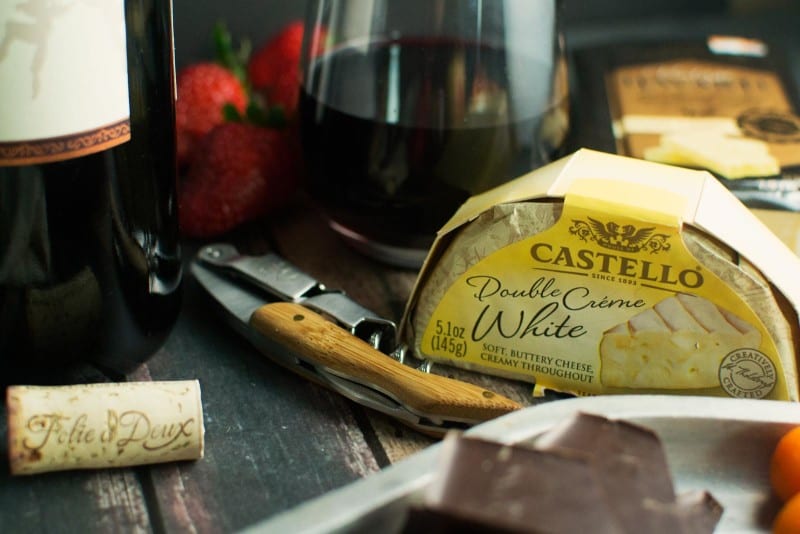 TIPS FOR THE MAKING OF A GREAT CHEESEBOARD FOR TWO:
Of course, dark chocolate came to mind, always and everyday!
Followed by that dark decadent chocolate, I added candied bacon!
A fruit spread with my favorite red beauty, the strawberry, carefully crafted into a Strawberry Balsamic with Black Pepper fruity jam.
Now for the cheese selection: I went for Castello's Aged Havarti, my personal favorite with a sharp yet lusciously creamy finish, along with their tangy Extra Creamy Danish Blue and of course I had to include their Double Creme White. Castello has a delicious variety of perfectly crafted cheeses that will make any cheeseboard the center of attention. Click here to visit their website for more information and ideas.
I also wanted to add some pizzazz to the board and picked up some brightly flavored citrus – Kumquats, extra Strawberries and some Medjool Dates.
For the wine, I decided on Zinfandel and a Chardonnay by Folie à Deux, a full-bodied wine selection and beautifully balanced for a gourmet cheeseboard to share with you special someone.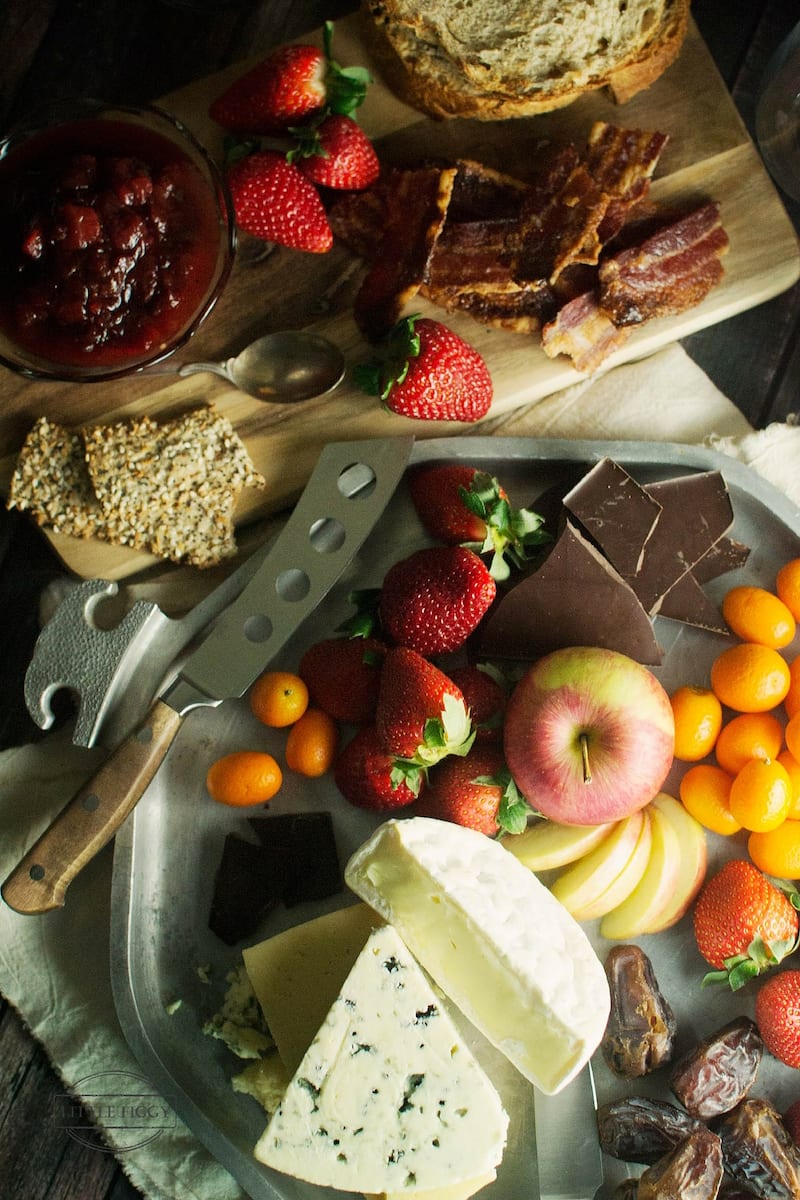 When creating an attractive and guest-loving cheeseboard, you should try to include the following:
At least 3 cheeses, all with different flavor characteristics, shapes and textures. Serve cheese at room temperature, this is where their flavors are allowed to shine. Allow for 2 – 4 oz of cheese per person.
An assortment of breads, crackers and fruits (dried & fresh).
Don't forget to add a spread of some sort, such as my favorite Strawberry Balsamic with Black Pepper fruity jam (recipe below), or other chutneys or compotes. Pesto or Mustard are also great additions depending on the theme of your cheeseboard (I love mustard with a sharp cheddar).
You can also offer other tasty treats, such as chocolates, candied bacon, cured meats or nuts (both salty or candied).
Display your gourmet spread on a board or platter, or both. Don't just throw them on there, thoughtfully arrange your cheeses and the other chosen foods to be visually appealing. You can also label your cheeses with decorative cheese labels/markers.
Don't forget to enter the Castello sweepstakes for a trip for two to Napa Valley! Trust me, you want in on this one. Click here.
For another great cheese board addition, try this sweet and spicy carrot chutney.
The Ultimate Strawberry Black Pepper Jam Cheese Board
Stacey M Doyle
Great a beautiful dessert and cheese platter complete with a sweet and spicy strawberry jam.
Course
Appetizer, Dessert
Ingredients
1

Tbls

Olive Oil

1

large Shallot

diced fine

¾

cup

Light Brown Sugar

½

tsp

Black Pepper

optional

3 - 4

Tbls

Balsamic Vinegar

I prefer to use 4 Tbls

3

cups

fresh Strawberries

cut into halves or quarters
Instructions
In a saucepan over medium low heat, add the Olive Oil.

Once Olive Oil is hot, add in the diced Shallots and saute for 3 - 4 minutes or until translucent.

Add the Brown Sugar to the Shallots and stir until the sugar is dissolved, be careful not to allow the sugar to scorch.

Add the Black Pepper, Balsamic Vinegar and finally the Strawberries, stirring to coat. Bring to a low boil then reduce to simmer, cooking for about 15 - 20 minutes or the now jammy mixture coats the back of a spoon.

Remove to cool completely, it will mellow in flavor once cooled and begin to thicken.

Store in an airtight container (up to 1 month) in the refrigerator until ready to use.

About 30 minutes before serving, remove from the refrigerator to allow to come to room temperature when serving with cheese.
Stacey M Doyle
A Southern girl with a taste for travel, Stacey takes inspiration from her global pantry and cooks with a sense of adventure. Now she's raising her three young children to appreciate a wide world of food, even if she doesn't always tell them exactly what they're eating. Stacey is the food photographer, writer and creator of Little Figgy Food. She's also addicted to coffee. Addicted to olives. Fairly obsessed with dark chocolate.