This recipe produces the softest garlic knots, the dough is very easy to work with and can be used for other types of buns too.
By Tamara Novacoviç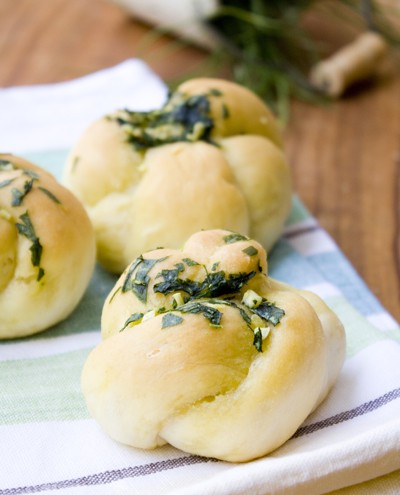 Garlic knots are my favorite buns in the whole world. And ever since I discovered this recipe, I tend to stick to it. It produces the softest garlic knots, the dough is very easy to work with and I use the recipe for different types of buns too. I am actually a huge fan of garlic and onion and would put it into almost every dish I make, I just love the aroma.
Garlic knots were one of the first yeast-doughs I ever made. Up until then, I was avoiding baking bread and buns. I somehow always considered it to be complicated and didn't want to deal with it. Then one day I tried these and fell in love. I've been baking them often since then. There is no gathering or barbecue without these. Everyone loves them.
The secret? Well, they are visually attractive-tied into cute little knots and they are so flavorful-smell lovely of garlic. And they are so soft.
The secret to making perfect home made buns and bread is, of course, in the dough itself. Once you see and learn how the dough has to feel (the consistency), you will be able to make it even without exact measures. And it will turn out great every time. The dough shouldn't be too soft and it definitely mustn't be hard. I personally believe it is always better to make the dough on the soft side. Later on you can add some extra flour and shape it without any problems.
Print
The Softest Garlic Knots
These are the softest garlic knots ever! The dough is perfect to work with and I guarantee the success!
For the dough
5 cups

(

500 g

) all purpose flour

1 tsp

(

7 g

) instant dry yeast

1 tbsp

sugar

2 tsp

salt

1 cup

(

250

ml) warm water

1/4 cup

(

60

ml) olive oil
You will also need
1.4 oz

(

40 g

) butter

2

cloves garlic

1 tsp

chopped parsley
Instructions
Combine dry ingredients, add wet ingredients and knead until it forms into a soft, elastic dough. Dough should be softer, but not too sticky. Test it: touch it with your fingertip and if it sticks to your finger when you pull away, it's too sticky and you need to add a bit more flour.
Transfer the dough into a ligthly oiled bowl, turn once to coat and cover with plastic wrap. Let rise for 1 hour.
Divide the dough into 15 equal balls. Shape each ball on floured surface into 10 inch long rope and tie into a knot. Take the end lying underneath the knot and bring it over the top, tucking it into the center. Take the end lying over the knot and tuck it underneath and into the center. Transfer shaped knots to baking sheet covered with parchment paper, cover with clean kitchen towel and let rise again for 45 minutes.
Heat oven to 356 F (180 Celsius). Bake them for about 35-45 min.
Make the glaze: melt butter with some parsley and minced garlic (or press it through a garlic press). Brush the glaze onto the hot, baked knots. Serve.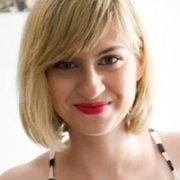 Tamara Novakoviç
Tamara Novakovic is a passionate self-taught cook, food blogger, freelance food writer and photographer behind bite-my-cake.blogspot.com. Her life journey has led her through Faculty of Humanities in Zagreb, Croatia to discovering passion for making cakes. She is currently a weekly food columnist for Croatian newspaper V magazine and food magazine Repete.