Four Seasons Resort Maui at Wailea has created an opportunity for connoisseurs of music, fine vintages, world cuisine and a touch of musical mystery to enjoy and appreciate together on December 7, 2012 at the "Red Violin Opus One Wine Event."
By Michelle M. Winner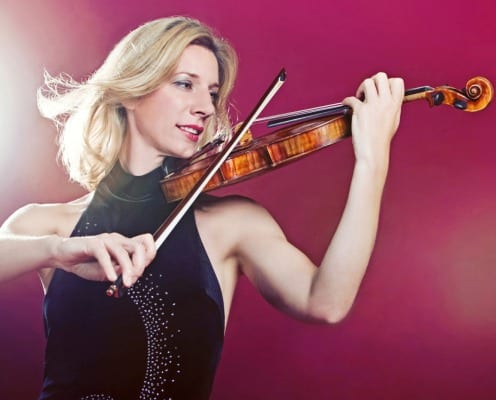 Under a lei of the stars in the Maui sky, Elizabeth Pitcairn, American violin virtuoso and owner of the legendary 1720 Red Mendelssohn Stradivarius will perform a private concert for  dinner guests.  This is the same violin that inspired the movie  "The Red Violin." Of the excitement generated by Elizabeth and her Red Violin, Thomas Steinhauer, regional vice president and general manager, Four Seasons Resort Maui at Wailea shares, "This latest  part of our Unforgettable Events series prompts the question; 'What could be more compelling than listening to the virtuoso tones of Elizabeth Pitcairn and her spectacular Red Violin, while sipping the finest vintages from Opus One Winery, and savoring an exquisite menu?' It is truly going to be an unforgettable event."  In a  refreshing, and in this reporter's  opinion, unique twist to the concept of wine pairing dinners, the Red Violin's illustrious, sometimes mysterious history will be traced across the centuries in Italy, Montreal, Shanghai and England into Elizabeth's talented  hands by the pairing of  select  Opus One vintages to that particular world cuisine course.
Pitcairn has earned a stunning reputation as one of America's most beloved soloists. Debuting in New York  at  Lincoln Center's Alice Tully Hall in 2000 with the New York String Orchestra, she has appeared as soloist with the Philadelphia Orchestra at the Academy of Music and has recently been named the Artistic Director of the Luzerne Chamber Music Festival. For information: Pitcairn and the Red Violin.
Executive Chef  Roger Stettler and his Four Seasons Resort Maui team are promising a delectable multi-course repast that will include Lobster Ravioli, Wild Rabbit Terrine, Shanghai Steamed Soup Dumplings, Braised Oxtail, Black Winter Truffle, and a dessert and cheese buffet created by Executive Pastry Chef Rhonda Ashton-Chavez with samplings from around the world. Opus One's  pairing  vintages are 1995, 2000, 2004, 2007 and 2009. With such great years this California winery  will pour – you can  be certain of  the  quality of the event.  Nothing less than a virtuoso in the kitchen and one on a Strad will do. For detailed information, go to  Red Violin Opus One Wine Event.

The event price is $795 per person and includes an Ocean View Room, the private concert and the paired wine dinner created by the resort's Master Executive Chef Stettler.  The "Red Violin Opus One Wine Event"  is part of  the very  first  Wailea Wine and Food Festival in Maui, December 6-9, 2012. Information on other festival events and tickets are available at Wailea Wine and Food Festival.