Although served in an English tea-cup, Nikki Vivian shares her perfected version of Moroccan Mint Tea.
By Nikki Vivian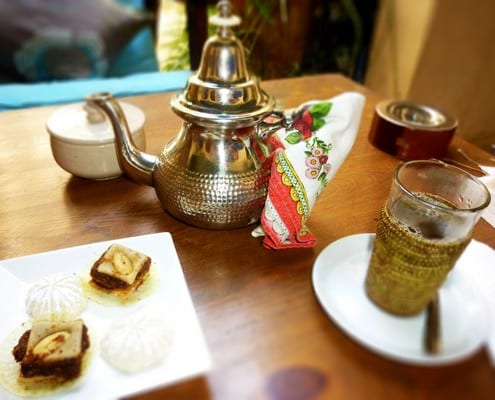 I have always loved tea. The thing is, while I love experimenting with food, trying new ingredients and different flavour combinations, my tea drinking has never ventured much further than your average teabag and the occasional herbal tea.
After a bit of experimentation with various herbal and floral teas, a recent trip to Morocco really paved the way for sampling the wealth of teas available. I never thought of Morocco as a place for tea but it's actually one of the biggest tea importers in the world. I sampled a wide variety whilst on my travels but my favourite was definitely the Moroccan Mint Tea which is made with green tea with mint leaves.
I became totally infatuated with it. Even on a hot day nothing could stop me having my mint tea. Made with fresh mint leaves, it was just so fresh and delicious. Usually beautifully served in a silver teapot and poured from a great height to produce a froth, it can be sweetened with sugar or just served as it is. More often than not it came with a delicious patisserie. Perfect!
Since coming home, I have been craving my fix of mint tea so with a little research and experimentation, I can share with you my perfected version of  Moroccan Mint Tea (all be it in a English tea-cup).
Add two teaspoons of loose leaf green tea to your filter tea pot with 500ml of water.
Leave the tea to infuse for 2 minutes and then discard the water
Add another 500ml of water to the tea leaves and add a generous spoonful of sugar
Let the tea and sugar infuse for 10 minutes
Add fresh mint to the pot of to the cup and enjoy!
Nikki Vivian
Nikki is a food blogger from the UK and founder of food review website yourlastmouthful.com. Having travelled extensively, Nikki is passionate about discovering food from across the globe. Currently living in South Wales, she makes it her business to sample the best local produce and offerings from local independent food businesses.