As part of its massive transformation The New York Marriott at the Brooklyn Bridge bakes, bottles and brews some exciting fare proving Brooklyn is the place to be for the summer.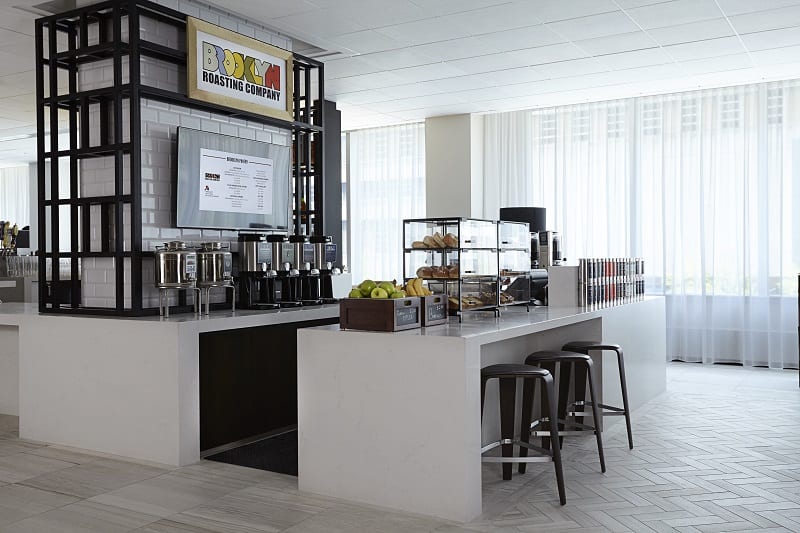 Known for its' collaborative, creative atmosphere enriched with diversity, Brooklyn is home to authentic food producers like Ovenly Bakery, Brooklyn Winery, and Brooklyn Brewery. All of which will be featured in the physical re-imagination of this iconic hotel.
Appreciating the diverse, raw, liveliness Brooklyn has to offer, The New York Marriott at the Brooklyn Bridge uses the local culture as inspiration for its dynamic renovation. In their first installment they start with, of course the foodies delight, the opening of two new dining areas.  The Bar (Greatroom) and exclusive M Club Lounge.
The lounge is exclusive to Marriott rewards members but next door The Bar (Greatroom) is where the action is at. Travelers, groups, local purveyors, can sit, smile, and absorb Brooklyn's flavors in this relaxed atmosphere.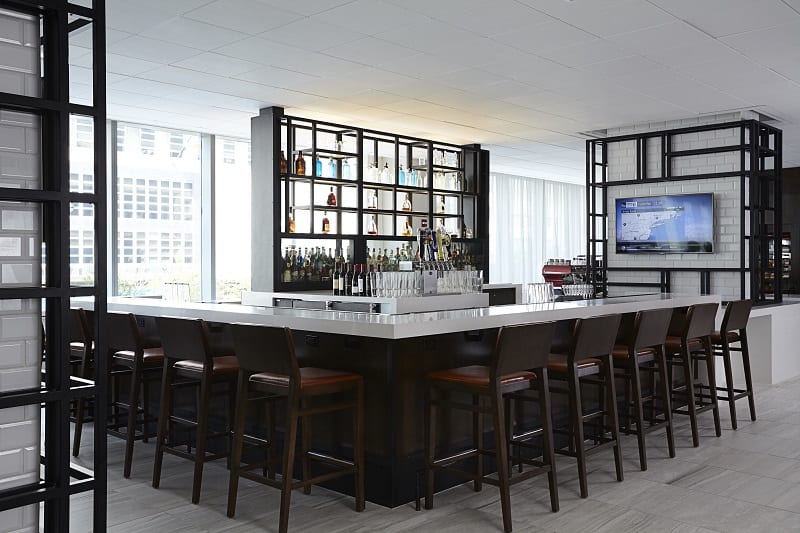 Staying true to the neighborhood, the Bar includes a bite for everyone:
For the person who needs a quick pick me up: light bites include house chips served with a grilled onion Brooklyn Lager dip.
For the person who is jet lagged and "hangry": richer bites include, a Sfoglini Trumpet pasta dish served with oyster mushrooms, roasted fennel and blistered tomato sauce.
For the person who wants something to take with them on their journey across the Brooklyn Bridge: portable bites are offered by The Pantry.  A selection from Ovenly Bakery such as salted chocolate chip cookies. The hotel's also has a locally sourced coffee selection, served by DUMBO-based roastery and espresso lab, Brooklyn Roasting Company.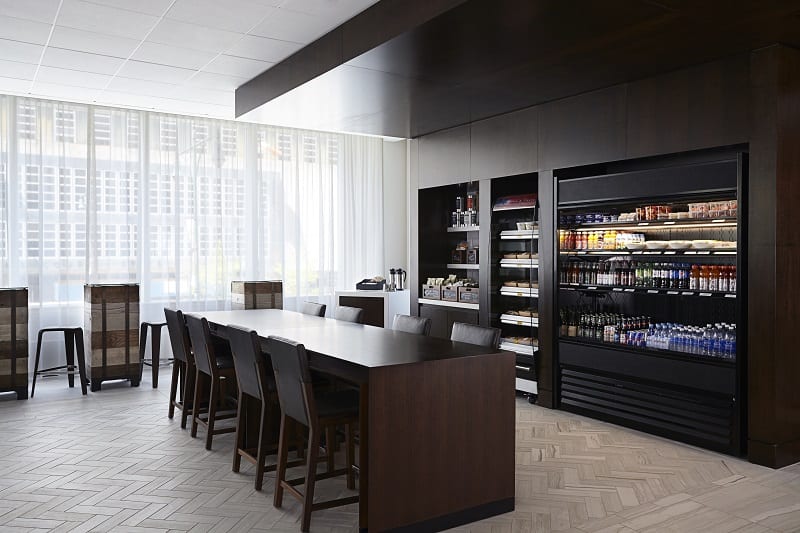 For everyone (over the age of 21)  The beverage menu at The Pantry features Sixpoint Craft Ales based in Red Hook, Brooklyn Brewery's Brooklyn Lager, and options from Brooklyn Winery such as Cabernet Sauvignon and Stainless Steel Chardonnay. Not enough? There is more: Olde Brooklyn sodas come in Coney Island Cream, Greenpoint Grape and Park Slope Ginger Ale flavors.
Curious to know who the culinary wizard who is dishing simple, comforting, local and undiscovered eats and drinks at The New York Marriott at the Brooklyn Bridge's let us welcome Executive Chef Robert Mirabelle.
Hi there! Can you briefly introduce yourself?
I am Robert Mirabelle, Executive Chef at New York Marriott at the Brooklyn Bridge. I am a graduate of The Culinary Institute of America. I started working in hotels with the Grand Hyatt in Manhattan 20 years ago, and then became a chef at the Crowne Plaza in Times Square before finding a home with Marriott. I started my career with Marriott International at the New York Marriott Marquis in Times Square, where I worked for 6 years before becoming executive Chef at the Brooklyn Marriott 2 years ago.
What was it that sparked your passion for cooking and having a career in the food industry?
I have always had a passion for food. Growing up in an Italian-American household, life revolved around food. Birth to death and every milestone in between gave just cause to cook and eat. I got started years ago when a friend decided one day he wanted to open a restaurant, and asked if I could cook for him. I was shocked, and all he said was that he knew I was good on the back yard grill and cooked for all our social events so why not? As crazy as it sounds it worked; I discovered I had a talent and another good friend had helped to cultivate it. At that time he was the chef at China Grill in NYC the next step for me was The Culinary Institute of America.
Are you a Brooklyn-ite? Can you explain the inspiration behind the New York Marriott at the Brooklyn Bridge The Bar's menu?
For the last 14-15 years I have lived in Hell's Kitchen, but I have family who have lived here in Brooklyn Heights and Park Slope forever.
The inspiration behind the menu is Brooklyn… with the $45 million renovation we wanted to pull in the flavors of all of the neighborhoods in Brooklyn. We wanted the menus to speak to the history, and strong cultural diversity of Brooklyn. Of course I also added my own personal touch and flair, but the offerings are true to the originals. There is a very big Italian influence in Brooklyn of course, but the Latin, Asian, Jewish and Americana influences are all present as well. I also wanted to use some locally produced products, so I developed relationships with Brooklyn Roasting Company for great coffee; Ovenly Bakery and Sfoglini Pasta, whose offerings are all incorporated into the menus. I wanted to create a menu that opens the opportunity for dialog and conversation between servers and customers.
What comes to mind when you think of Brooklyn food?
History, diversity, simplicity, comfort, local and undiscovered. I believe I have created a menu that is not typical for a major hotel, one that draws inspiration from the neighborhoods all around Brooklyn. It's food that reflects the people who have lived here in the past, to newcomers – immigrants who are not flashy or trendy. There is a story behind just about every item on the menu; this was done on purpose, to tie into Brooklyn and create dialogue and engagement with our servers
What item on the menu represents Brooklyn and the New York Marriott at the Brooklyn Bridge?
This is difficult because really everything on the menu can fit to answer the question. But I would have to say the top three are: Reuben Sliders; Brooklyn Donuts and my version of Wings.
With the Reuben sliders I've taken the classical components of corned beef, sauerkraut and Swiss and chopped them together like a cheese steak, put it on pumpernickel black bread slider rolls and add our Russian dressing so you get all those flavors in every single bite. There are those that scoff at the idea of my nontraditional slider and still call it a Reuben, until they try it.
The Brooklyn Donuts are seasonal and are truly based on our relationships with local companies. Right now we run a Brooklyn Beer Caramel and a Brooklyn Cabernet Donut, but we will be changing to a Strawberry Rhubarb & Brooklyn Gin Glazed Donut and a Brooklyn Roasting Coffee Crème Donut for summer. (Note to self don't stop believing because dreams do come true.)

Photo Courtesy : Elizabeth Steitz

My wings, though, are the most controversial and yet the most popular item we have. I drew from my Italian background and created an old family classic. I marinate the wings in lemon juice, garlic, rosemary and crushed red pepper then grill them. They have a little spice with fresh citrus forward flavors without the extra heavy feel of deep fried food. It has been tough to break people from the habit of needing a dip for wings, but most that try them love them.
An ingredient you believe should be included in every dish you make? And why should it be included?
Thought, care, balance, then pork belly…in that order. The question is other than religious reasons — why shouldn't it be used cured, smoked, braised, sautéed or just as bacon.
Outside of Brooklyn, where does Chef Mirabelle venture to eat?
I love everything, so it really depends on my mood at any given time. I love Korean BBQ in Ktown; great Thai food out in Queens; fantastic Cuban, BBQ, sushi and tapas throughout Manhattan. It really depends on who I'm with and what mood I am in.
Timeless yet modern, inviting and locally-inspired, the hotel's new décor will bridge the gap between the past and present. Leave your comfort zone and head to The New York Marriott at the Brooklyn Bridge located at 333 Adams Street in the heart of Downtown Brooklyn.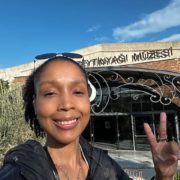 Alyssa Holder
Alyssa Holder is a writer specializing in food and travel topics since 2015.