Albuquerqueans tend to like their enchiladas rolled. Rebecca Orchant has discovered that in a home kitchen, this is unnecessarily messy, time consuming, and compromises the amount of cheese you're able to shove into your own face.
By Rebecca Orchant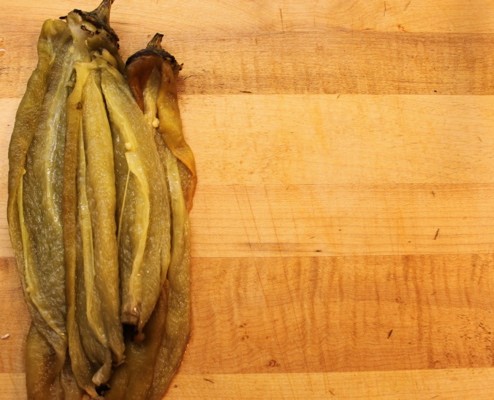 Where I'm from, a pan of enchiladas makes anywhere home. Those who know me know a few irrefutable things about me. I think that pickles are important. I measure picky eaters with the concerned eye of a teacher whose student says they hate reading. I am passionate about the skin on chocolate pudding. I'm not prone to long bouts of serious conversation. And I take green chile very, very seriously.
Today, I am feeling a bit serious and in my signature style, I promise I will keep it brief. This December is four years since my dad died and it's at this time of year, when cold gusts blow right through you, that I miss him most. It's in the winter months that I start to want to eat things and do things that are slightly out of character, like eat black bean chile crabs in the basement of Wo-Hop, which is a hellish, bridge and tunnel hole that my father, for reasons beyond my understanding of his comprehensive culinary preferences, seemed to truly love. It makes me want to eat kasha varnishkes, which – you guys – I really DON'T LIKE. I mean, groats? Why would anyone develop a taste for GROATS?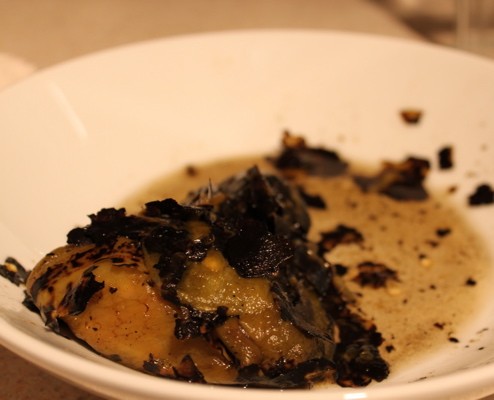 You guys would have loved my dad. He was almost Vulcan-like in his rationality, weighing everything carefully, articulately and acerbically before trudging ahead (aside from buying a first generation iPhone the day it came out after SWEARING he wouldn't). He made me a grilled cheese sandwich for breakfast every day until I was old enough to see the top of the stove, while making his breakfast whatever large chunk of cheese was left over, with the darkest coffee imaginable. He called people 'pal', but not in the aggressive what do you think you're doing, pal way. In a way that let you know he considered you a member of his inner circle. Someone who he'd play records for and play a subdued, boyish air-guitar in front of. He ate stuffed derma at every possible opportunity, but refused to drink milk, routinely calling it the most disgusting substance on earth. For the first thirteen years of my life, when I was afraid to eat spicy food, I know his heart must have ached. We shared a special obsession with NEEDING chile every so often after that, and although he was proud of me for many things, the day I declared that I loved green chile may have been one of his proudest. He was, to date, the smartest person I've ever known and today, I think he'd be pretty effing proud of my enchiladas.
See Also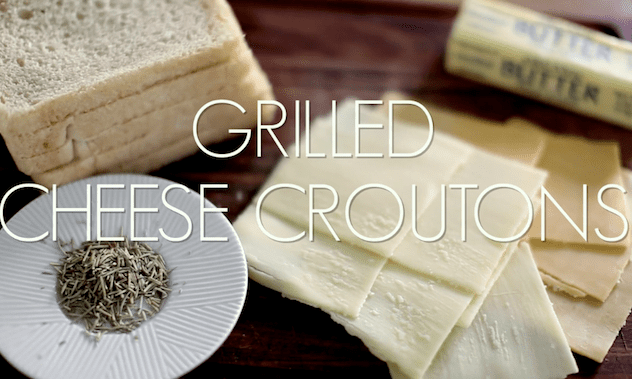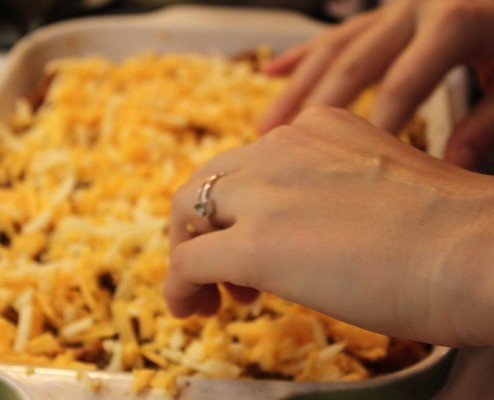 Print
Green Chile Chicken Enchiladas – Sloppy Style
Albuquerqueans tend to like their enchiladas rolled. I've discovered that in a home kitchen, this is unnecessarily messy, time consuming, and compromises the amount of cheese you're able to shove into your own face (I know, so predictable).
Author:

Rebecca Orchant

Prep Time:

1 hour

Cook Time:

20 mins

Total Time:

1 hour 20 minutes

Yield:

6

1

x
2

cooked chicken breasts (or the equivalent amount of thigh meat, if you know what's good for you), shredded

1

lb. roasted green chile, peeled, seeded and roughly chopped

1

14oz. can diced tomatoes

2

onions

3

–

4

big garlic cloves
pinch cumin
pinch oregano

1 tablespoon

flour

1 quart

chicken stock
corn tortillas

8oz

. (

one

brick) sharp cheddar cheese, coarsely grated

8oz

. (

one

brick) jack cheese, coarsely grated

2 tablespoons

olive oil
salt and pepper to taste, obviously
iceberg lettuce, diced tomato, sour cream and beans (re-fried if you're feeling really saucy) to garnish
Instructions
Preheat oven to 350 degrees.
Heat olive oil in a heavy bottomed stockpot or dutch oven. Add onion, garlic, cumin, oregano, salt and pepper and sweat until soft. Add flour, let cook until it turns golden brown and the moisture is gone from the pan. Add chiles, all but 1 cup of the stock and drained tomatoes (reserve juice for bloody Marys, obviously) and stir to combine. Bring to a boil, then simmer as long as you have time for, letting it reduce a bit, until the broth has some of the chile flavor.
With an immersion blender, blend the sauce as much as you like. I like mine to have a little texture left. Santa Feans (Sidekick) seem to like it smooth as soup. Add the chicken to the sauce and continue to simmer while you grate your seemingly excessive amount of cheese.
Spread the bottom of a baking dish with a bit of the green chile. Make a layer of tortillas on top of that. Because one of life's great unfairnesses is that tortillas are round and baking pans are rectangular, I like to tear one into quarters to make corners that line up with the edges. Pour some sauce on top, making sure to get some chicken spread evenly throughout. Add a layer of cheese. Then more tortillas, sauce and chicken, cheese, until you reach the top of the dish. Pour a bit more sauce on top and cover that mother with cheese. Pour a cup or so of the stock over the whole dish, this helps the cheese get extra sloppy.
Bake 20 minutes-ish, or until the whole thing is bubbling and the cheese on top has completely melted. Let rest for 5 minutes or so to prevent liquid cheese burns, then serve in heaping piles with shredded iceberg lettuce, diced tomato, sour cream and beans on the side.
Notes
You will probably have some sauce left over. Do not panic. Make huevos tomorrow morning.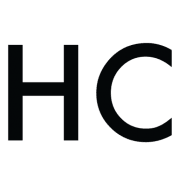 Rebecca Orchant
Rebecca Orchant is a New Mexican ex-pat living in Brooklyn. She likes onions and pickles more than most people, stops in every diner that crosses her path and has been known to indulge in a cocktail or two. You can find more vinegar, whiskey and butter-soaked tales on her blog, Chronicles of a Stomach Grumble.