Mitch Weinstein visited the opening night of the NYC outpost of the much hyped Mission Chinese Food.
By Mitch Weinstein
Last Tuesday: "Opening" night, and a friend and I were lucky enough to score a pair of seats at Mission Chinese Food, after a nominal 20 minute wait, at the ungodly dinner hour of 6:30; normally, we're drinking at that time – and aren't you?  Whatever; here we were, being greeted warmly by the host and hostess (Anna and Aubrey), and invited to share a celebratory beer while we waited for our seats to become available.  The beer keg was festive in a New York kinda way…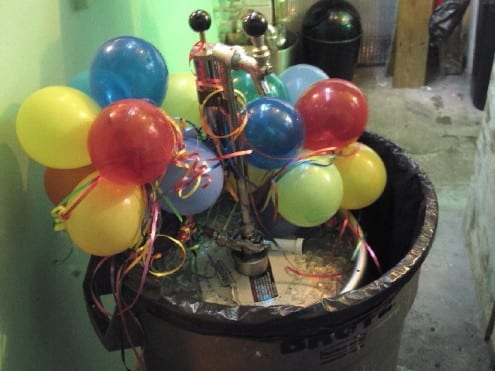 Mission Chinese Food, for those who have either been Rip Van Winkle-ing or who don't check Huff Po, Eater, Twitter, et.al. obsessively every 10 minutes of their life, is the New York City outpost of, ummmm, Mission Chinese Food.  Except that one's in San Francisco, and it opened as a pop-up inside an already existing Chinese restaurant called Lung Shan, on Mission St. – oh, a few years ago.
The brainchild of Chef Danny Bowien and partner Anthony Myint, SF's MCF took the food world by storm, and ever since it became clear that Orchard Street and the lower east side would become the home of the 2nd Mission Chinese, NYC's been all atwitter (hmmm) with anticipation.
All well and good.  It's not like there aren't 100,000 Chinese restaurants here already; it's just that most of them suck. I've gone into that before and don't need to go into it again right now, but anyone trying to do the right thing with a great cuisine is OK in my book.  And a quick chat outside with Chef (who might indeed be TV ready, looking all California-cool in his white chef's jacket, white shorts, baseball cap, hipster glasses and flowing tresses) led me to believe that he's very excited to be on this beautiful block of Orchard Street, dealing with some of NYC's fine purveyors both at the high-end (that meat guy) and the ones that supply Chinatown with a vast selection of greens and other goodies.  As a matter of fact, he was simply qvelling when telling me how great some of the prices are here compared to SF – and take that, SF.
The team has also taken what was home to a few less-than-successful fooderies (well, failures) over the years and turned it into a nice, fun space that feels bigger than it really is.  I liked the atmosphere, and there are even backs on all of the chairs, which is good for the altacockers like my buddy and me.
I ordered way too much food, but what the heck?  The sharp tang of Chinkiang vinegar, heat from chili pepper and buzzy numbness from Szechuan peppercorns is thankfully not dumbed down, at least not in any of the dishes we tried. So, for instance, the Chili Pickled Turnips and Long Beans blow open the taste buds but are impossible to stop eating.  As are the Beijing Vinegar Peanuts, meant to be eaten one at a time with chopsticks – order these immediately, so you can eat them with your beer.
Lamb Cheek Dumplings in Red Oil were a hit with just the right amount of heat and the Tea Smoked Eel was another favorite of ours; the eel, along with some crunchy, bitter celery and some trotter is wrapped in cheung fun, a rice noodle made on the spot at a few places around Chinatown; as a matter of fact, my very first blog post was about this type of noodle, being  made to order around the corner from our apartment at Sun Light Bakery!  This is a little bit different, but not much, and it's like the greatest sushi roll ever…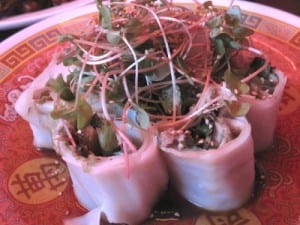 My favorite dish might've been the Mouth Watering Chicken, a chicken "terrine" with dry-spiced chicken hearts and vegetable "noodles."  The hearts were cooked medium-rare, lending them a unique flavor and tenderness, the breast is nice and moist and the long, thin vegetable "noodles" are awesome. They hit it out of the park with this dish…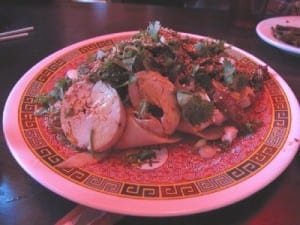 Was everything perfect? Hell no…first of all, it's impossible to take pictures in that light.  I also would've liked a little less salt (or saltiness in whatever form) in the Broccoli Beef Cheek with Smoked Oyster Sauce, impossibly tender beef nestled under a bed of some sort of Asian broccoli.  But it's oyster sauce and that stuff is, shall we say, saline (and I ate all the cheek anyway).
Well, who needs perfection when you've got damn good, so on our way out Tuesday, I made a reservation Sunday – and Significant Eater, 2 significant family members and I returned for more.
MCFNY's got some flow going (I mean it did on the first night), and as soon as all 4 of us were there, we were seated and an order of peanuts was on the way.  Our niece, a foodnik if ever there was one, as well as owner of the blog  Chronicles of  a Stomach Grumble,  commented: "why don't we use black vinger on everything?" and our taste buds were on the way for some serious fressing.
Fressing indeed, when you consider the Kung Pao Pastrami, thankfully served last because I don't know what else you'd want to taste after it.  You know, feuds have been fought over less than who has the best pastrami in NY.  And I know it's been on the menu in San Francisco. For. Ever. But it takes balls, here on Orchard Street, basically the birthplace of the delicatessen,  to strew little cubes of pastrami throughout a dish (of course I asked where the pastrami was from and I was told conspiratorialy that it  was sourced locally and smoked in house – wink). Wherever the pastrami's from, it's just one component in a dish that also has peanuts, celery, potatoes and that finishes with EXPLOSIVE CHILI.   It's the kung pao you know you always wanted…fuck the cubes of barbecued pork.
Chinese food was the first cuisine I taught myself to cook when I started seriously playing with food.  Szechwan food was a big part of it, and back then you couldn't even get Szechwan peppercorns (unless, I guess, you knew someone in Chinatown). Now, Chef Danny is using them with abandon – and it's great.  I don't know what it is about Szechwan pepper, but it numbs and tricks your mouth enough that the rest of the spicy stuff goes down nice and easy.  But do yourself a favor: like any well-constructed and balanced Chinese meal, you need to order some dishes that aren't hot at all – and trust me, they're good too.
Like the salt-cod fried rice, salty from the baccalà and sweet from the lap cheong.  I'm sorry local take-out joint –  your fried rice ain't gonna cut it any more.  And the weird comfort taste of the winter melon soup with XO sauce –  it's hot too, temperature wise, and it works to cool you down.  As does all the spicy stuff – I mean, that's why they're eating chilis in the hot parts of the world – they help to cool you down!  As an aside, it hit a nice, muggy high of 85° yesterday (no, this isn't San Francisco any more, my friend) and the air-conditioners were wheezing in that cute back room…I'm guessing more BTU's will become necessary at some point this summer.
The bacon (yes, Benton's) was fine in the Thrice-Cooked Bacon, but a big surprise was how much we all like the bitter melon in the same dish.  It wasn't a surprise as to how much we loved the Shanghainese rice cakes, because there's just something about the texture of those gummy little paddies…put 'em all together and everyone's happy.   I even liked the soy milk poached tofu, not a product I go out of my way much for, but here it maintained a nice texture, and the sesame leaves added a not-often-tasted element.
Wow – what can I say?  I'm pretty much blown away by the flavors going on here. And the prices. And portions. The staff. The philosophy. All, in my opinion, good. How they should be. For years, Orchard Street sure has been looking better and better; now with Mission Chinese Food hitting the street running on all cylinders, it's gotten that much more tasty.
Mission Chinese Food
WEBSITE
154 ORCHARD ST
NY NY 10002