The Italian Pantry: AOP – Aglio, Olio e Peperoncino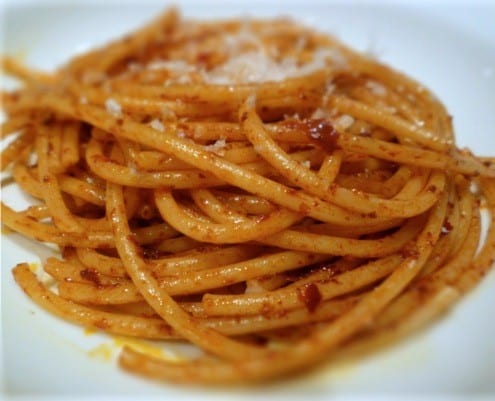 Salsa di AOP – Garlic, Oil, and Peppers. A versatile sauce from Italy, use on pasta, grilled meats and vegetables.
By Kathy Bechtel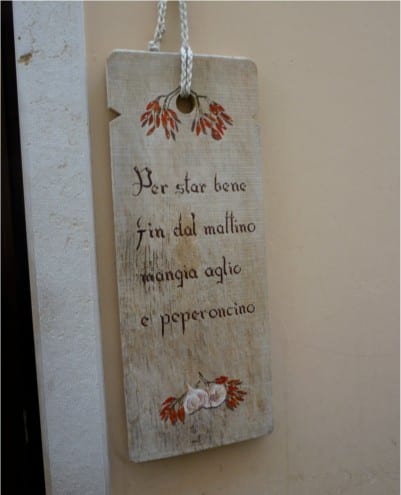 "Per star bene fin dal mattino mangia aglio e peperoncino"
To stay well at the end of the morning, eat garlic and peppers.
This sage advice greeted me recently as I entered into a small shop in Bassano del Grappa. While wondering the streets of this beautiful town in the Pre-Alps of the Veneto, I happened upon a local producer of canned products. I was warmly greeted by the family, who were very proud of their products – understandably – and brought out one after another for me to taste. I had a hard time pulling myself away, and returned later with a few of our bike tour guests for even more. Father and mother were in the rear, cooking up the next batch, while their adult son greeted the guests and offered us sample after sample.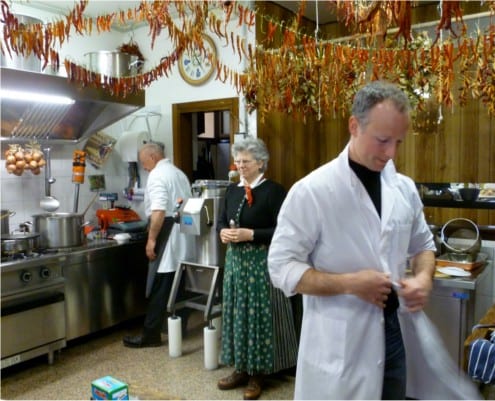 The name of this shop is "Specialita in Gamba", and it advertises "Produzione propria e spaccio di conserve aglio e peperoncino", conserves of garlic and peppers. Strings of garlic and dried hot peppers hang from every available rafter. They produce a wide variety of items packed in olive oil – garlic, both whole and crushed, shallots, as well as many pickled vegetables – carrots, cauliflower, peppers, celery. In addition, they produce and can many interesting sauces; cren in salsa (horseradish), radicchio, white asparagus, and one simply labeled AOP.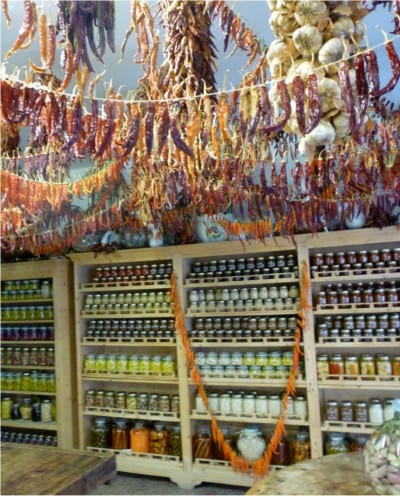 These sauces are all basically pestos. Pesto is most commonly interpreted as a mixture of crushed basil, garlic, cheese, nuts and olive oil, but this simple technique can be applied to so many other ingredients. The word 'pesto' derives from the Italian word "pestare", which means to pound or crush. Traditionally, a pesto would be made using a mortar and pestle, with the ingredients being 'ground' with a circular motion of the pesto. Now apply this same technique to, say, asparagus, and you get a wonderful sauce for pasta.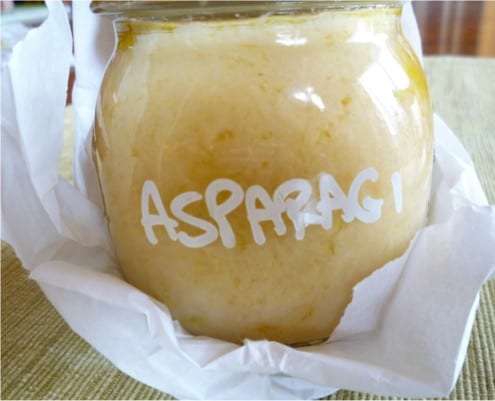 I tried many of these sauces while there; the radicchio, one just made with crushed garlic, and white asparagus. I brought home a jar of the latter, so my family could experience the renowned white asparagus of Bassano. The one that really intrigued me was their specialty, the AOP. It made my now rather long list of dishes to recreate back home!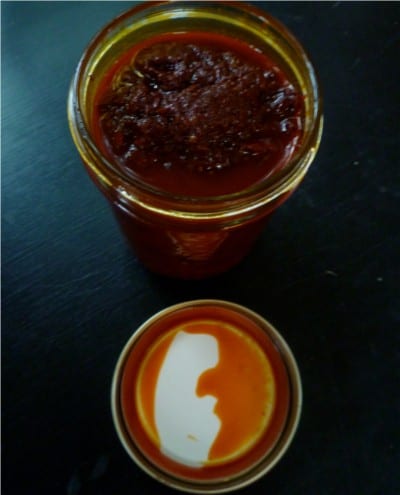 I did a bit of research first, to discover if any recipes existed for this AOP sauce as this store produced it. Looking up AOP recipes on the internet, I found several that claim that AOP is a sauce made not from aglio, olio e peperoncino, but aglio, olio, e pomodoro (tomatoes). While I am sure this is a tasty combination, all the recipes for this seemed to originate from a US restaurant.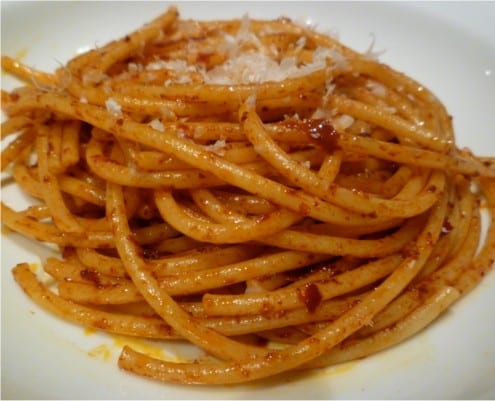 Most of the "authentic" versions of recipes with the AOP are a very simple pasta sauce, made by browning sliced garlic just ever so slightly in olive oil, adding hot red pepper flakes, turning off the heat and tossing it over pasta. This dish is so simple and quick, it hardly seems worth the even minimal effort of making a sauce like I saw in Bassano. But then I started to think about all the other uses for the AOP sauce, if it happened to live in my refrigerator for a week:
Over pasta
Over grilled vegetables – zucchini, corn, eggplant
Over grilled pork, chicken, fish
Nice on a sandwich with italian meats and cheeses
Flavor a salad dressing – take a little, mix with more oil and a bit of vinegar.  Combine lettuce with black beans, corn and avocado.
Season a stir fry
Crostini – Chopped avocado mixed with a bit of AOP
Here is my recipe for the AOP sauce. Four ingredients, (don't forget salt), and a food processor. This is simply a peperocino 'pesto'. If you try it, please let me know what other uses you find for it – I am just getting started!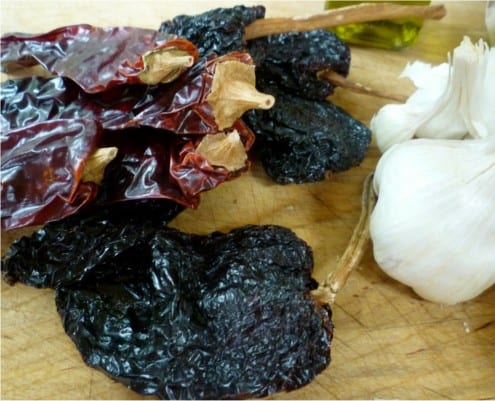 I used a mix of ancho (mild to medium) and california (medium to medium hot). I began by just pureeing the mild peppers with the oil and garlic, then added the hotter ones until  the level of heat was what I wanted. Experiment with both peppers of different heat levels, as well as adding more garlic – both of which I will be playing with in future versions of this. Just remember – it is easier to add more than to take it out.
Italian Pantry: AOP - Aglio, Olio e Peperoncino
Salsa di AOP - Garlic, Oil, and Peppers. A versatile sauce from Italy, use on pasta, grilled meats and vegetables.
Ingredients
¾ cups (0.2 l) extra virgin olive oil
8 cloves of garlic, thinly sliced
9-10 dried medium to large chili peppers, soaked in warm water for 30 minutes to rehydrate, seeds removed
Kosher salt
Instructions
Place the olive oil in a saute pan, and heat over medium heat. Add the sliced garlic and cook until they are just starting to brown. You want the flavor of the garlic in the oil, but you don't want it too cook too long, or the garlic will become bitter. Remove from the heat.
Place the chili peppers in the bowl of a food processor. Add the oil and garlic. Puree until quite smooth, 1-2 minutes or so. Season with salt. Serve immediately, and place the remainder in a sealed container, topped with a thin layer of olive oil. Store in the refrigerator, it should keep for at least 10 days.
Kathy Bechtel
Kathy Bechtel's obsession with food and cooking began as a teenager. After years following a traditional career path as a telecommunications engineer, she left to attend culinary school and wine training, and is now combining her passions for food and wine, the outdoors, and travel as owner and Culinary Tour Director of Italiaoutdoors. In this role, Kathy leads small bicycle, skiing and walking tours that explore the authentic regional cuisines, local products and undiscovered wines of Northeastern Italy.