The Fluffiest Buckwheat Pancakes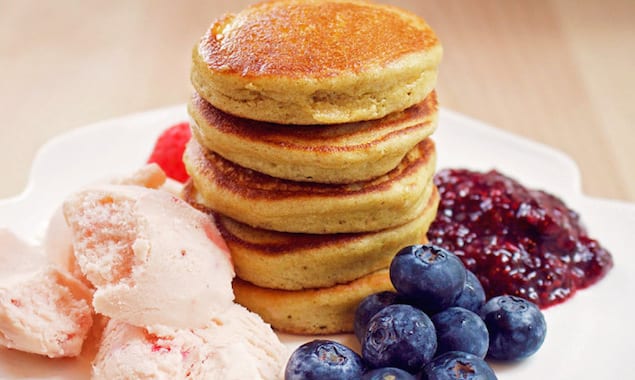 Add rich flavor and great height to your pancakes with sprouted buckwheat flour for a powerful start to your day.
By Valeria Weaver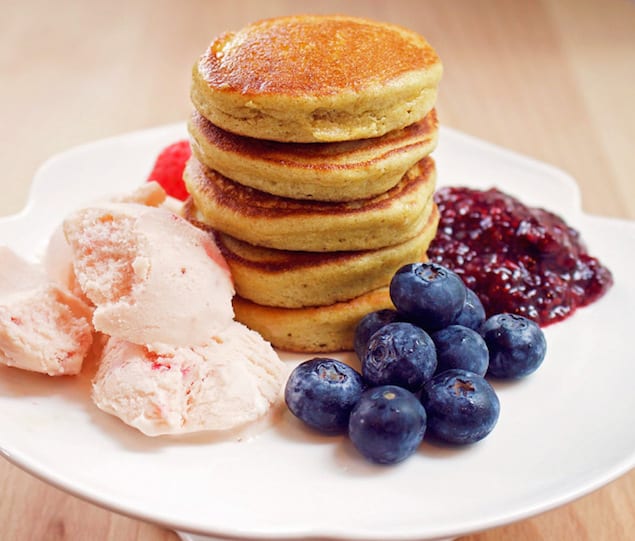 Of course, my children's reactions to buckwheat changed once it was incorporated into delicious fluffy pancakes, drenched in yellow Amish butter and maple syrup, and served with fresh strawberries and bacon.
The only thing in common with wheat that this plant has is the name. It is completely gluten free, and is not even a grain, but a seed from the same family as rhubarb and sorrel. Besides significant fiber content, it is high in manganese, magnesium, copper, and zinc, which are great for the immune system. It contains all eight essential amino acids, including lysine, which plays a key role in collagen production, and is not produced by the human body. Using sprouted buckwheat accomplishes two things – reduces anti-nutrients for better absorption and also intensifies the flavor. Sprouted buckwheat has a nutty and sweet taste as opposed to bland regular flour. If you aren't able to sprout buckwheat, toast the flour slightly for a better flavor.
Since buckwheat is gluten free, it can be tricky to bake with to give it a desired texture. I use whipped egg whites and kefir to take care of that and my pancakes have an amazing fluffy consistency that makes it hard to believe they don't have gluten.
Next, you have to try these soft Rye Sourdough Pancakes. Find the recipe here.
Learn how to make kefir here or purchase it in the dairy section of you grocery store.
The Fluffiest Buckwheat Pancakes
Add rich flavor and great height to your pancakes with sprouted buckwheat flour for a powerful start to your day.
Ingredients
4 large eggs, yolks and whites separated
1 cup kefir (see the link above to learn how to make kefir)
1 teaspoon vanilla extract
1 cup of sprouted buckwheat flour
2 tablespoons sugar
½ teaspoon fine sea salt
½ teaspoon baking powder
Ghee for cooking (see the link above to learn how to make ghee)
Instructions
Beat the egg yolks by hand until smooth; add kefir and vanilla extract.
In a separate bowl, mix together sprouted buckwheat flour, sugar, salt and baking powder.
Put the flour mixture into the kefir mixture. Mix to combine.
Whip egg whites until very stiff (I use KitchenAid mixer).
Fold egg whites into the batter very gently using a soft spatula. Just fold to combine, don't over mix. The batter will be very airy and light.
Preheat pan, oil it with ghee and scoop the batter in desired amounts onto the pan. For small pancakes, use 1 tablespoon, for bigger ones – ¼ cup. Cook until each side is nicely browned. Sprinkle with melted butter.
Valeria Weaver
A mom cooking slow food in the fast world. I'm bringing back traditional recipes, and making new traditions.