The French Cafe is the European equivalent of the humble American diner – not in style but in ethos.
By Sarah Lambersky
For all you North American diner lovers out there, I have discovered the European equivalent: the French cafe. While this proclamation may not be profound, I think it is one that will be appreciated by my fellow international foodies. The diner-cafe analogy dawned on me this past weekend while I was having breakfast at Cafe Paris in Hamburg, Germany. Before I tell you about my discovery and my meal, let me provide you with a bit of background: I am a breakfast lover and have often wondered whether a similar dining institution to the American diner that bares the same cultural clout exists across the Atlantic? My quest to find Europe's diner equivalent was partially inspired by the television show, Diners, Drive-in's and Dives, where host Guy Fieri takes viewers on a road trip around America to visit some of the country's most respected diners and partially inspired by my increasing weariness of bad breakfasts.
After visiting my twentieth European city, and many breakfasts later, a light bulb went off! Europe's diner equivalent is the French cafe. The French cafe is Europe's diner. Not to split hairs, but please note my French cafe definition also includes Viennese cafes, which are like cousins in my opinion.
Naturally, the American diner bares no design resemblance to the French cafe but they share other similarities which I use to liken the American diner to its European equivalent. First, a similar hubbub and rhythm is present in both establishments. Porcelain plates and cups are clanking, coffee machines are whirring, breakfast is sizzling, and conversations are noisily rising as waiters and waitresses bark orders over patrons' heads. This is the heart and the soul of any good diner/French cafe and is a draw to many visitors.
Second, both menus offer a consistent group of food items that you can find from one diner to the next and from one cafe to the next. Not insomuch that French and American food are the same, because they are not. But you can expect to find the same core menu items wherever you go adding to the comfort of a visit. For example, show up at a traditional French cafe for breakfast and you can expect to find a hard boiled egg, a croissant or bread with butter and jam, a fruit salad and yogurt on the menu. The manner in which these items are served may differ in presentation or quality but they are undoubtedly menu staples.  The expectation is set. There are few surprises.  Likewise, it is not uncommon to find bacon and eggs, a pancake or a waffle and a potato side dish at an American diner- As Guy Fieri demonstrated on his show, American diners can get very creative with their menus and adapt dishes based on geographic (regional or local) specialties; but you can always find scrambled eggs.
One major difference of course is the design and formal nature of the French cafe to the more casual diner. There is something romantic about the sumptuousness of the interior design of a traditional French cafe, particularly those that still bare original subway tiled walls, and mosaic ceilings. Adding to the decor, it is not uncommon to be served by a waiter wearing a white collared shirt and tie (or bow tie) or a black jacket (for men) in Europe.  Diner decor and service takes on its own unique form.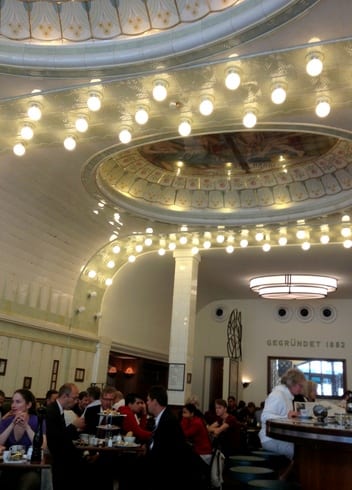 Let's return to my breakfast in Hamburg. Cafe Paris is located in the center of Hamburg and is housed in a space that dates back to 1882.  The original slaughterhouse was later converted to a turn-of-the-century French cafe and today is beautifully adorned with iconic French cafe decor features such as its dark wooden tables, Art Deco posters, banquette seating, a long bar with wooden stools, floor to ceiling subway tiles and a jaw dropping Art Nouveau ceiling.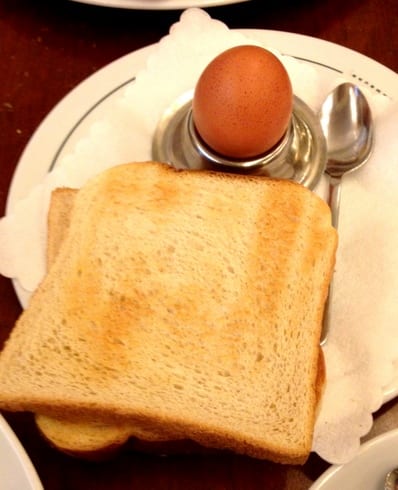 The menu features standard French fare such as hard boiled eggs, croissants, baguettes, jam, cheese, juice, Croque Madame, and Croque Monsieur. It also includes a few breakfast twists including a "Moroccan" version of French toast topped with roasted tomatoes, goat cheese and orange marmalade, an "American" breakfast that comes with a pancake, a fried egg, peanut butter, and syrup and the local "Hamburg" which consists of a piece of toast, crab salad, herring, smoked salmon, scrambled eggs with chives and a glass of Hamburg's local Holsten pilsner (a brewing company founded in 1879 in the city's Altona-Nord quarter).
See Also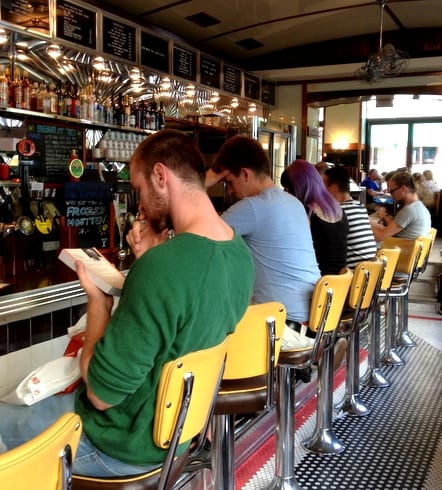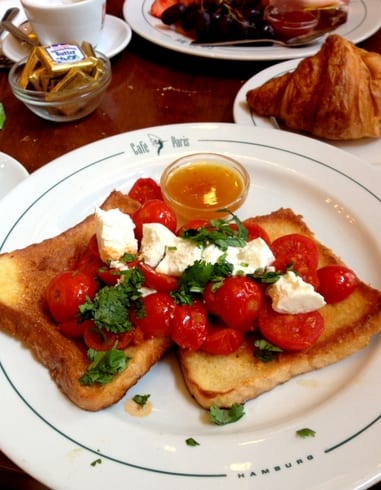 I must note, I returned twice to Cafe Paris (out of three breakfasts) for another bite of their croissants. The baguette was nothing to write home about but their croissant was some of the freshest, buttery, light viennoiserie that I have tasted outside of Paris.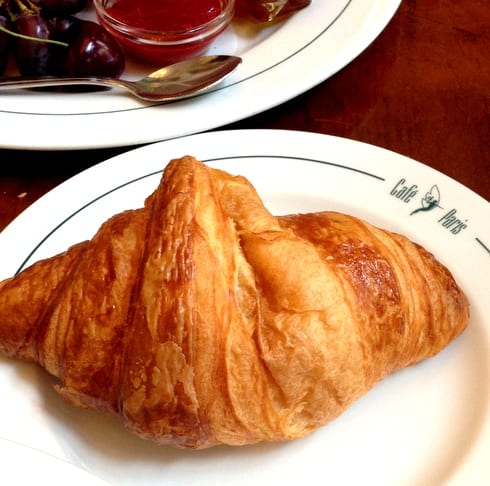 Thankfully, Europe is dotted with all sorts of interesting French cafes to explore ranging from the grandiose, fin-de-siecle or Art Deco cafes to the more modern, minimalist updated versions.  For an 'authentic' experience, park yourself at one the tables of Cafe Paris in Hamburg, Cafe Savoy in Prague, Cafe Schwazenberg in Vienna, Cafe de Flore in Paris, or the modern Cafe George in Amsterdam, close your eyes and let your senses observe the hum of a well-oiled dining institution hard at work and churning out diner classics European style. If you have any other suggestions to add to this list of where to find a decent breakfast at a 'European diner', please share your suggestions in the comment section below.  I am always up for exploring new places.
Cafe Paris
Rathausstraße 4, 20095 Hamburg
Sarah Lambersky
Sarah Lambersky was born in Toronto, Canada and caught the travel bug early on in life. She has had the opportunity to live in Hong Kong, Shanghai, Beijing, New York, Prague and currently resides in Copenhagen, Denmark. Sarah is the co-founder and editor of Countlan, a quarterly digital magazine dedicated to exploring how people all over the world entertain at home and lectures undergraduate marketing strategy courses.