The Comeback That Almost Was – GoogaMooga 2013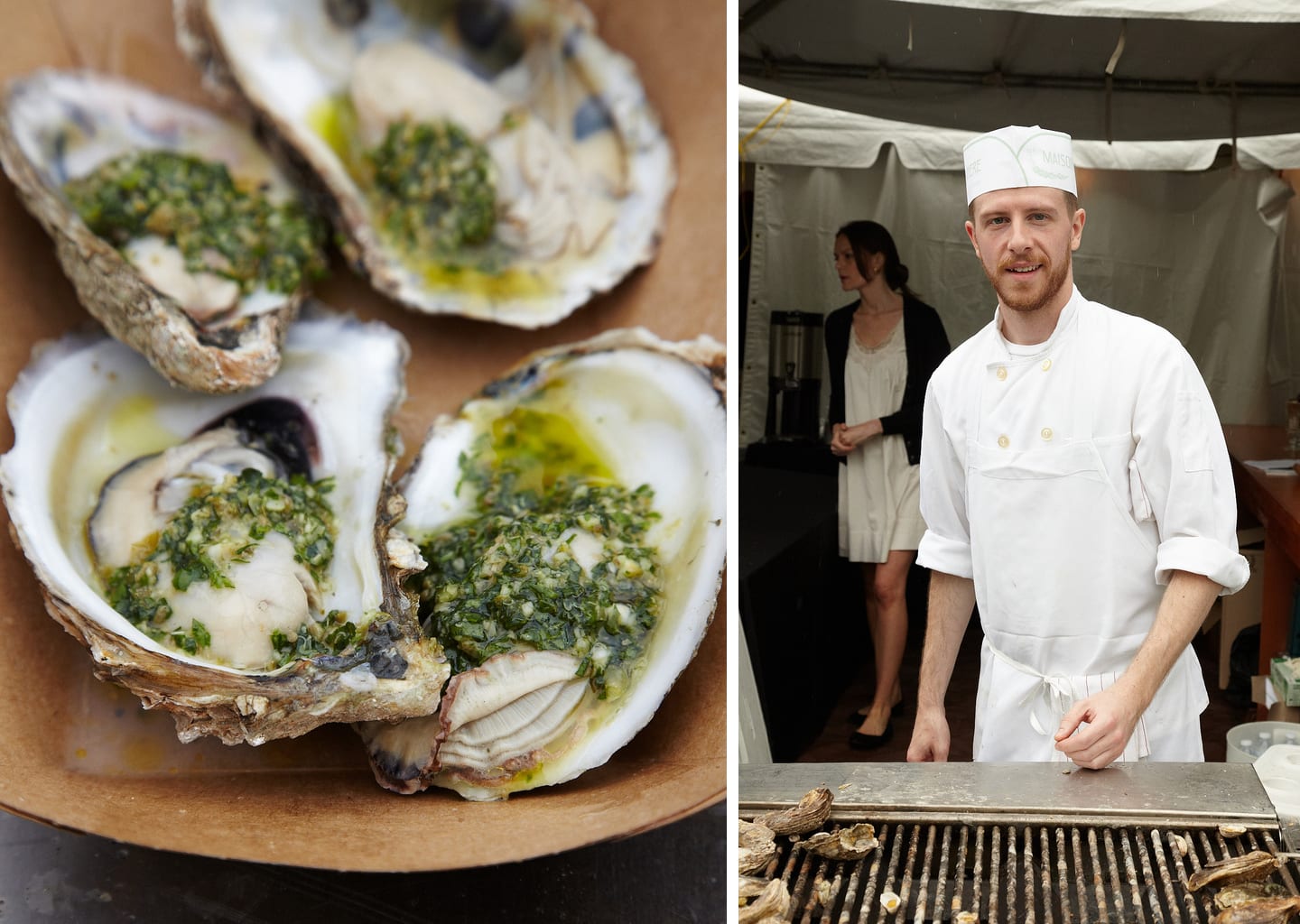 The dust is starting to settle after GoogaMooga's second annual food and music festival in Brooklyn.
By Carly DeFilippo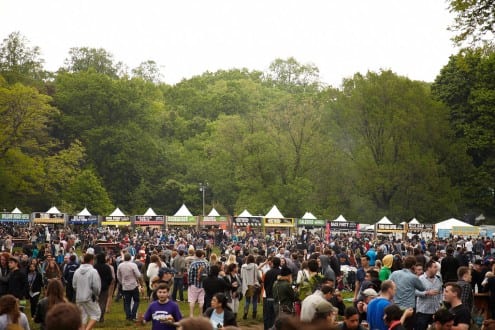 The dust is starting to settle after GoogaMooga's second annual food and music festival, and I can't help but think of LL Cool J's oft-misused catch phrase "don't call it a comeback." After the onslaught of criticism about long lines and insufficient amounts of food at GoogaMooga's first run, I returned to this year's food and music extravaganza with tentative optimism. And until 12:15 on Sunday morning, I was ready to write an article on how, this year, the event had finally earned its name of The Great GoogaMooga.
Sure, the sound on Friday night could have been better, and yes, Saturday's weather left something to be desired. But on the whole, the food I ate at GoogaMooga was among the most satisfying I've had at large-scale, multi-vendor food events. The notorious lines were short, bordering on non-existent. And Saturday's musical acts at the Joe's Pub stage included some of the most promising local bands in New York City.
So after frankly acknowledging the fact that attendees, the musicians and (especially) the food vendors were blindsided by Sunday's last-minute cancellation, let's talk about the first two days of the festival.
Friday's beautiful weather had everyone in high spirits, with early arrivers singing along to The Darkness, laughing as they realized they knew all the words. The smell of barbecue was in the air, shoulders were bare, and a surprising number of toddlers donning adorable sound-muffling headsets danced along with the mostly 20/30-something crowd.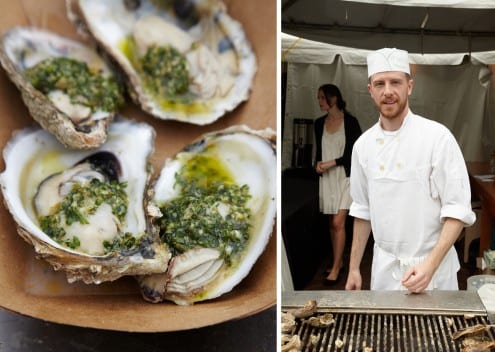 I kicked off The Flaming Lips' set with a round of Maison Premiere's grilled oysters, their brine laden with a gorgeous herb butter and aroma of char. Serving oysters at an outdoor music festival may seem more Hamptons than "hipster", but at GoogaMooga, quality was king. Even the stands selling sliders upped the ante, as with Umami Burger's fragrant, truffle-infused beef patty.
Another unexpected element: healthy food options. At Back Forty, Chef Michael Laarhoven served up a harissa smoked lamb over a refreshing pickled vegetable and quinoa salad with spiced yogurt. Sufficiently filling for an evening of drinking, but leaner than your average summer bbq fare, it was my clear favorite dish at the festival.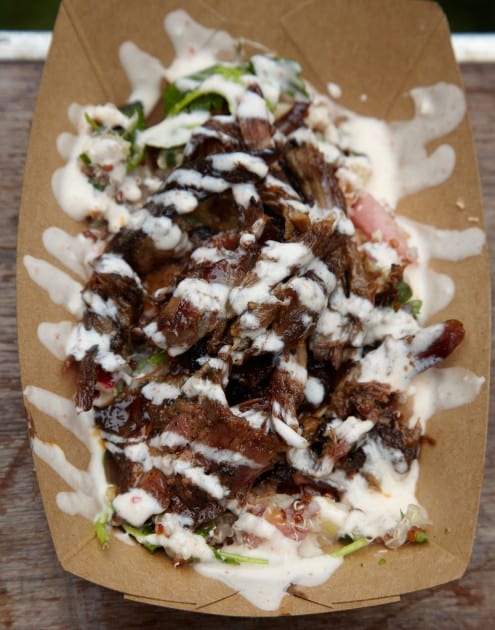 Midway through the Yeah Yeah Yeahs' performance, I had a hankering for something sweet, so I headed up to the Melt Bakery cart to check out Chef Julian Plytner's latest concoction. I've tried many of his flavor pairings before, but I was especially impressed by the sugar-sprinkled chocolate cookie with malted chocolate rum ice cream. Alcohol isn't my favorite flavor in dessert, but Julian had crafted a just-adult-enough ice cream sandwich, mellowing the chocolate flavor to let the malt and rum subtly shine through.
On day two, the drizzle had us feeling indulgent, so we started the day with dessert from Red Hook's BAKED. Head Baker Molly Marzalek-Kelly couldn't have been more friendly, as she hawked her sweet and salty brownies, as well as "brooksters" (the love child of a brownie and a chocolate chip cookie). We eagerly gobbled up the brookster and used our remaining willpower to hold onto the brownie, which later proved to be one of the most moist and delectable I've ever eaten.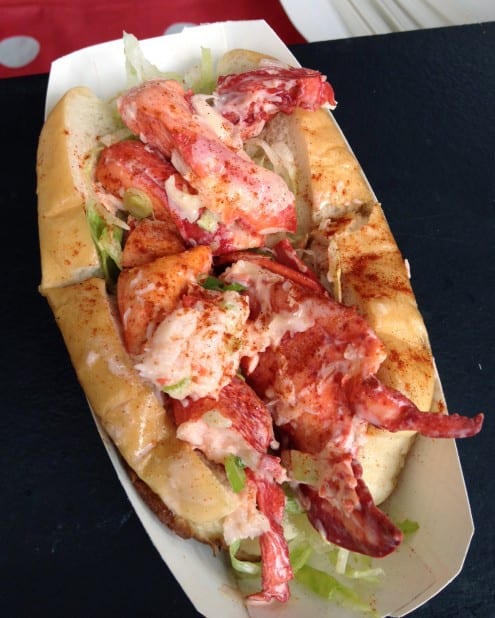 For lunch, we opted first for Red Hook Lobster Pound's chilled Maine lobster roll, with a bright, mellow sweetness that helped us imagine sunnier times. Looking for a warmer dish to follow, we ran into Chef Dan Holzman of The Meatball Shop, expediting to ensure that each of his MBLT sandwiches had exactly the right amount of mayo. To say the least, we were grateful for his attention to detail. Having recently been impressed by Pok Pok's showing at the Lucky Rice Night Market, we settled on Chef Andy Ricker's "phat thai." Unusually egg'y, with crushed bits of dried shrimp, tofu, tamarind and fish sauce, it had a delayed spiciness and complexity of flavor that couldn't have been farther from takeout food.
See Also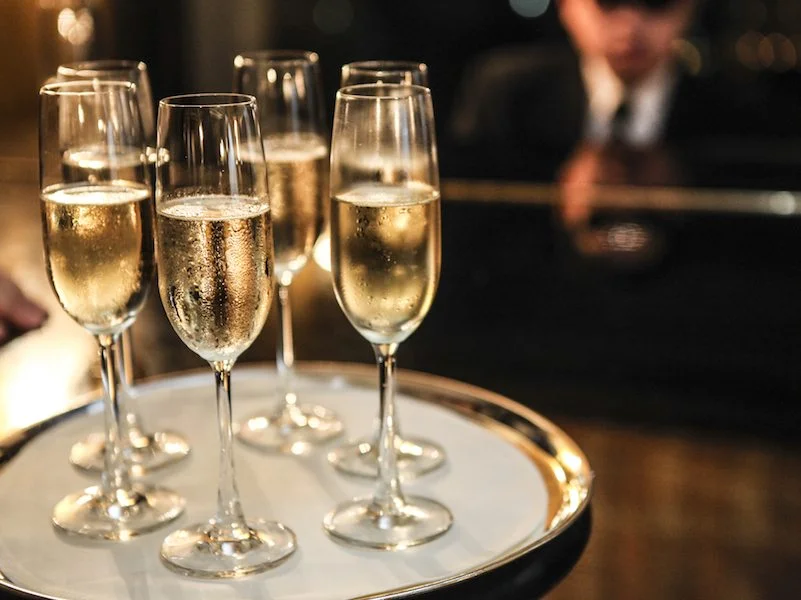 By Saturday's end, we had already dreamed up a last-ditch list of the dishes we wanted to try on Sunday. Jeepney's pinoy corn and chori slider. DBGB Kitchen & Bar's Käsekrainer sausage with ramps, spring onion and mustard. Northern Spy Food Co's fried eggs with kale and potato hash. Big Gay Ice Cream's vanilla with bourbon butterscotch and cardamom and cacao nibs. (That's the short list.)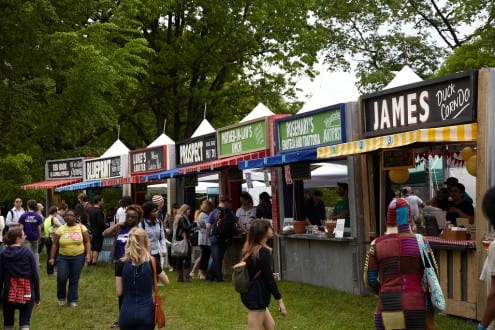 Really, the tragedy of GoogaMooga's cancellation on Sunday wasn't the fact that it was poorly communicated (There was already a delayed opening when I arrived at 11:30, and nothing was announced on social media or their website. The cancellation itself came nearly 90 minutes after the scheduled opening.) The rain was constant, and despite our "make it work" game faces and weather-appropriate outfits, we still were chilled to the bone. The real tragedy is that the very vendors who killed it on Friday and Saturday were faced with a major financial hit to their bottom lines.
I'm not sure what the future of the festival holds, and I'm not one to suppose I know enough of the details about Superfly's event planning tactics and policies. What I do know is that there are an amazing number of small food businesses in this city, and that they're not only incredible at serving food on their own premises, but they're also dedicated enough to surpass our expectations off-site, in challenging weather, faced with potentially ungrateful crowds. That's the story of GoogaMooga I'd like to remember. So maybe we should "call it a comeback."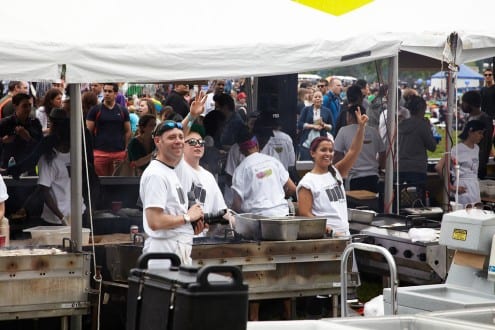 Photos by Eric Isaac
Carly DeFilippo
Carly is a Contributing Writer at Honest Cooking. Though the first line of her college application essay was "I love tunafish," it wasn't until she pursued graduate studies in Paris that she ever considered a future in food. Based in Manhattan, Carly is a freelance writer and the co-founder of Cognoscenti Creative, a boutique branding agency dedicated to establishing artisans as influencers.