PARTNER POST- Create the perfect fall cheese board spread with Castello's selection of expertly crafted cheeses. Find inspiration here.
Whip up this easy autumn cheese board complete with pumpkin spiced pecans. It's a perfect snack or centerpiece for Thanksgiving.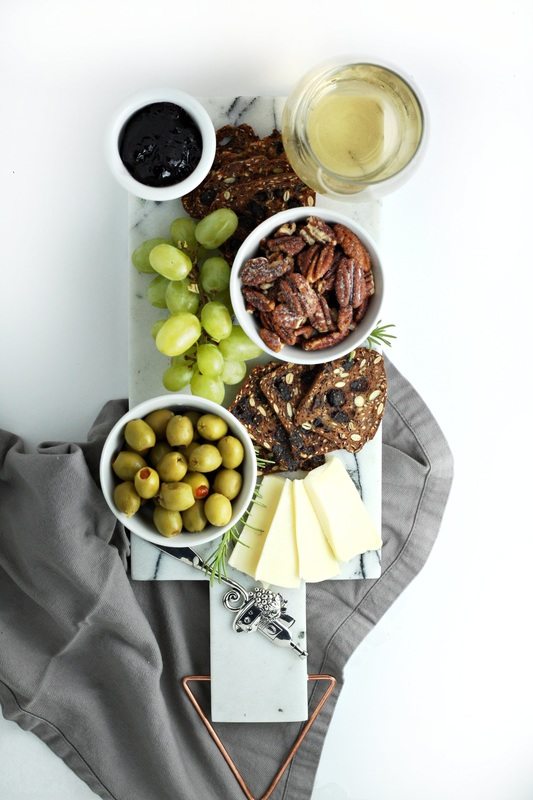 I am so (SO SO SO) excited to bring you my favorite thing evaaaa: cheese. On a board. With grapes and crackers and wine and stuff.
Cheese boards are where it's at. And not just for holiday parties. This is a staple. For dinner. In my house at all times. What could be better than throwing snacks on a plate and calling it fancy?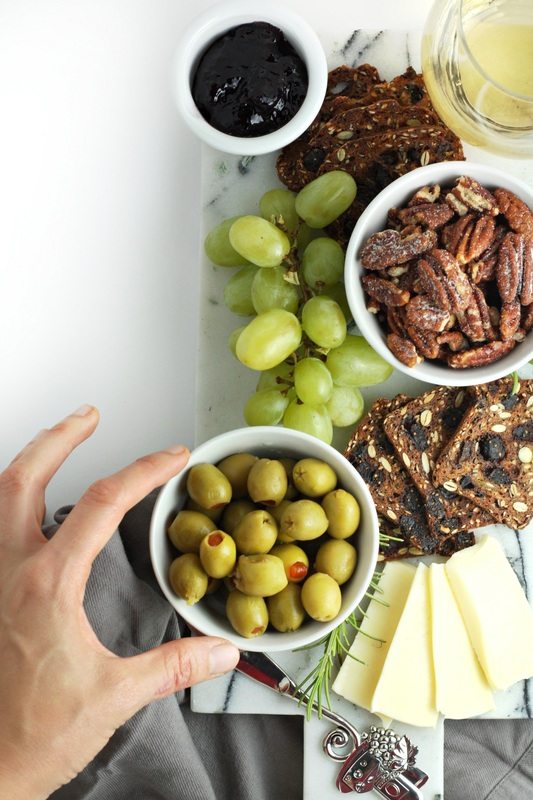 Let's start with the base: the cheese. What cheese you pick will set the tone for the rest of the board. So what will it be? A blue cheese? Cheddar? Something dry? Or creamy? Or crumbly? Or served warm?
Havarti: I choose you.
The reason I love Havarti on a cheese board is because it's often served with fruit or wine, and it's easy to slice and melt. Here, I'm using Castello Aged Havarti and Castello Creamy Havarti, both of which worked great. The creamy Havarti has just a hint of tanginess – and the texture. Gah. My favorite. The aged Havarti is slightly "butterier" and goes well with jam and crackers.
Next, we're adding more sweetness with the grapes and jam, saltiness with olives and a crunch with Lesley Stowe Raincoast crisp crackers and veggie flats. These come in a gazillion flavors (my favorite are the rosemary raisin pecan and cranberry/hazelnut) and are great on a cheese board because they don't crumble easily! This board works with either red or white wine. I'm using Folie à Deux (pictured below – from Sonoma Country).
I wanted to add something holiday-ish, but also something that wasn't going to be too tough to prep. Hence: pumpkin spiced pecans. I've been using this recipe for years and I love it. You've got your sugar. Your pumpkin pie spice. Vanilla extract. Whip up some egg whites. (Don't skip that step!). Mix it all together and bake for an hour and just melt as your kitchen starts to smell like autumn.
All together, this is an easy cheese board that you and your people will love.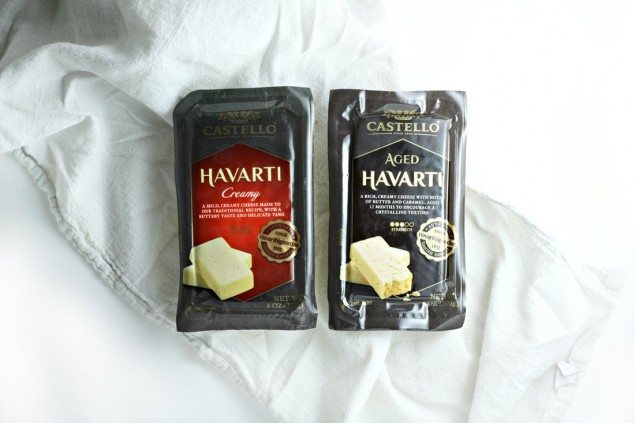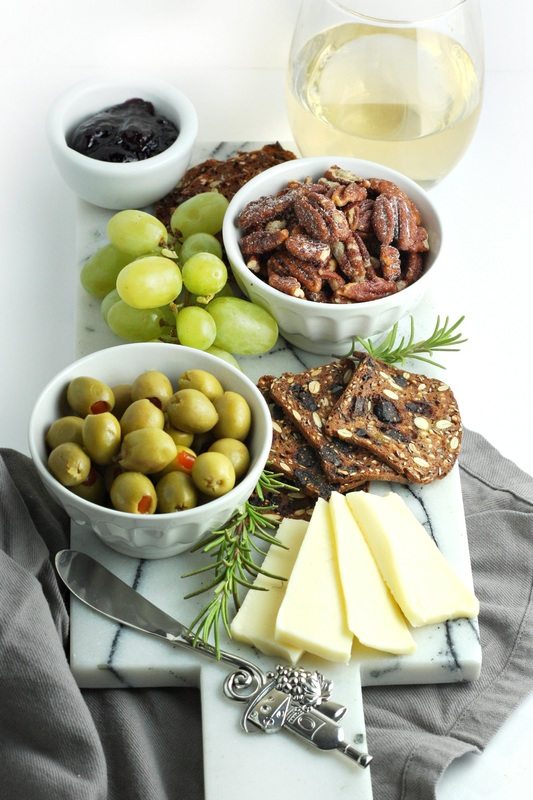 Looking for more great ideas for your cheeseboard? Check out the video below and follow this link for the written recipe!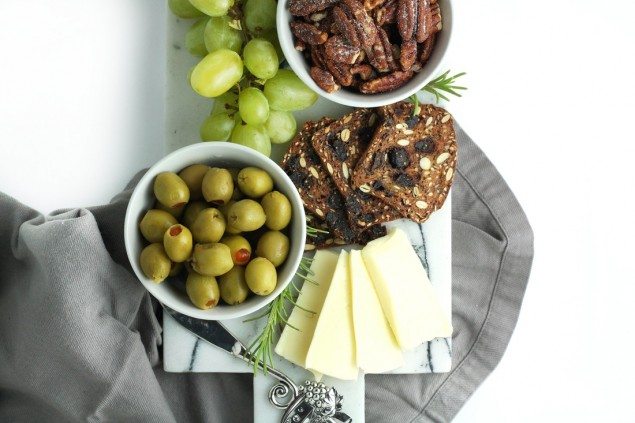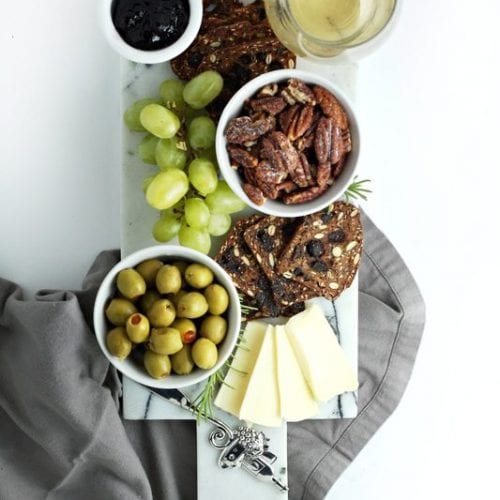 Sarah Mason
Ingredients
For the Cheese Board:
Stuffed olives

Jam

for spreading on crackers

Grapes

Castello cheese

I used creamy Havarti and aged Havarti

Folie à Deux wine

from Sonoma Country, California

Crackers

like Lesley Stowe Raincoast crisp crackers and veggie flats

Rosemary sprigs

optional, for garnish
For the Spiced Pecans:
1/2

cup

sugar

2

teaspoons

pumpkin pie spice

1/4

teaspoon

salt

1

egg white

1

tablespoon

pure vanilla extract

3

cups

pecans halves
Instructions
Make the pecans
Preheat oven to 250F. Cover a baking sheet with parchment paper.

In a bowl, combine sugar, pumpkin pie spice and salt. In a separate bowl, beat egg white and vanilla until foamy. Add the pecans and toss to coat. Add the spice mixture and stir to coat.

Spread pecans in a single layer on the prepared baking sheet. Bake for 1 hour, stirring once. Cool and break apart. Can be stored up to 2 weeks in an airtight container.
Assemble the board
It's best to assemble the cheese board just before serving. Lay out all cheese board ingredients and garnish with rosemary sprigs. I like to cut a few slices of cheese but leave the rest in a block with a cheese knife for guests to cut themselves.