A soothing, creamy slow cooker chicken noodle soup with Thai flavors and spices.
By Rinku Bhattacharya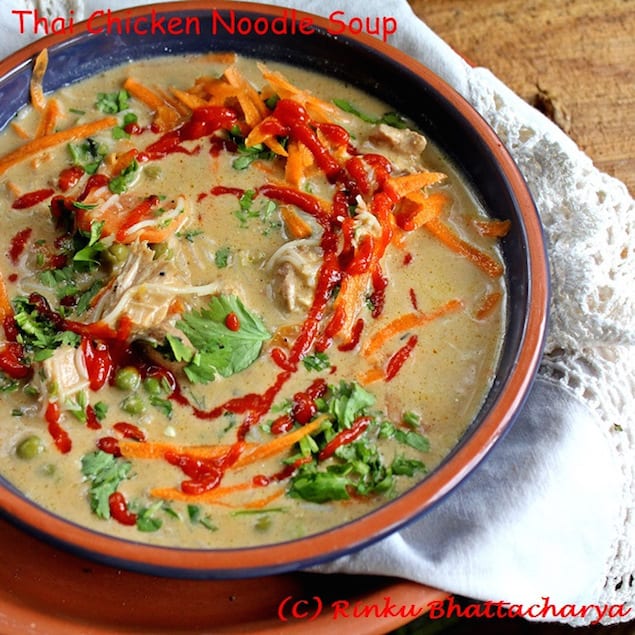 I was looking through soups and came across this recipe by foodie crush, I made this a couple of times. Actually, all the times with my modifications (well you know, I cannot help that!). However, I have to confess, I was pleased as punch to end up with this recipe, that seems to cater to about 1 weeknight dinner and then some for lunchtime. I even had some red curry paste that I have been wanting to use up forever. Speaking of tested and tried, while this curry paste recipe has many layers of adaptation, it seems to fit in just fine.
This soup does some wonderful justice to carrots we have around and the best things is that I can notch it up or down in terms of heat with a splash of Sriracha, making it just perfect for both kids and us. Really, all of this ends up being a cross between Thai flavors and the more indegenous varieties of Indian style noodle soup such as Thupka or Khao Swey a Burmese soup that has found its ways to some sophisticated Bengali kitchens.

Thai-Style Chicken Noodle Soup
A soothing, creamy slow cooker chicken noodle soup with Thai flavors and spices.
Author:
Rinku Bhattacharya
Ingredients
11/2 tablespoons freshly grated ginger
3 pods of minced garlic
¾ cup of coconut milk
11/2 cups of chicken broth or water
1 tablespoon brown sugar
11/2 tablespoon Thai Red Curry paste (homemade or store bought)
1 pound of boneless, skinless chicken thighs cut into pieces
3 medium carrots, sliced
2 tablespoons fish sauce
11/2 tablespoons peanut butter
To finish
3 ounces thin dry rice noodles
1 cup frozen peas
Thinly sliced scallions
To garnish
Chopped cilantro
Freshly squeezed lime juice
Sriracha to taste
Freshly grated carrots
Instructions
Place the ginger, garlic, coconut milk, broth or water, brown sugar, red curry paste and chicken thighs into the slow cooker.
Add in the carrots, fish sauce and peanut butter and cook for 3 hours on high.
Stir well. Add in the noodles , frozen peas and the scallions and cook for another 20 to 30 minutes.
Serve in soup bowls with chopped cilantro, squeezed lime juice and sriracha to taste. Top with freshly grated carrots to taste.
Rinku Bhattacharya
Rinku Bhattacharya, is a teacher of Indian Cooking and the author of the blog, Spice Chronicles. A busy working mother Rinku is committed to offering a practical approach of flavorful, everyday cooking often with an Indian Accent. An author of three cookbooks, Instant Indian, Classic Foods for Every Region of India made easy in the Instant Pot, Spices and Seasons, Simple, Sustainable. Indian Flavors and The Bengali Five Spice Chronicles. Rinku's passion for food starts with cooking and trying new recipes and extends to pairing and drinking wine with food and trying usual combinations by fusing various culinary influences. Rinku and her family are very committed to a sustainable lifestyle, and she uses mostly local produce for her recipes. She is joined in this effort by her husband who is an avid gardener and her children, Deepta and Aadi.