What do you do when you have a tub of tofu nearing expiration and a stalk of lemongrass screaming to be used? You make this awesome recipe.
By Kimberly Killebrew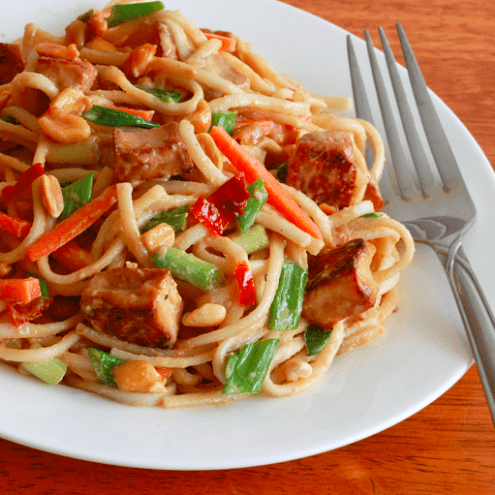 The lemongrass automatically made me think "Thai", so I started gathering up other ingredients that went along with that theme. Red Thai chilies, dry roasted peanuts, noodles, peanut butter, ginger, garlic, etc. Looking at what I had laid out on the counter I decided to go with a pasta dish with a sweet and spicy lemongrass-peanut sauce. This would have worked perfectly with chicken as well, but I had that screaming tofu, remember? (Or was it the lemongrass that was screaming? I don't remember.) In any case, the tofu was begging to be used and so I had mercy on it and granted it its dying wish: To be used in a way that would pay homage to its being, reflect the beauty of its legacy. I did just that and made Thai Peanut Tofu Noodles.
What do you do when you have a tub of tofu nearing expiration and a stalk of lemongrass screaming to be used? You make this awesome recipe.
Author:
Kimberly Killebrew
Ingredients
14 oz. extra firm tofu, cut into ½ inch cubes (or 1 lb chicken breast cut into cubes)
For the marinade:
2 tablespoons soy sauce
1 tablespoon sherry
½ teaspoon sesame oil
? teaspoon black pepper
For the sauce:
1 tablespoon fresh minced garlic
1 tablespoons fresh minced ginger
2 teaspoons lemongrass, minced
1 red Thai chile, seeds carefully discarded (if you like really spicy, leave in some of the seeds), diced
¼ cup soy sauce
¼ cup creamy natural and unsweetened peanut butter
1 tablespoon white wine vinegar
1 tablespoon freshly squeezed lime juice
2 teaspoons sesame oil
1½ teaspoons brown sugar
? cup vegetable or chicken stock
? cup dry roasted peanuts
¼ cup green onions, sliced
¼ cup carrots, julienned
8 oz uncooked udon, Chinese egg noodles, or spaghetti, cooked al dente according to package directions.
Instructions
Combine the marinade ingredients and pour over the tofu cubes in a medium bowl. Let marinate for at least 20 minutes. If using chicken, follow the same marinading procedure.
Preheat the oven to 400 F. Place the tofu cubes on a baking sheet sprayed with vegetable spray. and bake the tofu for 20-25 minutes or until desired texture is reached. Turn the cubes with a spatula after 15 minutes, then again every 5 minutes. (If using "firm" tofu, bake for an additional 5-10 minutes). Remove from oven and set aside.
If using chicken, discard the marinade and fry the chicken in a medium skillet over medium-high heat until cooked through. Transfer the chicken to a plate and keep in a warmed oven. Use the same skillet to make the sauce.
Add a little oil to the skillet and saute the garlic, ginger, lemongrass and chilies for 1-2 minutes until very fragrant. Add the soy sauce, peanut butter, white wine vinegar, lime juice, sesame oil, and brown sugar. Simmer for 1 minute until ingredients are fully combined. Add the broth to thin out the sauce and simmer for another minute.
Place the cooked noodles in a warmed bowl. Add the tofu or chicken, peanuts, green onions, and carrots. Toss to combine. Pour the sauce over the pasta mixture and carefully stir and toss until the noodles are evenly coated.
Serve warm or cold. A cold, crispy cucumber salad would make a nice accompaniment.
Kimberly Killebrew
Raised in Western Europe, widely traveled, and currently residing near Seattle with her husband and children, Kimberly loves preparing and experimenting with a large range of flavors and cuisines. This is reflected in her food blog, The Daring Gourmet, where she invites all to "tour the world through your taste buds." Passionate cook, recipe developer and photo enthusiast, her culinary repertoire includes everything from gourmet to simple comfort food, and, as she puts it, "simply downright good eats."