Thai Dessert – Sweet Sticky Rice with Mango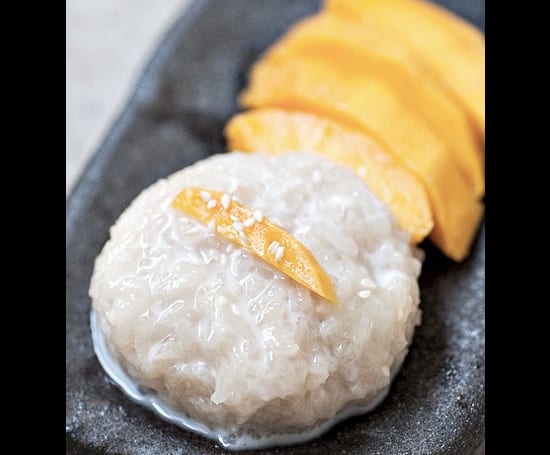 For those who haven't tried this popular Thai dessert, it's this beautiful pairing of fresh ripe Thai honey mango slices with sticky glutinous rice cooked in sweetened coconut milk.
By Nagalakshmi Viswanathan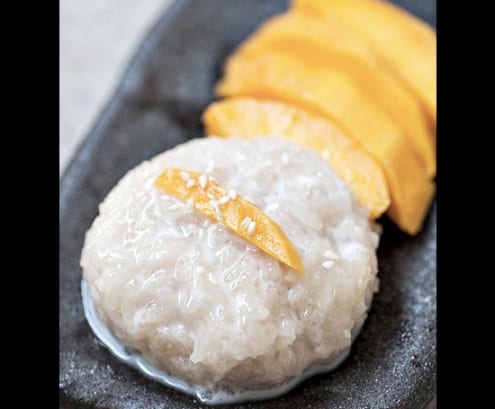 The rice used for mango sticky rice is called 'glutinous rice' on the packets in Singapore supermarkets and is white and opaque, crumbling easily as you bite into a grain. I picked them up from the Chinese dry food section. It's sold in small packets of not more than 300 grams. Using the correct rice is important to make Thai sticky rice with mangoes.
Thai Dessert - Sweet Sticky Rice with Mango
For those who haven't tried this popular Thai dessert, it's this beautiful pairing of fresh ripe Thai honey mango slices with sticky glutinous rice cooked in sweetened coconut milk.
Author:
Nagalakshmi Viswanathan, adapted from: SJ's Masala Vade
Ingredients
½ cup of sticky, glutinous rice
½ cup of thin coconut milk (see notes)
½ cup of thick coconut milk
2 tbsp of coconut cream (optional)
3 tbsp of sugar (adjust to taste)
½ tsp of salt
1 sweet, ripe mango (preferably Thai honey mango)
2 tsp of sesame seeds for garnish (optional)
Instructions
Soak the rice for 30 minutes and add the thin coconut milk to it (do not drain the soaking water).
Simmer on a low flame until the rice is cooked and soft. You can add some water if the rice gets too dry while cooking.It will become quite mushy as it cookes and gets softer.
Meanwhile, simmer the thick coconut milk with the sugar and salt on very low flame...... until it starts to bubble up.
Add this to the cooked rice and mix well.
Keep covered for 15-30 mins until the rice has fully absorbed the coconut milk mixture.
You can check for sweetness at this time and add more sugar if needed.
That's it! Serve the rice warm with chilled mango pieces with some drizzling of coconut cream on top (if using) and some sesame seeds.
Notes
If using canned coconut milk, dilute it with equal amounts of water to get the 'thin' coconut milk to cook the rice in You can also cook the rice in water and add all the coconut milk at a later stage. I felt the rice may have more flavour if cooked in coconut milk from the beginning do I tried that Coconut cream is available in asian stores and pretty much everywhere in Singapore. I am not sure of availability in other locations though
Nagalakshmi Viswanathan
Nagalakshmi, aka Nags, is the cook, writer, and photographer behind Edible Garden. She loves most things edible, loves traveling to places just for the food, and hardly ever leaves home without her camera. Her specialties are Indian food, making baking look easier than it actually is, and finding new and unique ways to use her Kitchenaid. She lives in Singapore with her husband and a small herb garden in her balcony.