SPONSORED: We get excited about good food and great ingredients, so we've teamed up with Divine Flavor to bring you delicious recipes for each season made with their fresh produce.
With bold Thai curry, these yellow squash fritters are perfectly crispy and are ready to mingle at your next party.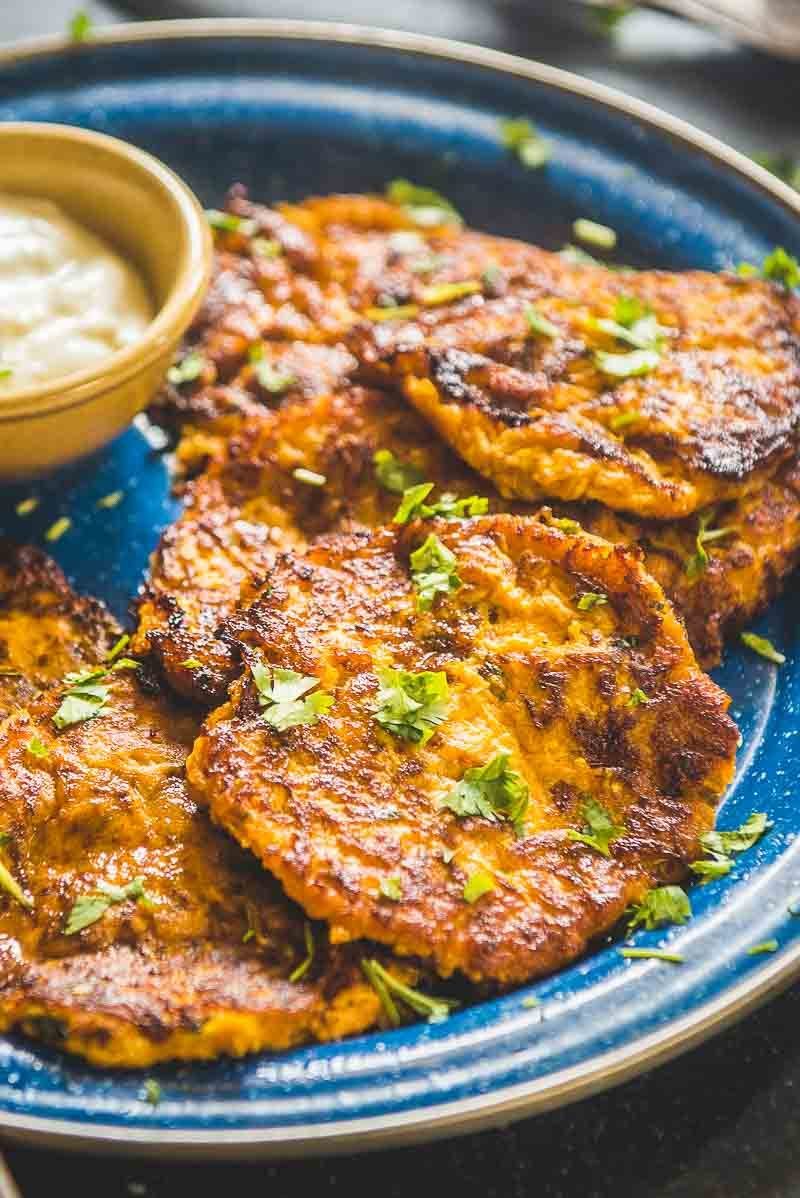 A good appetizer can go a long way to make your party a success. This time I've created a fusion recipe perfect for all coming parties.
I used fresh and tempting yellow squash from Divine Flavor to make this colorful and delicious recipe. Thai Squash Fritters can be made within minutes and are perfect when served with sour cream or any dip for that matter.
Thai Squash Fritters are crispy on the outside and soft inside with bold Thai flavors. The Thai flavor comes from the Thai Red Curry paste which I bought from the super market. Its just the perfect recipe for your family and friends.
There are various types of squash and pumpkins available in the market, for this recipe I used the yellow squash which is generally available throughout the year at your local grocery store.
Did you know there are more than ten varieties of squash grown all over the world? The other family of squash include Acorn Squash, Banana Squash, Buttercup Squash, Carnival Squash, Delicata Squash, Hubbard Squash, Kabocha Squash and probably a few more.
See Also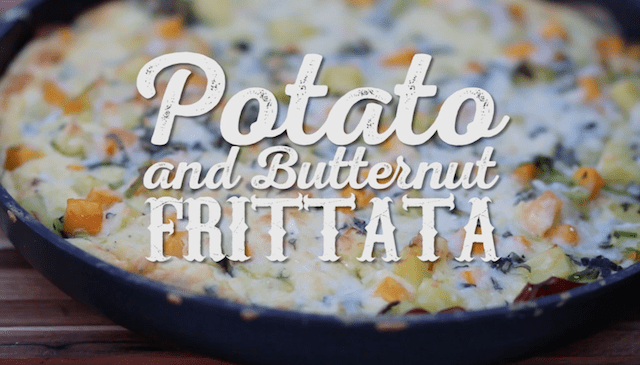 I look forward to include all these varieties in my upcoming recipes, however for now let's see this Yellow Squash Recipe. This Yellow Squash is grown by Divine Flavor in Arizona with a promise of non-GMO foods grown in nutrient-rich, never over-farmed soil. This makes me much happy to make this recipe. You should also try these Thai Squash Fritters. Hope you love them!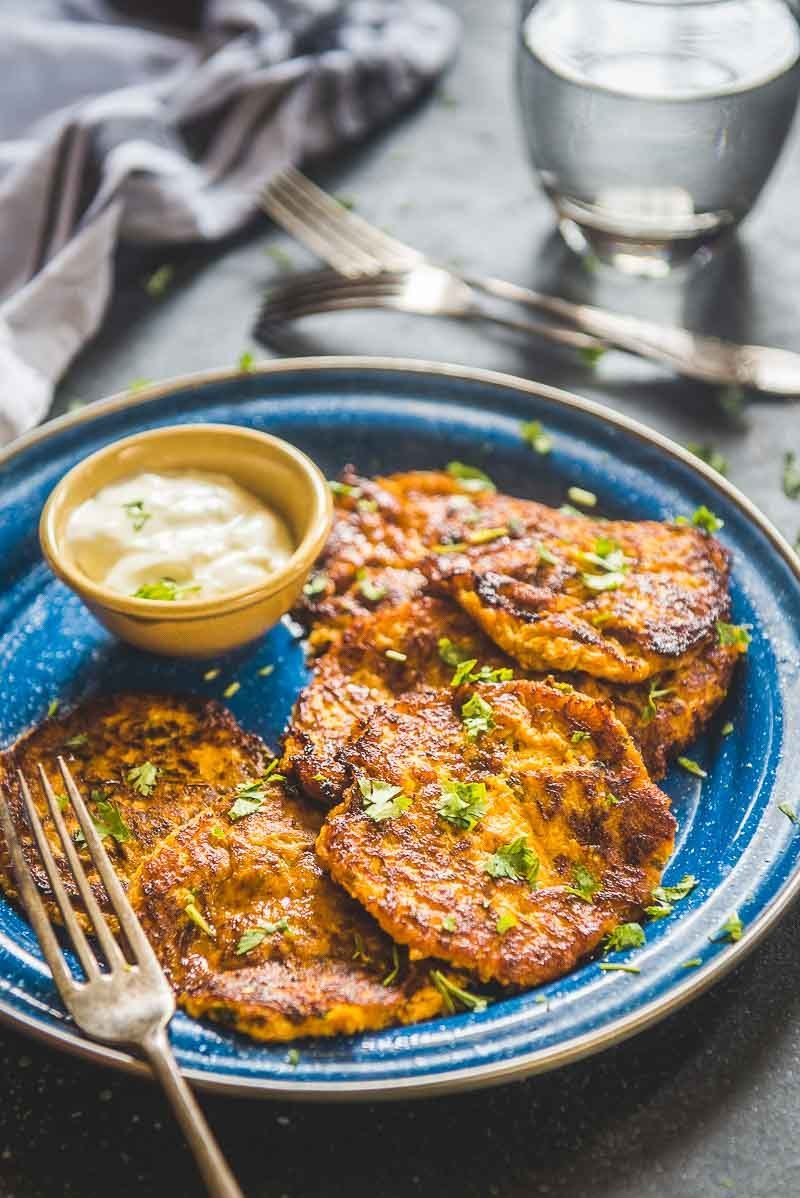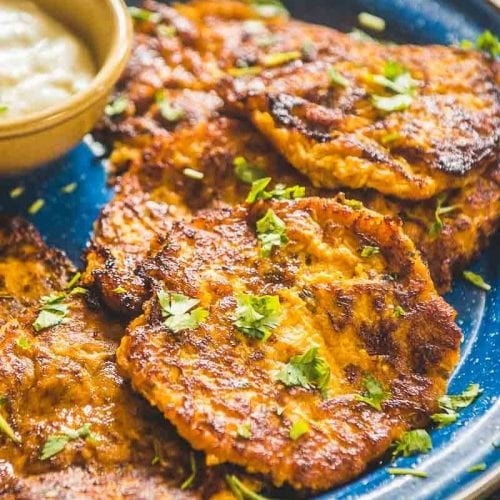 Thai Curry Squash Fritters
With bold Thai curry, these yellow squash fritters are perfectly crispy and are ready to mingle at your next party.
Ingredients
4

cups

Yellow Squash Peeled and grated

1/2

tsp

Salt

1/4

cup

All Purpose Flour

1

Egg

1/2

tsp

Freshly Cracked Black pepper

1

tbsp

Thai Red Curry Paste

2

tbsp

Fresh Coriander Chopped

2

tbsp

Vegetable Oil
Instructions
Mix grated squash with salt and keep aside for 10 minutes.

Transfer the squash in a cheese cloth and squeeze to remove all the water.

Mix all the ingredients except vegetable oil in a bowl.

Heat a non stick skillet.

Scoop 2 tbsp of the mixture on the pan and gently press to fatten them a bit.

Fry until crisp from the bottom side.

Flip and cook from the other side until browned.

Serve hot.
Neha Mathur
Passion to make food look good and taste amazing is personified in Neha Mathur, author of amazing recipes through whiskaffair.com where she writes about her experiments in food and other creative stuff. Having travelled extensively around the globe she has seen first hand various cultures and their likings. With a background in dental sciences her current objectives are just fulfilling her persona.